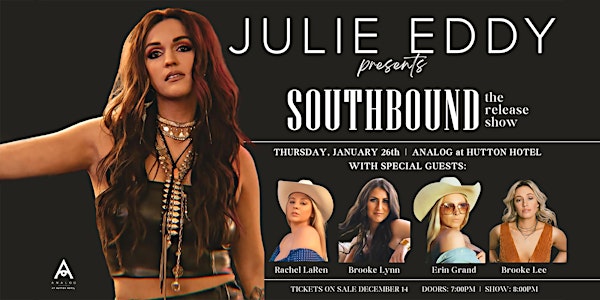 Julie Eddy
Rising country artist Julie Eddy hosts an evening celebrating the release of her highly-anticipated EP "Southbound".
When and where
Location
Analog at Hutton Hotel 1808 West End Avenue #2nd Floor Nashville, TN 37203
Refund Policy
Contact the organizer to request a refund.
About this event
DOORS 7 PM; SHOW 8 PM
21+
Rising country artist Julie Eddy hosts an evening celebrating the release of her highly-anticipated EP "Southbound". The opening set features fellow country artists Rachel LaRen, Brooke Lynn, Erin Grand, and Brooke Lee performing the songs Eddy co-wrote for their own projects and artistry.
ABOUT THE ARTISTS:
JULIE EDDY:
Country powerhouse Julie Eddy has an energy all her own & is bound to leave an impression on anyone who sees her perform. Her dynamic vocals, versatility, & charisma on stage help her stand apart from the pack in music city. As a full-time artist and songwriter, she has made a name for herself through her craft, story-telling through a lens that is personal and compelling yet relatable to the masses. Born and raised in a small town in South Dakota, Eddy taught herself to play guitar at 13 and started performing as soon as venues would let her in the door. Years later Eddy has worked her way up to playing bigger stages, opening shows for several award-winning artists including Justin Moore, Granger Smith, Brett Young, Travis Denning, Sam Hunt, and Grammy-Award winning duo Dan + Shay. Eddy shows no signs of slowing down any time soon playing several shows a month at various widely known venues in Nashville such as The Basement, The Listening Room Cafe, 3rd & Lindsley, The Local, Tin Roof, The Twelve Thirty Club, and several of the most sought-after bars on Broadway. In the last year Eddy has more than tripled her streams and social media presence following the release of her singles "Denim", "Roll With Us", "Johnnie Walker Blues", & "On My Way To You". Her upcoming EP "Southbound", releasing January 27th, showcases all sides of Eddy's artistry & cements her as an artist on the rise.
RACHEL LAREN:
Rachel LaRen offers a fresh perspective on modern country that she calls whimsical western. Originally from East Texas, Rachel prides herself on creating music that is raw and relatable. Her whimsical tone mixed with the storytelling in her lyrics can't help but evict emotion from the listener. After relocating to Nashville, TN Rachel has continued to gain a following by the release of her debut EP "Cowboy's Don't Change" which has reached over a million streams since its release in June. The breakout single "John Wayne" has earned LaRen rising country star status with over 100,000 streams in the first three weeks, #12 spot on Texas Music Pickers spotify chart and live features on KCKL and KOXE. LaRen's latest release, the Cotton Candy Sky Sessions, has only solidified her spot in Nashville and continued to bring in fans while confirming her rising star status.
BROOKE LYNN:
Minnesota native, Brooke Lynn is one of Nashville's most promising up and coming artists. Raised on country and classic rock, Brooke's soulful, powerhouse vocals cement her sound as one all its own in the scene. With a passion for storytelling, Brooke's lyrics are honest, visual, and seek connection from the heart. Her songs are known for their catchy melodies and the raw emotion evoked in her vocals alone. Brooke's newest single, "Cigarettes in the Sand," a nostalgic, feel-good song about the fate of summer love landed some of Spotify's biggest playlists, including Fresh Finds, Fresh Finds Country, and New Music Friday Country. With 55k monthly Spotify listeners and nearly 94k TikTok followers, Lynn is making a name for herself in music city.
ERIN GRAND:
For artist Erin Grand, all roads led to a career in music. Born and raised just outside of the Twin Cities, the pop-country powerhouse, always seemed driven toward a vocation in the performing arts. Growing up in a family that supported Grand's aspirations, she first discovered her love of singing at age 8, and began finding her lane in country music soon after. "My parents raised me on country and rock and roll - which I'm forever grateful for." Like many, she began her music career by performing in church. Simultaneously, Grand sang in a secular pop band - which later became a duo. Eager to progress, Grand began taking monthly trips to Nashville to hone her melodic and lyrical skills. In February of 2020, Grand moved to Nashville and later released her first single 'Mood' with an EP to follow. Drawing inspiration from Maren Morris, Kassi Ashton, Bruno Mars and many more. Grand has new music set to release in early 2023.
BROOKE LEE:
Brooke Lee has been chasing down her dream in music the majority of her life. At 15 she started her first band and began playing in bars all over the Carolina's. At 20 she was named "Best Female Country Vocalist in the Queen City" and still holds the title. Country music is in her soul, but she has definitely been influenced by classic rock and it shows in her music and voice. Lee is known as a "Wild Child" amongst her friends and her fans most certainly agree. Between traveling, thrifting, and living life to the fullest, she continues to write songs and share all of her experiences and stories.