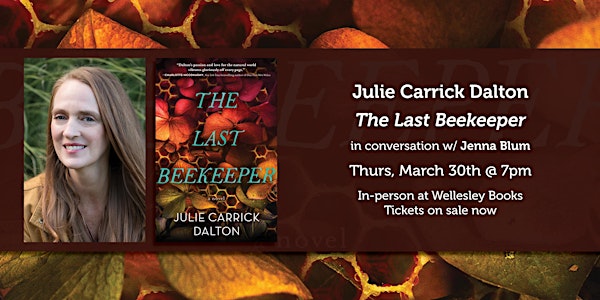 Julie Carrick Dalton presents "The Last Beekeeper" with Jenna Blum
The author of "Waiting for the Night Song" joins us to discuss her new novel in conversation with fellow author Jenna Blum.
Date and time
Thursday, March 30 · 7 - 8pm EDT
Location
Wellesley Books 82 Central Street Wellesley, MA 02482
Refund Policy
Contact the organizer to request a refund.
About this event
If you would prefer to order your ticket by phone, you may call Wellesley Books at 781-431-1160.
Your $5 ticket can be put towards a copy of The Last Beekeeper bought at the event. Alternatively, you can buy the book now and your entry ticket will be free. Books will be available for pickup at the event. Please note that you must have bought your copy from Wellesley Books in order to have the author sign it at the event.
Please note that we cannot issue refunds within 48 hours of the event.
COVID Protocols
• Masks are NOT required, but they are highly encouraged.
ABOUT THE BOOK
"Fans of Delia Owens will swoon to find their new favorite author." (Hank Phillippi Ryan)
It's been more than a decade since the world has come undone, and Sasha Severn has returned to her childhood home with one goal in mind – find the mythic research her father, the infamous Last Beekeeper, hid before he was incarcerated.
There, Sasha is confronted with a group of squatters who have claimed the quiet, idyllic farm as a way to escape the horrific conditions of state housing. While she feels threatened by their presence at first, the friends soon become her newfound family, offering what she hasn't felt since her father was imprisoned: security and hope. Maybe it's time to forget the family secrets buried on the farm and focus on her future.
But just as she settles into her new life, Sasha witnesses the impossible. She sees a honeybee, presumed extinct. People who claim to see bees are ridiculed and silenced for reasons Sasha doesn't understand, but she can't shake the feeling that this impossible bee is connected to her father's missing research. Fighting to uncover the truth could shatter Sasha's fragile security and threaten the lives of her new-found family — or it could save them all.
The Last Beekeeper is a celebration of found family, an exploration of truth versus power, and the triumph of hope in the face of crisis. Sasha's journey is a meditation on forgiveness and redemption and a reminder to cherish the beauty that still exists in this fragile world.
ABOUT THE AUTHOR
As a journalist, JULIE CARRICK DALTON has published more than a thousand articles in The Boston Globe, BusinessWeek, The Hollywood Reporter, Orion Magazine, Electric Literature, and other publications. A Tin House and Bread Loaf alum, and graduate of GrubStreet's Novel Incubator, Dalton holds a master's degree in literature and creative writing from Harvard Extension School. She is a frequent speaker on the topic of writing fiction in the age of climate crisis. A mom to four kids and two dogs, Dalton is an avid skier, hiker, and kayaker. A former beekeeper, she also farms a gorgeous tract of land in rural New Hampshire. Find her at: juliecarrickdalton.com | https://www.facebook.com/juliecarrickdalton/ | https://twitter.com/juliecardalt
(Photo credit: Sharona Jacobs)
ABOUT THE MODERATOR
JENNA BLUM is the New York Times and internationally bestselling author of novels Those Who Save Us, The Stormchasers, and The Lost Family; the novella "The Lucky One" in the collection Grand Central; and memoir Woodrow on the Bench, about her senior black Lab and what his last seven months taught her, now in paperback from Harper Collins.
Jenna is one of Oprah's Top Thirty Women Writers, with her work published in over 20 countries, and cofounder/CEO of literary social media marketing company A Mighty Blaze. Jenna's New York Times and internationally bestselling first novel, Those Who Save Us, won the Ribalow Prize, awarded by Hadassah Magazine and adjudged by Elie Wiesel; Jenna interviewed Holocaust survivors for the Steven Spielberg Survivors of the Shoah Foundation for five years. Jenna is a public speaker, traveling nationally and internationally; for her 1st novel, she visited over 800 book clubs in the Boston area alone.
Jenna is based in Boston, where she has taught at Grub Street Writers for over 20 years; she earned her M.A. in Creative Writing from Boston University and was the fiction editor for AGNI Literary Magazine. For more information about Jenna and to share her real-time adventures, please follow her on Facebook, Twitter, and Instagram.