Description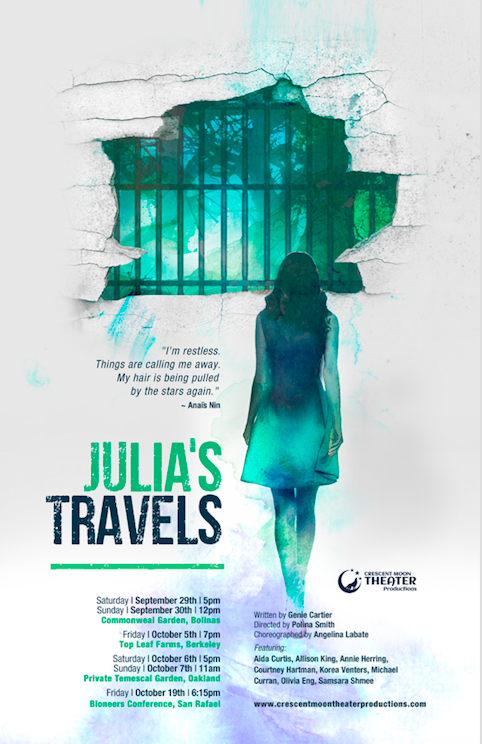 Julia's Travels uses dance, theater, music, and spirited storytelling to offer us a powerful environmental fable that explores humanity's connection to nature and our hopes and dreams for the future.
60mins. Shows are outdoors so dress warm!
Written by Genie Cartier // Directed by Polina Smith // Choreographed by Angelina Labate
Featuring: Aida Curtis, Allison King, Korea Venters, Michael Curran, Olivia Eng, Samsara Shmee, Annie Herring and Courtney Hartman
Kids welcome!
Commonweal Garden, Bolinas
Sat September 29th 5pm
Sunday September 30th 12pm
Top Leaf Farms, Berkeley
Friday October 5th 7pm
Tickets available here: https://www.eventbrite.com/e/julias-travels-tickets-49501733016


Private Temescal Garden, Oakland (Address given with purchase of ticket)
Saturday October 6th 5pm
Sunday October 7th Brrunch served @10am, show at 11am- Join us for a beautiful outdoor brunch of mimosas, muffins and other delectable treats followed by an 11am show!
Tickets available here: https://www.eventbrite.com/e/julias-travels-tickets-49509782091
Friday October 19th, 6:15pm Bioneers (Youth Tent)
Learn more at: www.bioneers.org
Crescent Moon Theater Productions creates original, thought provoking new work that spans across the disciplines of theater, dance, music and circus. CMTP also produces Blessed Unrest, an annual arts and social justice festival in San Francisco. www.crescentmoontheaterproductions.com