Julian's House Party @ The Drive-In (Legends In The Mix)
About this event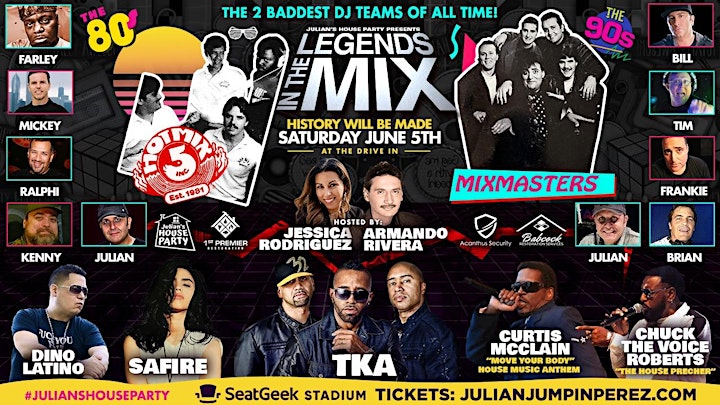 JULIAN'S HOUSE PARTY @ THE DRIVE-IN (Legends In The Mix )
PERFORMING LIVE ON STAGE TOGETHER, FOR THE FIRST TIME EVER... THE ORIGINAL HOT MIX 5 & THE ORIGINAL B96 MIXMASTERS! THE TWO DJ TEAMS THAT CHANGED THE SOUND OF RADIO FOREVER. THIS WILL BE A HISTORIC EVENT!!
Farley "Jackmaster" Funk - Mickey "Mixin" Oliver - Ralphi "Rockin"Rosario - Kenny "Jammin" Jason - Julian "Jumpin" Perez - Bad Boy Bill - Frankie "Hollywood" Rodriguez - Tim "Spinnin" Schommer - Brian "Hitmix" Middleton
Performances by: TKA - Curtis McClain - Dino Latino - Safire - Chuck The Voice Roberts
Hosted By: Armando Rivera & Jessica Rodriguez
Sponsored by: 1st Premier Restoration - Acanthus Security - Babcock Restoration
--------------------------------------------------------------------------------------------------
EVENT DETAILS:
Saturday June 5th | Doors Open 3pm - Show Time 4pm
SeatGeek Stadium / Chicago Drive In - 7000 S. Harlem Ave Bridgeview, IL 60455
*Mask & Social Distancing Required
*Artist lineup and location subject to change without prior notice. No refunds or exchanges. No outside food, drinks or coolers allowed.
All vehicles will be searched. No oversized vehicles will be allowed.
STATE OF THE ART STAGE, SOUND, LIGHTING, JUMBO SCREENS, FOOD & DRINKS!
FAQs
Is the price per Vehicle or per person?
The ticket price is PER VEHICLE (with 4 passengers included) Additional ADD-ON tickets can be purchased for extra passengers. (MAXIMUM 6 people per car and 8 people per SUV) ADD-ON TICKETS CAN NOT BE PURCHASED WITHOUT THE PURCHASE OF A VEHICLE!!! General Admission add-ons or VIP Ticket add- ons must be accompanied by a purchased General Admission Or VIP Vehicle. YOU MUST ARRIVE IN A VEHICLE. "ABSOLUTELY NO WALK-INS will be ALLOWED"
I can't come until later, can I meet my group there?
EACH GROUP MUST ARRIVE TOGETHER. You cannot get dropped off and meet the rest of your group during the show.
Are large vehicles allowed?
No Limousines, busses, box trucks, over sized pick up trucks, conversion vans or any other oversized vehicles will be allowed in. (We do not want to obstruct the views of others.
IMPORTANT: NO FOOD OR OUTSIDE BEVERAGES (all vehicles will be searched)
What's the difference between GA, VIP
VIP guarantees you a parking spot closer to the stage
Can I sit outside my vehicle to watch the show?
Yes. Everyone is to enjoy the space on the drivers side of the vehicle, but we ask that you stay 6 feet from other attendees to enable social distance requirements.
Do I have to wear a mask when outside of my vehicle?
No, but if you are venturing outside of your designated vehicle area, we ask that you follow the current CDC guidelines and wear a mask.
Can I bring my lawn chairs or small pop up table?
Yes, but please be mindful of social distancing and stay 6 feet away from other vehicles next to you. NO GRILLS!
Can I bring pets to the show?
Only if they are service animals.
How do I hear the Live Music?
We have state of the art sound from the stage as well as speaker towers throughout the event. The music is loud and it's awesome! We will also broadcast the show on an FM signal you can pick up in your vehicle.
*NO FOOD OR OUTSIDE BEVERAGES
What happens if it starts raining during the show?
Rain or shine event!!! Turn your windshield wipers on and wait a little bit. Don't worry, it never rains during Julian Jumpin Perez's events.
Will there be restrooms?
Absolutely! There will be portable toilets at both ends of each row of parking.
Can I walk up to the stage?
No. Each attendee must stay within the confines of their designated vehicle's space. This allows for safe and social distancing. Don't worry, you will see our stage and JUMBO screens and hear the music just fine.
Are there any refunds or exchanges?
All sales are final. Can't make it? You can transfer your tickets to another friend or family member. Lucky them! Please contact Eventbrite for a proper transfer if need be.
What happens if the show gets cancelled or postponed?
If the event is cancelled, you will receive a full refund. If the event is postponed, your purchased ticket will be honored at the rescheduled date.
STILL HAVE QUESTIONS?
Send us an email at: info@housepartydrivein.com
We can't wait to see you there!