About this Event
Julian Lynch
Part of the lo-fi bedroom pop collective that included Real Estate, Ducktails, and Alex Bleeker & the Freaks, New Jersey native Julian Lynch also began making woozy, home-recorded pop sounds, often in collaboration with his peers. Over the course of several albums, his sonic vocabulary would grow from hazy bedroom jams into a refined approach to arrangement and songwriting that drew from a growing expertise in ethnomusicology. In 2016, Lynch joined longtime friends Real Estate, replacing founding guitarist Matthew Mondanile. Even with this new role in a highly active band, he continued work on his solo music.
Lynch grew up in Ridgewood, New Jersey and became friends early on with a group of musicians he would collaborate with for years in the future. Part of a very loose collective that was most visible with the success of drifty indie band Real Estate, Lynch would take part in various musical projects with this crew. While earning his PhD in ethnomusicology at the University of Wisconsin-Madison following a stint working for Smithsonian Folkways Recordings, Lynch started recording songs on his four-track. Between 2008 and 2010, he released two 7" records (Droplet on a Hot Stone and a Ducktails split), two CD-Rs (Garden Is Adventure and Born2Run), and two LPs (Orange You Glad and Mare). This early material was grainy and cavernous, often drenched in tape hiss and heavy on effects. In 2011 Lynch released full-length Terra on the Underwater Peoples label. This release marked an upgrade in both fidelity and arrangement for Lynch. It earned critical raves and reached a wider audience while he still released the occasional one-off cassette or CD-R album. 2013 saw the release of his fourth official full-length, the colorfully arranged and composed Lines. His output slowed down for a period as he continued his PhD program, though he showed up as a guest here and there on records for friends like Liam Betson, Toro y Moi, and on Many Moons, the 2015 debut solo album by Real Estate singer/guitarist Martin Courtney. In 2016 he joined Real Estate full-time as lead guitarist and began touring and recording with the band. Though a five-month trip to India kept him from participating in an early tour, Lynch recorded with the band on fourth album In Mind, which landed in 2017. Following lengthy touring with Real Estate, he completed work on his fifth solo album, Rat's Spit, which was released in early 2019.
Dan Greene
Mountain Movers frontman and local artist performs solo bringing his prolific skills to plate.
Camby
Kyle MacKinnel's solo electronica project makes it's New Haven debut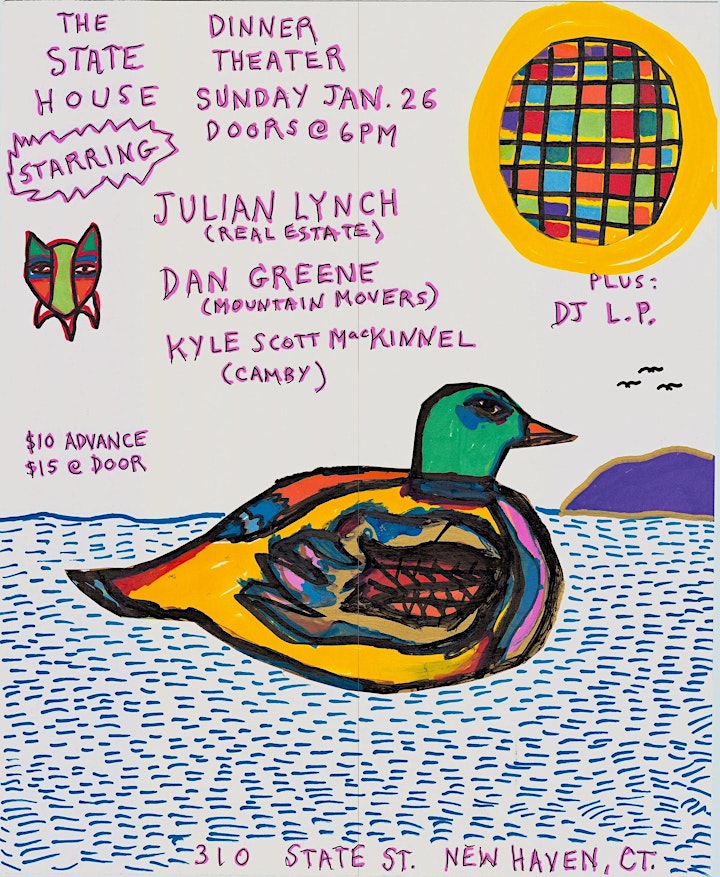 Performers
Date and Time
Location
Refund Policy