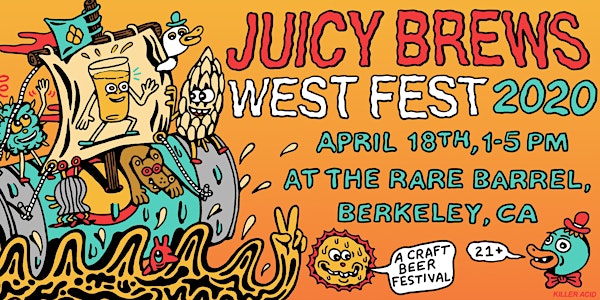 Juicy Brews WestFest Craft Beer Festival
Hop Culture Magazine is celebrating 4/20 with an invitational craft beer festival at the Rare Barrel in Berkeley, California.
When and where
Location
The Rare Barrel 940 Parker Street Berkeley, CA 94710
About this event
What Is Juicy Brews WestFest?
Join Hop Culture Magazine at The Rare Barrel in Berkeley, California, for the third iteration of our sold-out Juicy Brews WestFest Craft Beer Festival! We'll have unlimited pours from a curated selection of some of the country's best breweries, cideries, and wineries.
Plus, our good friend and talented artist @killeracid, who designed the festival poster, will be popping up with some 4/20-friendly merch.
Prepare for an absolutely dank and juicy afternoon of fun and beer.
Wear green. Drink some fresh beer. Listen to some terrific music. Follow @hopculturemag and sign up for our weekly newsletter to stay updated on the event.
The Beer/Breweries
Who is attending?
The current list is as follows. Note that this is subject to change due to any number of extenuating factors, but we'll do everything in our power to avoid that.
Armistice Brewing Company
Almanac Brewing Company
Alvarado Street Brewery
Blue Ox Wine Co.
Broc Cellars
Cellarmaker Brewing Company
Cloudburst Brewing
Dancing Gnome Beer
Donkey and Goat Winery
Drake's Brewing Company
Ever Grain Brewing Co.
Finback Brewery
Great Notion Brewing and Barrel House
Henhouse Brewing Company
Humble Sea Brewing Company
Horus Aged Ales
Moksa Brewing
Moonraker Brewing
Resident Culture Brewing Company
Russian River Brewing Company
Son of Man Cider
Superstition Mead
Temescal Brewing
The Rare Barrel
Voodoo Brewery
FAQ
Where will the event take place?
The Rare Barrel, 940 Parker Street, Berkeley, CA, 94710.
When is this happening?
The festival runs over a single session from 1:00 PM to 5:00 PM on April 18th, 2020. We have one VIP session which gets attendees in from 12:30 PM to 5:00 PM.
Is there an age limit?
All attendees must be at least 21 years old with a valid ID.
What do I get with my ticket?
The VIP ticket gets you access to the event at 12:30 PM. Upon entering, you'll receive a taster glass and have access to unlimited samplings. It also includes access to a complimentary brewer talk on 4/17.
The General Admission ticket gets you access to the festival at 1:00 PM. Upon entering, you'll receive a taster glass and have access to unlimited samplings.
The Designated Driver ticket gets you access to the festival, but you won't be able to drink! Upon entering, you'll receive a ticket that's redeemable for a complimentary t-shirt from our merch stand.
Will there be food?
Food will be available a la carte from several food vendors. Vegetarian options available.
When is last call?
Brewers will be instructed to stop serving beer 10 minutes before the end of the session.
Who will be pouring the beer?
At all of our Juicy Brews festivals we work to make sure that a representative from the brewer is on hand to pour beer, answer questions, and goof off. Typically this is the head brewer or founder.
Which beers will be served?
The beers at the fest are extremely fresh and limited release, so it's hard to predict brewing schedules well in advance. However, we'll release the beer lists in the week leading up to the fest as they become available.
Will there be enough beer?
We bring enough beer to our festivals that the majority of breweries will be pouring beer for the entire fest. However, due to their popularity, some breweries will kick their kegs before last call, typically within the last 45 minutes. We do our best to avoid this.
Will you have merchandise?
Absolutely. Our glassware, tekus, shirts, pins, and stickers are generally designed by London-based artist Sam Taylor and California-based artist Killer Acid.
How do I apply for media passes?
Send an email to Kenny at kenny@hopculture.com. Please include the name of your publication or account and your estimated reach. Media passes are typically reserved for traditional media.
Final Thoughts:
Please DO NOT open any cans or bottles during the festival. For legal reasons, they will be confiscated.
It's a beer fest and we want everyone to have a good time, but anyone that's visibly intoxicated and acting like a clown will be asked to leave.
There's a chance we'll be taking photos or filming video at this event. Please be aware that we might use this content for certain promotional material, especially if it looks like you're having a great time. Also, by purchasing a ticket, you acknowledge that you're over the age of 21. You also agree to release Hop Culture, LLC, and its successors, assigns, partners, and licensees from any liability that may arise from your behavior during or after attending this event.
Tickets are non-refundable and subject to applicable taxes and fees, as well as changes. All sales are final, no exceptions!
We look forward to seeing you on April 18th.