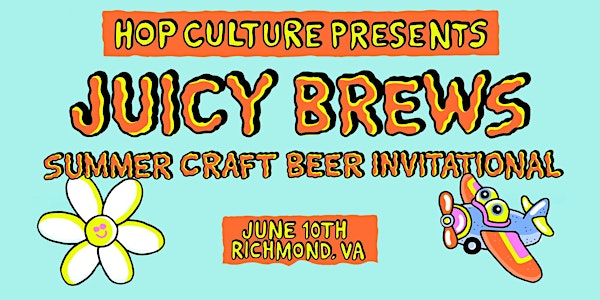 Juicy Brews Summer Craft Beer Invitational
When and where
Location
Triple Crossing Beer - Fulton 5203 Hatcher Street Richmond, VA 23231
Description
For our seventh Juicy Brews Festival, we've pulled out all the stops. On June 10th, 2018, come meet the brewers and try unlimited pours from over 30 of the best breweries in the country. We'll have food, beer, music, and exclusive merch and glassware from designer Sam Taylor.

General
Where will the event take place?
Triple Crossing Fulton, 5203 Hatcher St, Richmond, VA 2323.
When is this happening?
The festival runs over two sessions on Sunday, June 10th.
Is there an age limit?
All attendees must be at least 21 years old with a valid ID. Please no children or strollers.
What do I get with my ticket?
The VIP add-on gets you 30 minutes of early access to the festival, as well as a festival poster, koozie, teku, hat, and tote.
The General Admission ticket gets you access to the festival for one session. Upon entering, you'll receive a limited-edition taster designed by Sam Taylor, and a brochure that includes a map of the festival.
The Designated Driver ticket gets you access to the festival for one session, but you won't be able to drink! Upon entering, you'll receive a ticket that's redeemable for an entree.
Will there be food?
Indeed, food will be available at the venue.
The Beer/Breweries
Who is attending?
The current list is as follows. Note that this is subject to change due to any number of extenuating factors, but we'll do everything in our power to avoid that.
Aslin Beer Company
Barreled Souls Brewing
Bond Brothers Beer Company
Burley Oak Brewing Company
Brewery Bhavana
Brix City Brewing
Casa Agria Specialty Ales
Casita Cerveceria
Cellador Ales
Charles Towne Fermentory
Commonwealth Brewing
Dancing Gnome Beer
District 96 Beer Factory
Foam Brewers
Hardywood Park Craft Brewing
Hoof Hearted Brewery and Kitchen
HopFly Brewing
Horus Aged Ales
Imprint Beer Co.
Kent Falls Brewing Co.
Magnify Brewing
Mast Landing Brewing Company
New Park Brewing
Ocelot Brewing Company
Outer Range Brewing Co.
Red Dragon Brewery
Resident Culture Brewing Company
Salud Cerveceria
Southern Grist Brewing
Superstition Meadery
The Answer Brewpub
Triple Crossing Beer
Wren House Brewing Company
When is last call?
Brewers will be instructed to stop serving beer 10 minutes before the end of each session.
Who will be pouring the beer?
At all of our Juicy Brews festivals, we work to make sure that a representative from the brewery is on hand to pour beer, answer questions, and goof off. Typically, this is the head brewer or founder.
Which beers will be served?
The beers at the fest are extremely fresh and limited release, so it's hard to predict brewing schedules well in advance. However, we'll release the beer lists in the week leading up to the fest as they become available.
Are the beers the same at both sessions?
Typically, yes. Any differences will be minimal, and pours are up to the discretion of each brewer.
Will there be enough beer?
We bring enough beer to our festivals that the majority of breweries will be pouring beer for the entire fest. However, due to their popularity, some breweries will kick their kegs before last call, typically within the last 45 minutes. We do our best to avoid this, but we also want to avoid wasting beer.
Other FAQs
Is there a map?
Yes. You'll receive a layout of the festival upon entering.
Will you have merchandise?
Absolutely. Our tasters, tekus, shirts, pins, and stickers are designed by London-based Sam Taylor.
How do I apply for media passes?
Send an email to Kenny at kenny@hopculture.com. Please include the name of your publication or account and your estimated reach.
The Rules
Please DO NOT open any cans or bottles during the festivals. For legal reasons, they will be confiscated.
It's a beer fest and we want everyone to have a good time, but anyone that's visibly intoxicated and acting like a clown will be asked to leave.
Tickets are non-refundable and subject to applicable taxes and fees, as well as changes. All sales are final, no exceptions!
We look forward to seeing you on June 10th!