Description
Every 3rd Friday JohnColins and SinceEighty6 present Juicy a party celebrating Hip-Hop's roots, past, Golden Era and present through fashion and the music selections of DJ Mark DiVita (The Love Movement / SinceEighty6) and monthly Guests.
NOVEMBER 17th, 2017
JUICY
(Dancehall Edition Part 2)
featuring 90's Hip-Hop, Dancehall, Reggae and select new hits
w/ special guest DJs
DJ HENROC
(CITY CAT SOUNDS)
+
DJ NATURAL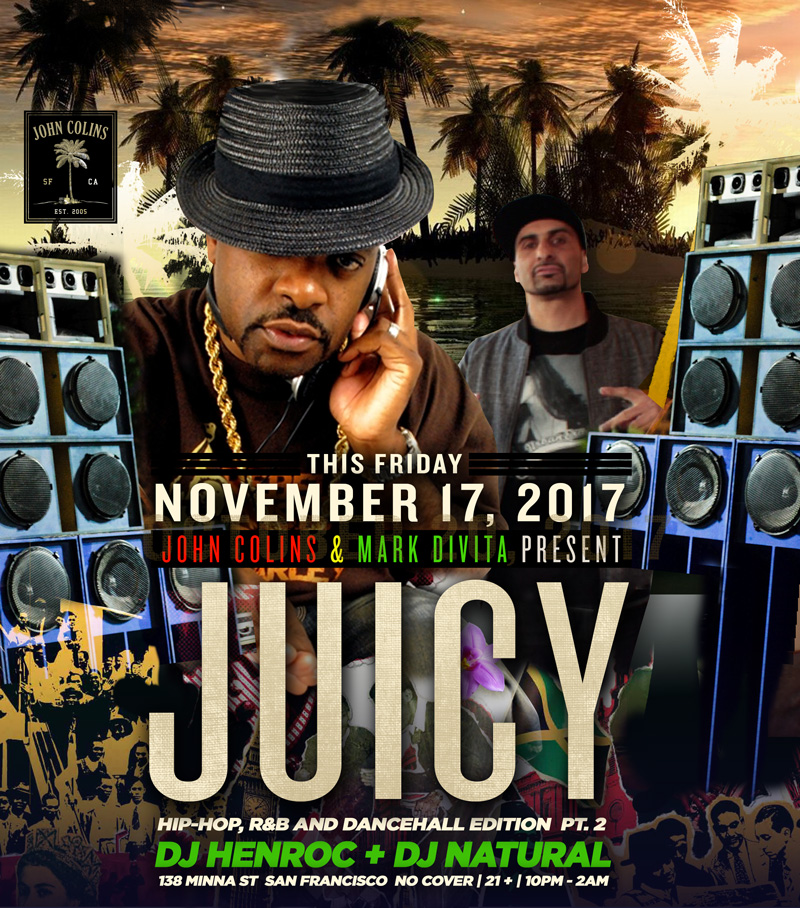 No Cover. 21+. 138 Minna St is the place!
Mark Di Vita has represented True Skool Hip-Hop int the Bay Area since '86 as a youth in the middle of the Golden Era. You may have seen on stage Doing for Camp Lo, Special Ed, at Ankh Marketing Events and The Love Movement or behind the scenes as an A&R, Art Director and Event Planner from CA to S. Korea. AT JUICY expect to hear an eclectic blend of Classic Breaks, R&B, Soul, Reggae/DanceHall, House and Rap. Fun is the intent. Nothing is off limits.
Past guests have included Mr. Sonny James, Rolo-13, Sake 1, DJ Wisdom, HouseShoes, Mind Motion, King Most, Kevvy Kev, DJ Henroc, Ry Toast, Sean G, Al Perfecto, DJ Supreme, Banks the DJ.
Classic Breaks, R&B, Soul, Reggae, House and Rap are the standard. Fun is the intent.
This Friday join DJ @MarkDiVita as we celebrate another #3rdFriday with #HipHop #StrongDrinks and #GoodTimes
Music starts at 10pm. Cover.
For birthdays, special requests and/or reservations email: party@johncolins.com
Follow @MarkDiVita on Instagram, Facebook and Twitter for giveaways, updates and Passwords for free Entry to Juicy and other events. www.MarkDiVita.com
For reservations email: party@johncolins.com
Check out pics from past Juicy partys HERE.