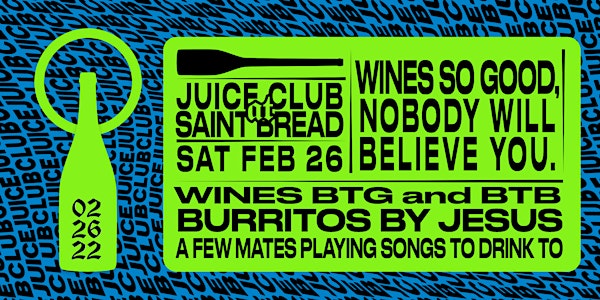 Juice Club at Saint Bread
Juice Club at Saint Bread
When and where
Location
Saint Bread 1421 Northeast Boat Street Seattle, WA 98105
About this event
We're baaaaack
JUICE CLUB is back, exploding harder than that bottle of unfiltered Spanish rosé (you know the one). We're finally coming out of our cave with a new slew of fresh wines, a beautiful new venue, and our friend Jesus, who's crafting burritos with his bare hands. Expect some friends DJing songs so you can move your legs while holding a glass of wine in one hand, and eating a burrito with the other. To throttle it back a bit, we're making this event RSVP only, and expecting a full capacity one. So no, you can't sneak a friend in.

FREE // RSVP ONLY (limited capacity)
Saturday Feb 26
6pm - Sold Out
21+
Outdoors, but covered and heated
Vaccine Required
Wear a mask if you want
BYO wine glass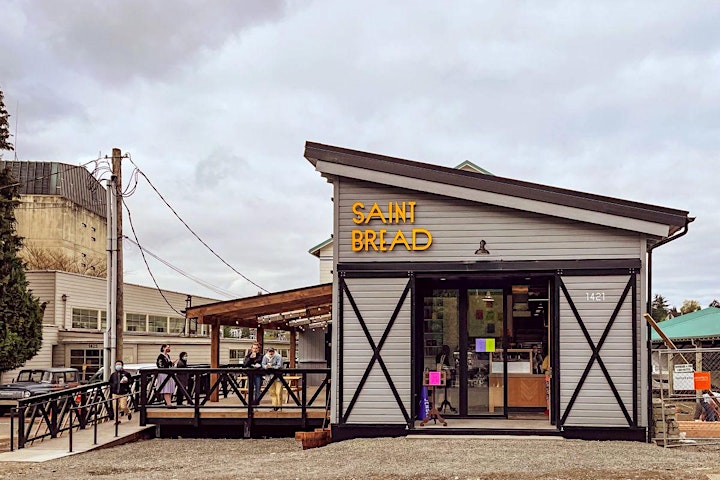 About Saint Bread.
Saint Bread is a bakery and community space on the Portage Bay waterfront near the University of Washington. We're excited and grateful for them to host us all on Friday, and If you haven't been here to eat during normal hours, the Juice Team rates this place as "extremely good so you gotta go." Please give the space the respect the space deserves so we can continue to throw fun things in this space as the summer months come. Thank you Saint Bread! More info at www.saintbread.com