Description
Technology's promise is to "save" time. Its track record in real and psychological terms is often the opposite. A sociologist of science and technology, Judy Wajcman's ongoing work examines time pressure and acceleration in the digital age. Her latest work looks at calendar software and how it interacts
 with the anxieties of our digitally-driven lives. Dr. Wajcman's book Pressed for Time will be on sale at the talk and she will sign after the talk.
The Interval at Long Now welcomes
Dr. Judy Wajcman (sociologist, London School of Economics / CASBS-Stanford)

Time Poverty Amidst Digital Abundance
Check-in begins 6:30pm; talk will start 7:30pm
at The Interval at Long Now
A must-read not only for a range of social scientists and humanists, but for everyone who wants to understand how we have remade time and remade ourselves in digital culture.
— Sherry Turkle (author of Alone Together) about Pressed for Time

This event is co-presented by the Center for Advanced Study in the Behavioral Sciences (CASBS), where Dr. Wajcman is currently a fellow.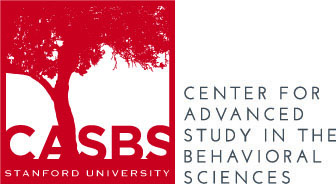 Long Now members can watch a free livestream of this event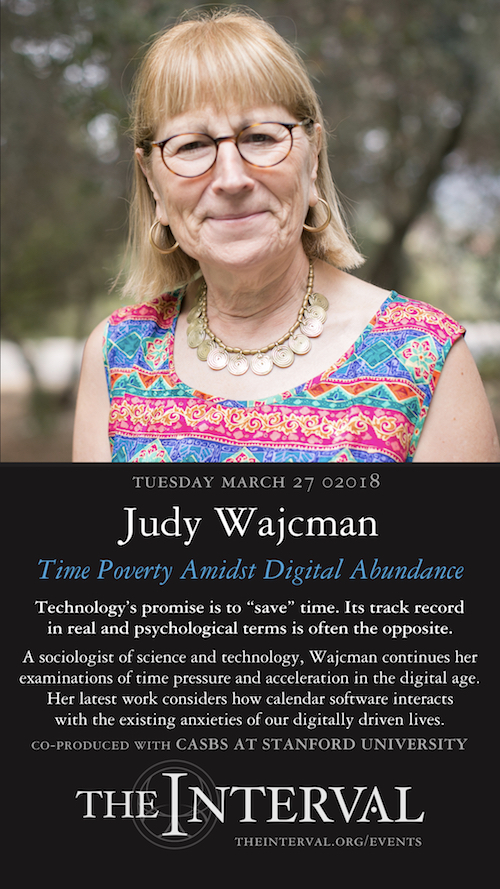 Judy Wajcman is the Anthony Giddens Professor of Sociology at the London School of Economics. Professor Wajcman was one of the founding contributors to the field of the social study of Science and Technology, as well as to studies of gender, work and organizations. Her latest books, Pressed for Time and The Sociology of Speed, argue for a sociomaterial approach to the study of time. She is currently a fellow at the Center for Advanced Studies in the Behavioral Sciences (CASBS) at Stanford, co-sponsors of this talk.

More about CASBS at Stanford:
Since 01954 the Center for Advanced Study in the Behavioral Sciences (CASBS) has been a preeminent national and international locus for cutting-edge, interdisciplinary, and transformative thinking and research on some of the most important challenges and issues. Its aim is discovery in the service of advancing social science methods, theories, and topics that address and answer socially significant questions. At the heart of the CASBS enterprise is its residential fellowship program, which attracts the finest minds from psychology, sociology, economics, political science, anthropology, history, philosophy, linguistics, and related disciplines.
Long Now members hear about Interval events first: become a member today.
You can watch videos of past Interval talks.