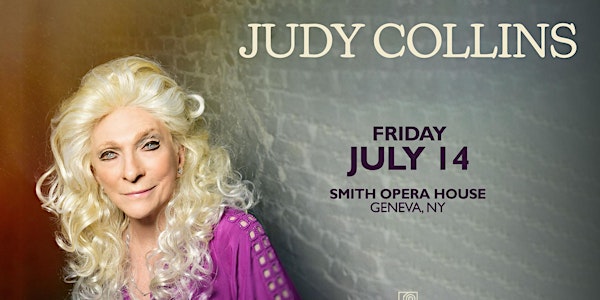 Judy Collins
ALL AGES
Presented by DSP Shows
The cultural treasure's 55th release, Spellbound, finds Judy enjoying an artistic renaissance.
Date and time
Starts on Friday, July 14 · 8pm EDT.
Location
The Smith Opera House 82 Seneca St. Geneva, NY 14456
About this event
2 hours

ALL AGES

Mobile eTicket
In her 50-plus years in music, Judy Collins has always exhibited impeccable taste in songcraft. On her landmark 1967album, Wildflowers, she curated a stunning collection featuring originals alongside songs by not-yet household names such as Joni Mitchell and Leonard Cohen, and adventurous selections by Jacques Brel and Francesco Landini. Her discerning palette, and her literary gifts, have enabled her to evolve into a poetic, storyteller songwriter. Now, in her 6 th decade as a singer and songwriter, Judy is experiencing a profound level of growth and prolific creativity.
The cultural treasure's 55th release, Spellbound, out February 25, 2022, finds Judy enjoying an artistic renaissance. The 13 song album is a special entry in her oeuvre. It marks the first time ever she wrote all the songs on one of her albums. It features 12 new recently-written modern folk songs, and a bonus track of her evergreen, "The Blizzard." Spellbound is an introspective and impressionistic album. It unfolds as if Judy curated a museum exhibit of her life, and welcomed us into a retrospective of her most formative moments, some big and public, and some intensely personal and intimate.
"They say after the plague came the Renaissance," Judy says with a good-natured laugh, loosely referencing the pandemic. "The truth is, I didn't do an album like this sooner because I had other projects on my mind. This album was necessary for me to keep creative—it was the next piece of the puzzle." She continues: "Now felt like the perfect time to make this record because, after all that's happened in the world, we need something beautiful and inspirational to lift us up."
In Judy's eloquently written liner notes, she dedicates Spellbound to folk masters Pete Seeger and Woody Guthrie. On the album, she furthers their traditions of generously sharing their lives, loves, and personal reflection. Also, in her notes, Judy relates the origins of her songwriting—a story some know, and a testament to how gloriously unpredictable art and the muse are. Story goes that in 1966 Leonard Cohen made a special trip to Judy's apartment to play her his song, "Suzanne," and, while there, asked her why she wasn't writing her own songs.
Her response was to sit down at her Steinway that very day and write, "Since You've Asked." Judy has been writing ever since then.
In a life and a career brimming with milestone moments, Spellbound is a high watermark of artistry and personal evolution. Though Judy has been writing for half a century, her new album ushers in an era of unbridled creativity. "I always knew I was going to be a late bloomer," she says, cracking up with laughter.
Box Office, Tickets, and Seating.
The Smith's box office will be open for in person of over the phone sales Tuesday-Friday from 10am-4pm. Online tickets can be purchased at any time. All over the phone or online purchases will receive a digital ticket sent to your email. You must have a valid email to purchase tickets for this event.
Our box office is located at the Smith Opera House, 82 Seneca St., Geneva NY, 14456. Our box office can be reached at 315-781-5483 or boxoffice@thesmith.org.
The Smith's COVID-19 Policies
Policies are subject to change at any time without notice; however, we will make every effort to contact ticketholders to alert them of changes to this policy..