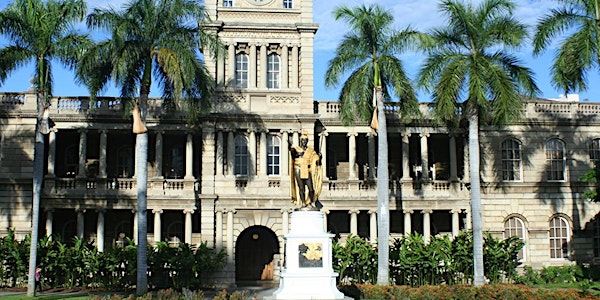 Judiciary History Center Guided Tour 9:00 AM
Visit the King Kamehameha V Judiciary History Center in historic Aliiolani Hale
When and where
Location
King Kamehameha V Judiciary History Center 417 S King St Honolulu, HI 96813
About this event
The King Kamehameha V Judiciary History Center is in historic Aliiolani Hale. The building was constructed by and named in honor of Kamehameha V, who ascended to the throne in 1863. When Aliiolani Hale opened in 1874, it served as the Kingdom of Hawaii's Capitol building, housing the Legislature, the Treasury, Boards of Health and Education, and the Supreme Court. Aliiolani Hale was also home to the national museum, an observatory, and a library. Today the building is the home of the Hawaii State Supreme Court, Judiciary administration offices, the Judiciary History Center, and a law library.
We invite you to journey with us through 1,000 years of judicial history from the kapu system of ancient Hawaii to the laws and courts of our current system.
Important: Aliiolani Hale will, for the time being, continue with many COVID-19 precautions, including mask usage. Access to Aliiolani Hale is restricted to individuals with official business with the courts or those on guided/group tours of the King Kamehameha V Judiciary History Center.
If you are an educator and want to schedule a group tour for students, visit our group tour page.