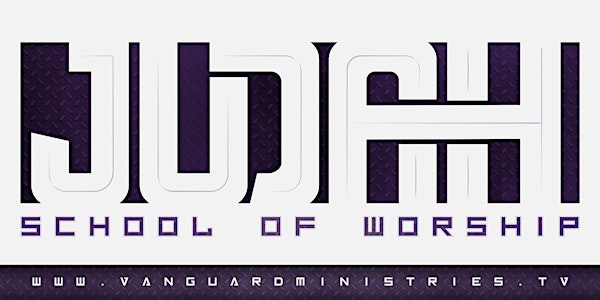 Judah School of Worship 2022
Judah School of Worship 2022
Refund Policy
Contact the organizer to request a refund.
Eventbrite's fee is nonrefundable.
About this event
Vanguard Ministries is so excited to announce the return of our e-course, Judah School of Worship! This course is for everyone and is designed not only for those who are worship leaders and musicians, pastors, and leaders; but it is also geared toward those who may not be musical, but desire to go deeper in their knowledge of God and understand the importance of worship.
-
PLEASE NOTE: this is free to all our Frontline School, Business and Church Partners. If you would like to become a Frontline School Partner today to get access to this and all future on-line schools (there will be four six-week e-schools every year), please click this link: https://vanguardministries.tv/partner.
-
This will be a six week on-line course every Tuesday starting on Tuesday, November 8th and running through the 13th of December 2022.
The sessions will be as follows:
Tuesday 8th November 2022 - Week 1 - The Life of a Worshiper (Foundations)
Tuesday 15th November 2022 - Week 2 – God's Menu – Why We Worship the Way We Do
Tuesday 22nd November 2022 - Week 3 – Guest Worship Leader - Praise
Tuesday 29th November 2022 - Week 4 - This is our God - Why we worship
Tuesday 6th December 2022 - Week 5 – Anointing Jesus' feet
Tuesday 13th December 2022 - Week 6 - Humility in Worship
You will receive class notes for each session and it will be interactive with a Q&A time at the end of every session. We will aim to answer pertinent questions like:
WHAT DOES GOD LIKE IN PRAISE AND WORSHIP?WHY IS HOLINESS IMPORTANT AS A WORSHIPER AND IN A WORSHIP TEAM?
WHY IS YOUR FAVORITE SONG NOT IMPORTANT, AND WHY IS SONG CHOICE VITAL IN A SERVICE?
WHY IS WORSHIP SO DIFFERENT IN A REVIVAL SERVICE OR SPECIAL MEETING COMPARED TO A SUNDAY MORNING?
-
Don't miss this exciting opportunity to go deeper in God. Let's learn how to minister to the Lord together!