About this Event
This is a seated show with general admission, first-come-first-served seating. The Cedar is happy to reserve seats for patrons who require special seating accommodations. To request seating or other access accommodations, please go to our Access page.
General Admission tickets are available online, by phone, Electric Fetus, and at The Cedar during shows.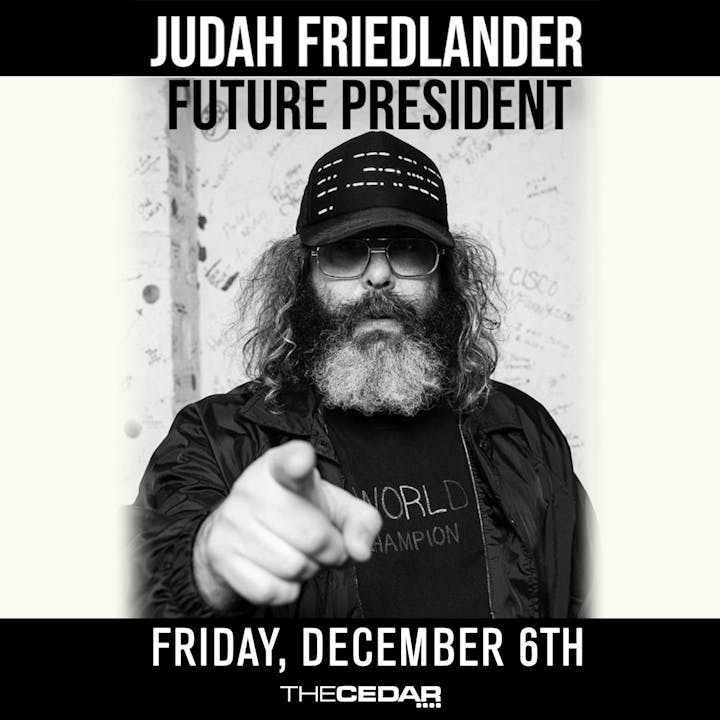 About the Judah Friedlander: Future President Tour
Hilarious, profound satire with endless one liners & seamless crowd work. Judah Friedlander is a singular performer. His Future President stand-up show is American satire at its most creative, incisive, and funny. You have not seen a show like this before. Judah satirizes American Exceptionalism, the systemic power structures that control America, and how America deals with all of its human rights issues. Judah finds and creates comedy from places you never knew it existed.
In Judah's uproariously engaging and unpredictable show, he will tell you why he should be the future President of the United States, and will invite you to ask him questions about his Presidential platform. With Judah's amazing and unique crowd work, no two shows are the same.
Last year, Judah Friedlander's critically acclaimed 84 minute stand-up performance film America Is the Greatest Country In the United States (Netflix, 2017) was named best comedy special of the year by many critics, comics, and fans. This year in 2019, Judah is on tour with all new material.
Come see the Future President of the United States.
About Judah Friedlander
Judah Friedlander is a unique & versatile performer that audiences from all over the world of all different backgrounds love. He has won awards and accolades as both a comedic actor & dramatic actor. He has been in hundreds of television shows and over 40 feature films. For acting roles, he has often changed his appearance & voice so much that he is unrecognizable. Judah has also authored two books: the hilarious instructional karate book How To Beat Up Anybody, and If the Raindrops United a collection of his drawings & cartoons. This year in 2019, Judah will be making & releasing a new feature length stand-up performance film, and releasing a stand-up comedy album with different material than in his new stand-up performance film. Throughout 2019, Judah is on a world tour called Future President with all new material.
Judah Friedlander performing courtesy of BUILD Series' YouTube channel.
Performers
Date and Time
Location
Refund Policy