Description
CHICAGO HUMAN RHYTHM PROJECT's
JUBALEE! November 4, 2016



TICKETS ARE NO LONGER AVAILABLE VIA EVENTBRITE. A VERY LIMITED NUMBER OF SEATS WILL BE AVAILABLE FOR PURCHASE AT THE THEATER BOX OFFICE, BEGINNING AT 6:30PM, FIRST COME FIRST SERVED.
Honoring Michelle Dorrance and Nicholas Young
for their

Extraordinary Contributions to the Field
Featuring a Gala Performance by Dorrance Dance in:
ETM (Electronic Tap Music) Double Down

Please join the Chicago Human Rhythm Project as we honor the brilliance of Michelle Dorrance and Nicholas Young and their extraordinary contributions to the American art of tap and contemporary rhythmic expression. The presentation of Dorrance Dance is a part of the John D. and Catherine T. MacArthur Foundation's celebration of the 35th Anniversary of the MacArthur Fellowship and in collaboration with the Museum of Contemporary Art, Chicago and the Chicago Humanities Festival.

---
Event Chairs
Paul Levy and Mia Park

Co-Chairs
Elaine Cohen and Arlen Rubin, Charlie Gardner and Patti Eylar, Cari and Barry Shein, Northern Trust

Lunch Sponsor
Dena Gordon

Champagne/Dessert Sponsor
Elaine Cohen and Arlen Rubin

Supporting Sponsor
Segal Consulting, Anonymous

Committee Members
Lane Alexander, Elaine Cohen, Michael Foster, Dena Gordon, Diana E. Harris, John Gingell, Donna La Pietra, Irene Michaels, Arni Granat, Cari Shein, Joyce Selander, Claudette Smith, Z.J. Tong
---
JUBALEE 2016 has been reimagined to provide our devoted patrons with a variety of unique and tantalizing experiences up close and behind the scenes!
Design your own experience on November 4th with Nicholas Young, Michelle Dorrance and the Company in a series of events at the elegant Museum of Contemporary Art, Chicago. You can attend one or all of the following events:

11:30 AM - 1:00 PM LUNCH IS SOLD OUT - Scrumptuous Lunch by Culinaire and a rehearsal preview

7:00 PM Liberal Libations in the elegant lobby of the Edlis Neeson Theatre

7:30 PM Gala Performance of Dorrance Dance in ETM: Double Down

9:15 PM JUBA! Award Presentation honoring Nicholas Young and Michelle Dorrance
9:30 PM Bubbly Beverages and Delectible Desserts with the Artists

Proceeds from this event will support CHRP's summer TAP SCHOLAR program (which has provided hundreds of life altering scholarships to deserving, talented teens enabling them to study tap and percussive arts with world class artists) as well as year-round, free, rhythm based arts education programs in Chicago Public Schools that serve more than 10,000 children every year. Don't miss this extraordinary cultural event featuring Michelle Dorrance, Nicholas Young and Dorrance Dance in . . .

ETM: Double Down
Three musicians, the B–girl Ephrat "Bounce" Asherie and eight tap dancers of Dorrance Dance perform on hand-made electronic tap dance instruments. Dorrance has a contemporary physicality unique in tap dance, and the sound from the electronic tap instruments, which collaborator Nicholas Young created inspired by drum triggers, transforms the stage.
ETM ("electronic tap music"): Double Down, a nod to electronic dance music in its energy and melody, matches Dorrance's and Young's kindred idiosyncracies to that of six other Dorrance hoofers, plus B-girl "Bounce" Asherie performing original soft shoe in sneakers. The acoustic music trio includes vocalist Aaron Marcellus and bassist Greg Richardson. Donovan Dorrance, a sibling and ensemble member, contributes original music and plays piano.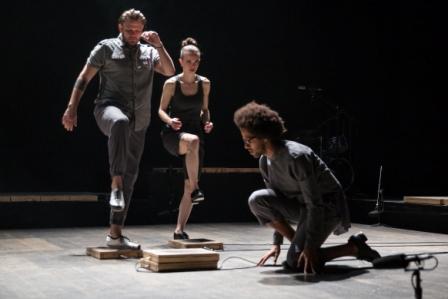 photos by Matthew Murphy

About the Artists
Michelle Dorrance began dance training at the age of three. Her mother, M'Liss, was a founder of the Ballet School of Chapel Hill and her father coaches the University of North Carolina's national championhip winning women's soccer team. Michelle was mentored by Gene Medler, the legendary head of the North Carolina Youth Tap Ensemble. Michelle attended Chicago Human Rhythm Project's summer festival Rhythm World as a student between 1994 - 1998, returned as a faculty member, solo performer and choreographer, shared a Princess Grace Foundation award with CHRP which enabled her to create the critically acclaimed Push Past Break, appeared with CHRP at an historic performance at the Kennedy Center in 2012 and has since catapulted beyond the dance world with the Alpert Award, Jacob's Pillow Award and the prestigious MacArthur Foundation's "Genius" Fellowship.

Nicholas Young has an insatiable appetite for music as well as community, from growing up on 1990s hip-hop. Meeting as teens at the St. Louis Tap Festival, they quickly became enthralled by Gregory Hines and Savion Glover, and were cast members together in STOMP. Young is one of tap dance's finest performers, and winner of the 2014 Bessie Award for sound design and composition. He built the ETM Double Downequipment by hand over a two-year, self-taught process of tinkering with tap boards and connecting them to a MIDI controller, popular in electronic music since the 1980s.
---