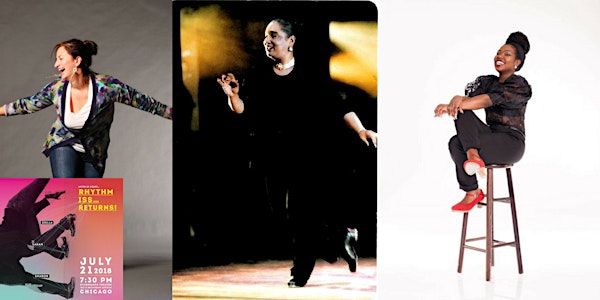 JUBA! Masters of Tap by Chicago Human Rhythm Project - Sat., July 21
When and where
Location
Studebaker Theater 410 South Michigan Avenue Chicago, IL 60605
Description
TICKETS STILL AVAILABLE AT THE DOOR! BOX OFFICE WILL OPEN AT 6:30 at the STUDEBAKER THEATER - 410 S. Michigan Ave, 1st Floor!
Another extraordinary evening unfolds with Stone Soup Rhythms ensemble premiering more new works by Dani Borak; Bril Barrett, Ja'Bowen and Star Dixon will perform a striking trio followed by solos by Tre Dumas and Nico Rubio; and finally Rhythm World closes with Rhythm ISS reuniting the original members of the influential, all-female tap dance company from the late 90s! (I)della Reed-Davis, (S)arah Savelli, and (S)haron Rushing have assembled an amazing cast of Chicago-based female hoofers to join them in revisitng the company's intricate rhythms and signature style with a special appearance by the legendary Dianne "Lady Di" Walker!
JUBA! performances are on Friday, July 20 and Saturday, July 21 and both shows are completely distinct. For more information about the line-up for Friday's performance, or to purchase tickets, click here.
The JUBA! concerts are the culminating events of Chicago's prized citywide festival, Rhythm World. Rhythm World runs July 16–22 and includes scores of courses, master classes, and workshops, the 18th Annual Youth Tap Ensemble Conference, a STOMP intensive focusing on body drumming and found-object percussion, and a comprehensive Teacher Certification program. For more information about the festival, click here.
Photo of Star Dixon by Matt Glavin