Description
**In English!/Auf Englisch!**
Tickets:
Per show: €8 (€6 Student)
2-Show Tickets: €12 (€10 Student)
Come early and stay late for drinks!
Friday, July 28th:
8pm Juan Vesuvius
9:30pm Betty Grumble (Contains nudity/sex scenes!)
---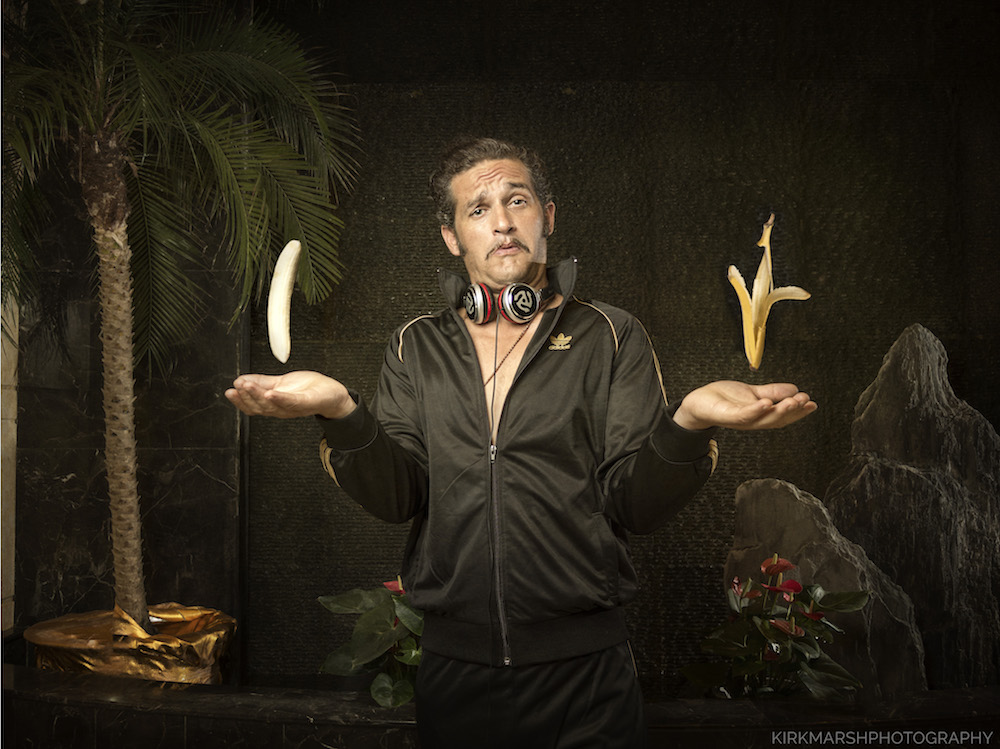 Juan Vesuvius: I Am Your Deejay
The Venezuelan calypso comedy legend brings his turntables to Berlin to deliver the best DJ set you've ever experienced. But why does he need so much towelling? And what really happened between him and David Guetta? Vesuvius is an eruption that cannot be plugged. Just ask the bees.
'A lovely late-night hour... terrific' (The Guardian).
'Bizarre, sexy and very, very funny' ★★★★★ (BroadwayBaby.com).
★★★★★ (The Skinny).
★★★★ (The Scotsman).
★★★★ (Chortle.co.uk).
'Doctor Brown, the Mighty Boosh and Sacha Baron Cohen in one man' (The National).
Nominee: Best Newcomer, Melbourne International Comedy Festival.
Winner: Skinny Fringe Genius Award.
---

BETTY GRUMBLE: LOVE & ANGER (or Sex Clown Saves The World AGAIN!)
Warning! Contains:
Sex scenes
Nudity
Nudity
Nudity
Nakedness
Simulated Violence
Nudity
Vulva Variety
Supernatural Themes
Hope
Scenes that may disturb
Scenes that may arouse
Idealistic Language and dancing
"Sex Clown, Wild Woman & Surreal Showgirl. Award Winning and Head Spinning Betty Grumble brings her special brand of ecosexually charged cabaret flesh riots to Berlin. You are invited to a disco dance of dissent and deep push back-ery with unshaming shamanic rituals of laughter, loins and longing... Where pleasure is a radical act and her body a bloody love letter, Grumble desires you to come with and within for her mantric wish of LOVE AND ANGER (or Sex Clown Saves The World AGAIN!)."
Underbelly Edinburgh Award 2016
Fringe World Perth Cabaret Award 2017
Adelaide Fringe Cabaret Award Finalist 2017
Melbourne Fringe Award (Adelaide Fringe) 2017
Green Room Cabaret Innovation In Form 2017
★★★★★ "Transformative & Wild. Betty Grumble is a MUST SEE." PEACHES
★★★★★ "Grotesque and gorgeous...Part theatre, part comedy, part dance, part sordid burlesque and a whole lot of social commentary." - Great Scott.
★★★★ "Shatters the barriers of conventional cabaret... A true virtuoso." - Broadway Baby.
"It's a strange beauty to find a performing artist where every scene of their show is A-grade in its artistry, hilarity and political message..." - QX Magazine.
---
From July 19th to 30th, we'll be showcasing 20 different acts from all over the world, previewing their shows before the Edinburgh Fringe Festival.
Click here for a full schedule of the Berlin EdFringe Previews.
Presented by Comedy Café Berlin and Damien Warren-Smith of Plague of Idiots.