About this Event
JSWISS
When JSWISS is on the mic you can count on three things: inspiring messages, sharp wordplay, and an energy that moves the crowd. To his many acquired fans, he also brings a fresh and much needed, variant perspective to the current hip hop landscape. His brand of hip-hop, reflective of his vast musical influences and life experiences is infused with a heavy dose of what he calls "awthenticity."
JSWISS' must-see, live shows where he's routinely backed up by a live band of top-notch instrumentalists, have graced the notable and legendary stages of the Apollo Theater, Blue Note Jazz Club, Preservation Hall, The Bitter End, SOBs, Rockwood Music Hall and more. He's also a favorite collaborator of bands and musicians at the intersection of hip-hop, soul and jazz, such as Maurice "Mobetta" Brown, Ben Williams, Nicholas Payton, Daru Jones, Marcus Machado and Chris Dave. His latest album, the critically-acclaimed ""Every Word Is A Dollar"" is out now.
Check out his website, Facebook, Instagram, Twitter, and Spotify!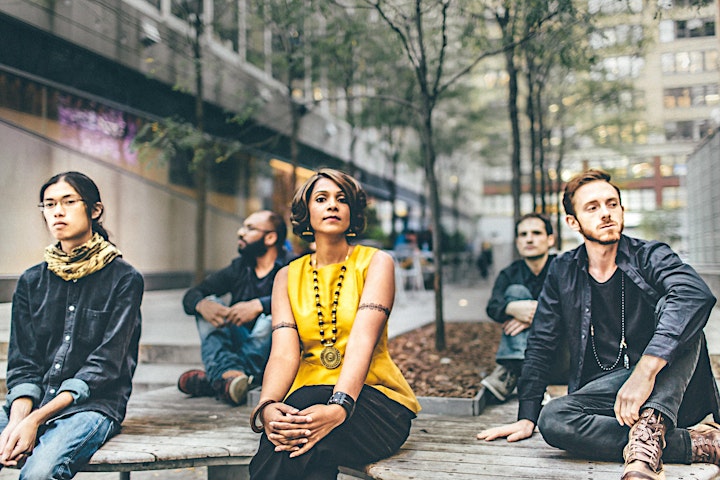 Rini
Leading an international cadre of musicians, New York based, Chennai born singer, composer and violinist Harini "Rini" Raghavan creates her own version of Indian electronica. Harini draws from her formal training in Carnatic music and work at Berklee College of Music in Electronic Production to bring together sounds and music of her birthplace in India and her home in the US. An experienced performer and recording artist, she has recorded and performed with Grammy winning artists A.R.Rahman, Bill Whelan, Rodney Holmes, Gil Goldstein and the renowned Israeli Singer-Songwriter Idan Raichel, headlining prestigious festivals and venues in US, Europe and India, including Boston Symphony Hall, Lincoln Center, Beacon Theatre and the United Nations General Assembly. Rini has released three EP's worldwide to critical acclaim, including a feature in Rolling Stone India, New York Music Daily, Republic of Jazz and World Music Central.
Check out her website, Facebook, Instagram, Twitter, Spotify, and recent press!