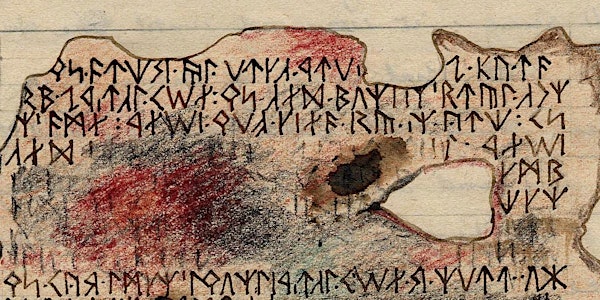 J.R.R. Tolkien: The Art of the Manuscript
Don't miss this rare opportunity to view J.R.R. Tolkien's original manuscripts for "The Hobbit, "The Lord of the Rings," and others.
When and where
Location
Haggerty Museum of Art 1234 West Tory Hill Street Milwaukee, WI 53233
About this event
THREE (3) TIME SLOTS ARE AVAILABLE DAILY WITH A MAXIMUM OF SIXTY (60) TICKETS/VISITORS PER TIME SLOT
JUST ADDED - THURSDAY EVENINGS FROM 6 TO 8 P.M.! REGISTER HERE
FREE DAYS - REGISTRATION REQUIRED
J.R.R. TOLKIEN'S MANUSCRIPTS LECTURE SERIES - REGISTER HERE
Please note that photography is not permitted in this exhibition
Marquette University's Raynor Memorial Libraries and the Haggerty Museum of Art collaboratively present this exhibition focused on the work of celebrated author and artist J.R.R. Tolkien (1892-1973), best known for his literary classics The Hobbit and The Lord of the Rings. The exhibition considers Tolkien's work through the lens of manuscripts, in terms of both the materials that Tolkien studied as a medieval philologist and the manuscripts that he created while developing his collected writings on Middle-earth. Professor Tolkien was deeply immersed in the complexities of manuscripts, and this exhibition will illustrate how different aspects of the manuscript tradition found expression within Tolkien's scholarly life and in his creative writing. Founded on Marquette's J.R.R. Tolkien Collection, the exhibition also includes items borrowed from other repositories, including a significant number of Tolkien manuscripts and artwork from the Bodleian Libraries at the University of Oxford. Many of the 147 items in the exhibition have not previously been exhibited or published. The exhibition is accompanied by a 196-page hardbound catalogue that reproduces the complete object list, and includes introductory essays by exhibition co-curators William M. Fliss, PhD and Sarah C. Schaefer, PhD.
SUPPORT THE HAGGERTY MUSEUM OF ART BY BECOMING A FRIENDS OF THE HAGGERTY MEMBER TODAY HERE AND RECEIVE FREE ADMISSION TO TOLKIEN! For a complete list of membership benefits, please click here.
Image credit: Marquette MS. Tolkien 3/4/12/1a. ©The Tolkien Estate Limited
J.R.R. Tolkien: The Art of the Manuscript is presented through generous support from Premier Sponsor Wintrust.

Additional support is provided by Travel Wisconsin and Contributing Sponsors The Gladys Krieble Delmas Foundation, and Dr. Mary Anne Siderits.