Joyspring Regional Women's Retreat 2019

Thursday, November 7, 2019 at 3:00 PM

-

Saturday, November 9, 2019 at 2:00 PM (EST)
Event Details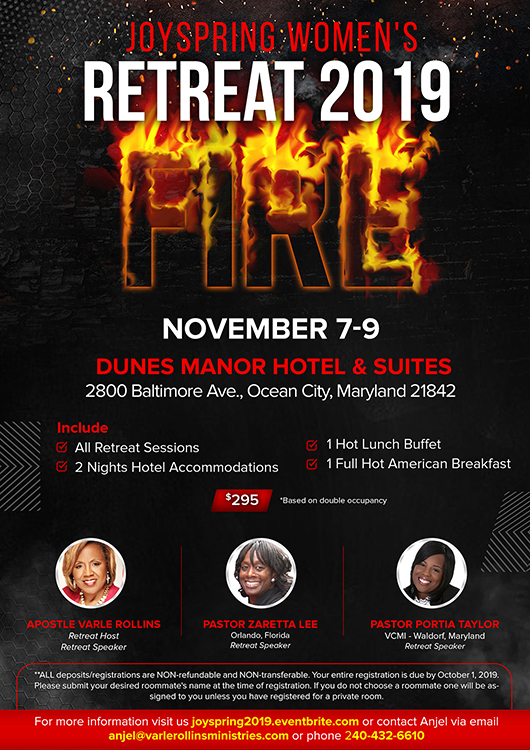 Hebrews 1:7 – In speaking of the angels he says, "He makes His angels winds, His servants flames of fire." (NIV) (Angels is speaking of his angels, winds, (The Wind (Ruach), breath of heaven), and his servants as flames of (Supernatural) fire.)
Dear Joyspring Friends:
I have been praying about our upcoming retreat for a long time. Every time I even think about it, I hear the word "FIRE"! I KNOW that God is up to something very unique and something we have never seen or experienced at any retreat. Hebrews 1:7 says that God makes His servants "flames of fire". He MAKES us flames of fire. WOW!
The Fire and power of God touched you when you were created. Therefore, fire was never to be withheld from those who are born-again. He intended for us to reveal and release God's mighty power. As you are clothed with power and authority, you will be set ablaze with God's glory.  The word of God says, "He will baptize you with the Holy Spirit and fire." That means He will overtake you with "FIRE"! On the day of Pentecost, 120 were baptized in The Fire and we read in the Book of Acts how they turned the world upside down. Remember, "The Fire" is for YOU and YOU were created for "The Fire"!
We need to rekindle the flames that have died out in our lives. We also need to be ready to revive the embers that are smoldering in the lives of others who have lost their zeal. 
I'm excited about this retreat because it is designed to rekindle your fire no matter where you are in your life. You may be already on fire for God, or crying out for "MORE" of God. Maybe you have been praying for revival fire for our churches and our nation. Many women who are called have watched as circumstances have affected their fire. Others have become weary and lost their passion.
There are too many women who don't see themselves as fit for "The Fire". Therefore, they only expect God's FIRE to be for those who are on platforms, on TV, singers, musicians or writers. BUT, "The Fire" isn't given to us to make us celebrities, The Fire is to ignite your life and bring attention to The Living God!
This retreat is also designed to ignite your prayers – your faith – your praise – your worship – witnessing – AND see how "The Fire" will help you to receive greater revelation of God's Word. "The Fire" will also cause you to walk in levels of JOY that you've never known.
The winds of God (His Breath) are being released, and as He fans the flames and brings fire back into your lives and ministries, your position in life won't be an issue. The "Fire" is for everyone and women are being ignited in this hour like never before. God's "Fire" is spreading quickly and I am seeing women who are getting caught up and ignited everywhere. How about YOU?
You are NOT excluded – whoever you are!
–       Ministers and leaders
–       Singers and musicians
–       Writers, artists, teachers
–       Mothers and wives
–       In the workforce
–       Business women
–       Retired
Take the FIRE with you EVERYWHERE!
This retreat is a life changer! Come and experience God's glory, as things that seemed charred, seared and stagnant in your life, will be revived as "The Fire" ignites a new passion in your soul. 
You need to know that Satan and his cohorts have tried to quench God's true "Fire" and by releasing and deceiving us with strange fire. This kind of fire has been undiscerned and therefore it has been accepted as normal in our churches and in our lives. But God's Holy fire will burn away every strange thing and every lie of the enemy. He has shammed too many people and is still playacting in too many lives trying to make himself appealing.
Are you ready to stir yourselves up, renew your passion and not allow anything to annihilate your zeal? Are you ready to live with God's unceasing "Fire"?
If you are, then KNOW that The Holy Spirit wants to keep you fired up so that NOTHING will ever be able to rattle your faith or quench your "Fire" again.
The time for "Fire drills" is OVER! It's time to KNOW that this is the REAL THING – "FIRE"!
We are to stay ignited to bring Heaven on earth. The sound of "The Fire" has a roar. That sound will cause people everywhere to hear what can only be defined one way.
The people all around us will not be running away from us, but they will be running to us and shouting – "FIRE".
Someone once asked a great man of God what the secret of his success was and he replied, "I just get on fire for God and the world comes out to see me burn!".
Joyspring Women – I can't wait to meet you at THIS RETREAT! We will each be ignited and set ablaze. Expect Fire on your prayers. Expect Fire for your families, relationships and your daily walk. Yes, your worship is about to ignite. Your callings, giftings and anointings will be set ablaze.
ALSO – Expect "Fire" for healing, deliverance and breakthrough. No matter your place in life or how you are known or seen, "The FIRE" is here and "The FIRE" is for you!
Get on "FIRE" and cause the world to come a watch YOU burn!
 Ignited,
Apostle Varle Rollins
The greatest miracle of that day (Pentecost) was the transformation wrought in those waiting disciples.  Their fire-baptism transformed them. —Samuel Chadwick
The Gospel is not an old, old story, freshly told. It is a fire in the Spirit, fed by the flame of Immortal Love; and woe unto us, if, through our negligence to stir up the Gift of God which is within us, that fire burns low. —Dr. R. Moffat Gautrey
Save This Event
When & Where

Dunes Manor Hotel & Suites
2800 Baltimore Avenue
Ocean City, MD 21842


Thursday, November 7, 2019 at 3:00 PM

-

Saturday, November 9, 2019 at 2:00 PM (EST)
Add to my calendar
Organizer
Website: https://varlerollinsministries.com/organizer/varle-rollins-ministries-6/