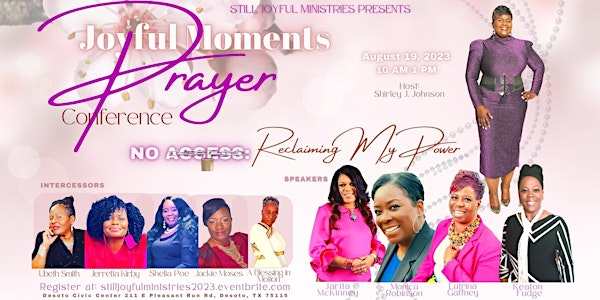 Joyful Moments Prayer Conference 2023
Still Joyful Ministries presents "Joyful Moments Prayer Conference 2023"
By Still Joyful Ministries
Date and time
Saturday, August 19 · 10am - 1pm CDT
Location
Desoto Civic Center 211 E Pleasant Run Rd Desoto, TX 75115
About this event
Do you need to get your joy back? Are you tired of missing out on opportunities to grow and heal? Don't ignore that voice telling you that a change is needed. It's time to fight back and no longer allow access to anything that is blocking your joy! Join us for the JOYFUL MOMENTS PRAYER CONFERENCE 2023.
We're taking steps to smile, one joyful moment at a time. In 2023, we are going even higher with more PRAISE, more life-changing PRAYER and much more heart-healing WORD OF GOD! Join us for a 2023 power moves conference. We will no longer allow anything to block our path to happiness. This year, we have a war cry for anything that gets in our way - "NO ACCESS: Reclaiming My Power!"
Dynamic Speakers, Evangelist Jarita McKinney, Minister Monica Robinson, Pastor Keaton Fudge, Pastor Latrina Gaffney and Elder Shirley J. Johnson will deliver messages that will help you at this turning point in 2023 and beyond. Anointed Intercessors, Minister Shelia Poe, Minister Jackie Moses, Minister Ubeth Smith, and Minister Jerretta Kirby will be in position to assure heaven hears our plea! Minister Marti Humphries lead us into a dance of sisterhood and Minister Felecia Erwin will lead us into soul-freeing praise and worship!
There's no need to delay. You don't want to miss this! You will not leave the same! Register today! Don't forget about your sisters. Invite them to worship God with us too!
**Represent with the COLORS of the day and wear your PURPLE and BLUSH/Dusty Rose.
***Breakfast will be served at the beginning of the conference, so be sure to be on time. Doors open at 9:30 am!
Follow Us for updates:
Face Book and Instagram: @stilljoyfulministries
Website: stilljoyfulministries.com
**If you cannot attend the event; but desire to be a blessing to the ministry, you can give a donation on the Ticket Tab. This will help to further a good ministry cause and bless multiple others.
All proceeds donated will benefit ministry efforts, to include outreach for the less fortunate. This year we will give out hats, gloves and scarves during our CAPS & COCOA outreach event. We also feed and provide toiletries to the less fortunate and support women in need. Still Joyful Ministries is a 501c3 non-profit organization and all donations are tax deductible. You can also donate via CashApp: $StillJoyfulMin and Pay Pal paypal.me/StillJoyfulMin.
Frequently asked questions
Can men attend this conference?
Can I register onsite the day of the conference?
What room will the conference be held in?
About the organizer
Founder 
Shirley J. Johnson is a minister servant leader and overcomer. She has survived struggles with identity, sickness, tragic family loss and the challenges of helping others while you are hurting.


She has spent 10+ years leading ministries, teaching and preaching at various engagements. Her love for God is the source of her strength. She has a genuine desire to serve God's people and does this through her ministry, STILL JOYFUL MINISTRIES, where she imparts that life and tragedy do not have to steal your joy.


Her background includes service in the U.S. Air Force and the Department of Homeland Security. She has a degree in Communications from Dallas Baptist University and has studied courses on Business, Technology, the Bible, Christianity and Religion.


Preaching an uncompromising word, prayer and exhortation are all a part of her service to God. She is the author of From Comfort to Completion: Still Joyful. She is a Certified Christian Mentor (CCM), co-author of Lifting the Veil and author of From Comfort to Completion: Still Joyful. She has been featured in Queen B Magazine, K.I.S.H. Magazine, and Voyage Dallas Magazine.


Licensed Minister: Preaching, Teaching, Intercessory Prayer
Author: From Comfort to Completion: Still Joyful Co-Author: Lifting the Veil
Certified Christian Mentor (CCM): Mentoring
​Motivational Speaker

Contact Us TodayWebsite: www.stilljoyfulministries.com  Email: stilljoyfulministries@yahoo.comLIKE, COMMENT and FOLLOW or FB and IG @StillJoyfulMinistries