About this Event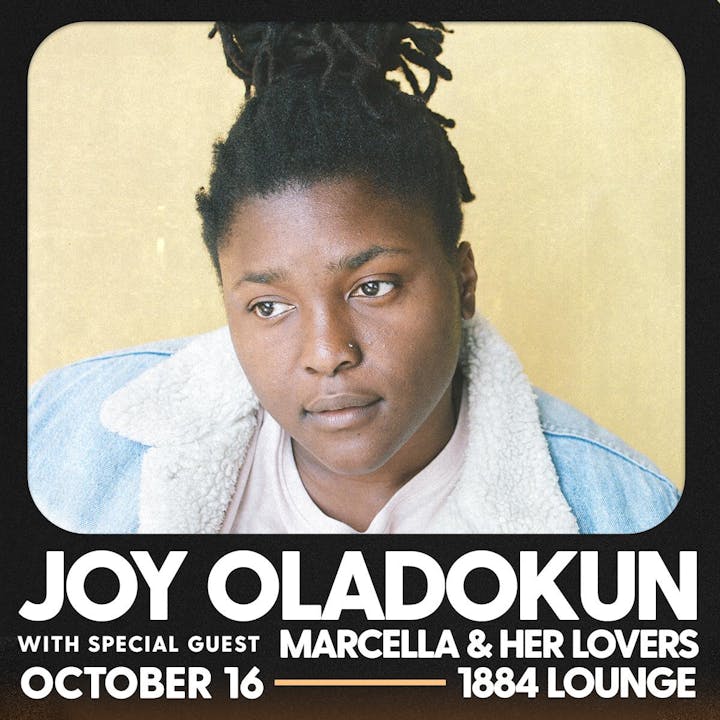 JOY OLADOKUN was 10 years old when she saw a video of Tracy Chapman singing and playing guitar, inspiring her to do the same. "Seeing a black woman playing folk music and owning it brought something to life in me," Joy told Ladygunn magazine. After writing and recording "No Turning Back" in her bathroom in 2017, Joy registered the song for a sync website in an effort to try and make some money to cover living expenses. Questioning the sustainability of a career as a singer-songwriter, Joy took a trip home to contemplate moving on from music. While shopping in Wal-Mart with her dad, she received a call that Russell Wilson and Ciara had used "No Turning Back" in their baby announcement video, ultimately leading her to be discovered and signed to a publishing deal with Prescription Songs. An Arizona native of Nigerian descent, Joy combines the sounds of roots rock and folk songwriting with a pop voice. Currently living in Nashville, Joy describes her artist project as an "internal struggle between loving Stevie Nicks and Aretha Franklin."
Minglewood Hall Policies
What can you bring in? A Good Attitude to see a great Concert & Your Tickets or Will Call Info. A Valid ID (for patrons over 21 who wish to drink alcoholic beverages this is an absolute.)
Back Packs and Purses may be subject for search
Cameras – disposable & non-professional – this is show specific and determined by the artist. Email info@minglewoodhall.com the day before the show to confirm policy.
Audio Recording Devices – this is show specific and determined by the artist. Email info@minglewoodhall.com the day before the show to confirm policy.
PLEASE NOTE: Due to artist restrictions, some items listed above may not be allowed for certain shows. Please call or email info@minglewoodhall.com for show specific restrictions the week of the show.
What NOT to bring:
NO Outside Food or Beverage ,Alcohol, Lawn Chairs, Video Recording Devices, Coolers & Picnic Baskets, Firearms of any kind, Fireworks, Glass Bottles, Illegal Substances of any kind, Laser Pointers, Mace/Pepper Spray, Musical Instruments, Sharp or Dangerous items of any kind, Stickers/Decals, Weapons – of any kind, Umbrellas
IT IS OUR GOAL TO PROVIDE THE ABSOLUTE MOST FUN AND SAFEST EVENT POSSIBLE.
PLEASE REPORT ANY INCIDENTS TO A STAFF MEMBER AS QUICKLY AS POSSIBLE
NO MOSH PITS, SLAM DANCING or CROWD SURFING ALLOWED.
WE HAVE A ZERO TOLERANCE POLICY TOWARDS VIOLENCE OF ANY TYPE. ANY INCIDENTS WILL BE ADDRESSED BY THE EVENT SECURITY. ANY PERSONS INVOLVED IN FIGHTING OR VIOLENT ACTS WILL BE REMOVED FROM SITE AND/OR ARRESTED, NO EXCEPTIONS!
NO RE-ENTRY AT ANYTIME.
NO REFUNDS ON TICKETS PURCHASED.