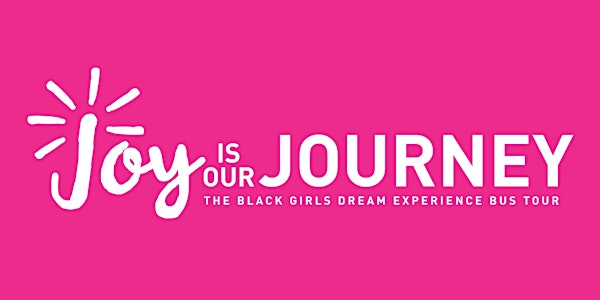 "Joy Is Our Journey" Dream Bus Tour - Elaine, AR
Georgia, Alabama, Mississippi, Arkansas… Get Ready to Take a Journey with the Black Girls and Women's Consortium This Summer!
When and where
Location
Historical Elaine High School 100 College Street Elaine, AR 72333
About this event
That's right! The Southern Black Girls and Women's Consortium is going on tour and we want you to come along for the ride!
Join us on Saturday, August 27 in Elaine, AR, for the next leg of our exciting "Joy Is Our Journey" Dream Bus Tour! The event will take place at Historical Elaine High School (100 College St., Elaine 72333) from 10AM - 12PM CDT and will feature an exciting Joy Stop experience curated, especially, for Black girls and young women with multiple activities for fun, learning and healing.
WE'LL SEE YOU THERE!
**************************
ABOUT THE "JOY IS OUR JOURNEY" DREAM TOUR
The "Joy Is Our Journey" Dream Tour is an exciting, month-long expedition that will caravan to multiple destinations throughout southern states including Georgia, Alabama, Mississippi and Arkansas. Featuring Dream Village events and Joy Stops, each experience will include music, giveaways, multiple activities and much more for Black girls, young women and gender expansive youth, ages 12-24. The goal of the tour is to shift the narrative of Black girls and women in the south and provide a safe space for them to be their authentic selves, discuss their most pressing concerns, and receive investment for their dreams.
ABOUT THE SOUTHERN BLACK GIRLS AND WOMEN'S CONSORTIUM
The Southern Black Girls & Women's Consortium is a community of Black women in philanthropy, activism and girls' work, who hold deep roots in movement-building throughout the South and seek to fundraise and shift current grant-making efforts to channel greater resources toward organizations that are intentionally supporting and empowering Black girls and women in the South. The Consortium recognizes their critical role and the importance of centering the lived experiences and leadership of those most impacted by deep-seated injustices. SBGWC is led by four anchor institutions - Appalachian Community Fund, the Black Belt Community Foundation, Fund for Southern Communities and TruthSpeaks Innovation Foundation - and includes a host of grassroots and advocacy partners who are actively engaging in this work across the region. For more details, visit www.SouthernBlackGirls.org and follow the tour on Facebook, Twitter and Instagram.
ABOUT PETE & THOMAS FOUNDATION
Founded by Grammy Award-Winning Rapper, Megan Thee Stallion, in honor of her dearly beloved parents, Holly Thomas & Joseph Pete Jr., the Pete & Thomas Foundation seeks to catalyze resources to effect meaningful and positive change in the lives of women and children, senior citizens, and underserved communities in Houston, Texas and beyond. The foundation focuses on three core areas: education - providing scholarships, school supplies, and resources to support students in high need communities; health and wellness - supporting the areas of cancer care, mental health, and food insecurity; and housing - addressing housing issues for senior citizens, single mothers and families impacted by financial emergencies and natural disasters. For more information about the Pete & Thomas Foundation, visit www.peteandthomasfoundation.org and follow @PeteThomasFDN on Twitter, Instagram and Facebook.
**************************
COVID PROTOCOL
We've put safety protocols in place to make the Joy is our Journey Dream Bus Tour a safe and enjoyable experience by keeping you healthy as we connect.
To ensure we can gather safely, please complete this form: https://form.jotform.com/222225084766154
**************************
LIABILITY WAIVER
By registering for this event, you, in consideration of being allowed to enter and/or participate in any way in the JOY IS OUR JOURNEY DREAM BUS TOUR event area and its related activities, acknowledge, appreciate and agree that:
You are aware of the associated risks (albeit likely minimal) involved that you and/or your minor's persons participation in this event hosted by the Southern Black Girls and Women's Consortium (Southern Black Girls), its event production company, Plateau Event Productions, Inc. as well as its hired vendors and consultants. You understand that some of the event's activities involve certain risks for physical injury as well as potential risks of which you may not presently be aware.
Nevertheless, you voluntarily elect to participate in this event with knowledge of the risks involved, and you hereby agree to accept and assume any and all risks of property damage, personal injury, or death. Southern Black Girls does not ensure participants in its event activities and participants who want to be covered must obtain their own insurance. Southern Black Girls asserts lack of responsibility or liability for injury resulting from any of its event activities.
In consideration for being allowed to voluntarily participate in the above-referenced activity and or intramural event, on behalf of yourself, your personal representatives, heirs, next of kin, successors and assigns, you forever:
a. waive, release, and discharge the Southern Black Girls and Women Consortium, its consultants, vendors, volunteers, officers, and employees from any and all negligence and liability for your death, disability, personal injury, property damages, property theft or claims of any nature which may hereafter accrue to you, and your estate as a direct or indirect result of your participation in the above referenced activity or event; and
b. defend, indemnify, and hold harmless the Southern Black Girls and Women Consortium, its consultants, vendors, volunteers, officers, and employees, from any and all claims of any nature, including all costs, expenses, and attorney's fees, which may in any manner result from or arise out of this agreement, except for claims resulting from or arising out of Southern Black Girls' sole negligence.
You hereby consent to receive medical treatment, which may be deemed advisable in the event of injury, accident or illness during this activity or event. This release, indemnification, and waiver shall be construed broadly to provide a release, indemnification, and waiver to the maximum extent permissible under applicable law.
You, the registered participant, affirm that you are at least 18 years of age (or the parent/legal guardian of said minor under the age of 18) and are freely registering as a personal electronic signature to this agreement.
You have read this form and fully understand that by registering for this event you are electronically signing this waiver and you are giving up legal rights and/or remedies which may otherwise be available to you regarding any losses you may sustain as a result of your participation. You agree that if any portion is held invalid, the remainder will continue in full legal force and effect.