Interested in learning how to break into artificial intelligence (AI)? Come and hear four of our expert AI instructors share their stories!
About this Event
Over the last few years, artificial intelligence has swept the world. Everyone from established companies to startups, government departments to university labs, is seeking AI talent to join their teams. But how can students and working professionals break into artificial intelligence? We have invited four of our Inspirit AI instructors to share their journeys to becoming experts in AI, and how you too can break into this exciting field!
The event will be held on Zoom on Saturday, February 20th at 2:00 PM Pacific Standard Time. The event will be 90 minutes long. We will open with short talks by each of our speakers and then progress into a panel discussion with them.
Event Agenda
2:00 PM PT - 2:10 PM PT | Welcome and Introductory Remarks
2:10 PM PT - 2:20 PM PT | AI for All High School Students: From Biologists to Artists, by Daniela Ganelin, MIT
2:20 PM PT - 2:30 PM PT | AI and the Life Sciences, by Anna Sappington, Cambridge
2:30 PM PT - 2:40 PM PT | Prepare for Applying AI in College, Research and Careers, by Akshay Jagadeesh, Stanford and Aansh Shah, Amazon Alexa AI
2:40 PM PT - 3:00 PM PT | Presentation about Inspirit AI
3:00 PM PT - 3:30 PM PT | Panel Discussion
No prior knowledge of AI or computer science is required, but an interest in learning about AI is appreciated!
Attendees will be emailed a link to join the Zoom meeting prior to the start time. The event is fully open to the public and all attendees are welcome!
Learn more about our talented speakers below!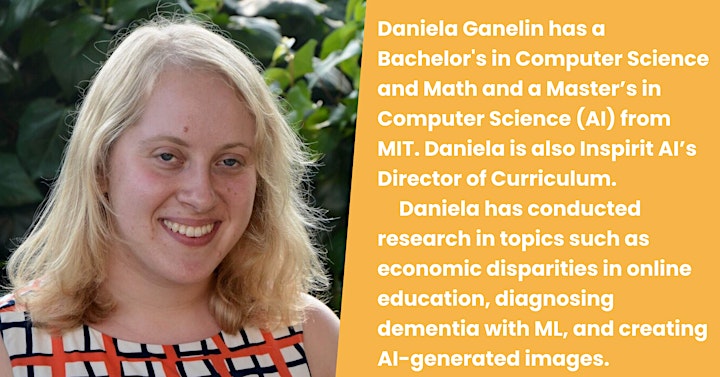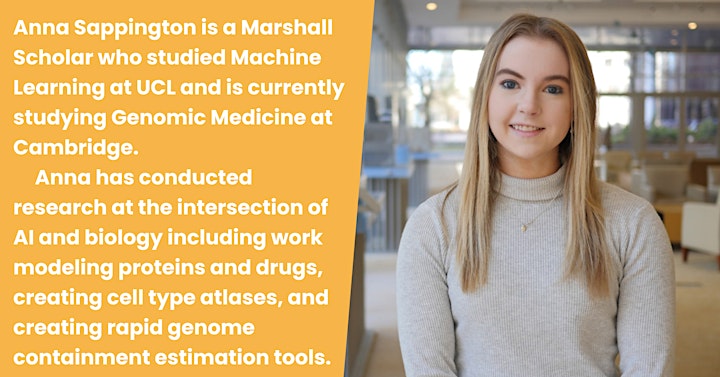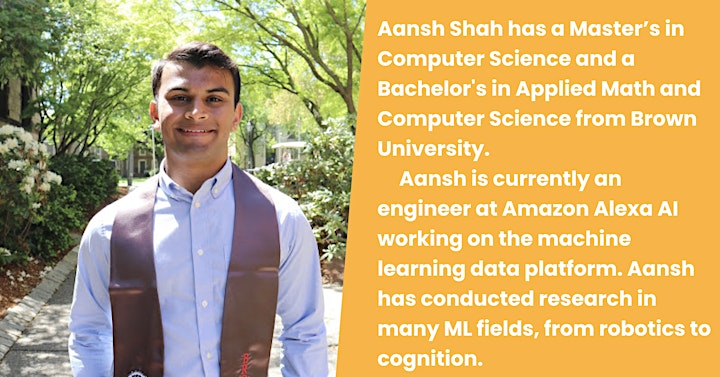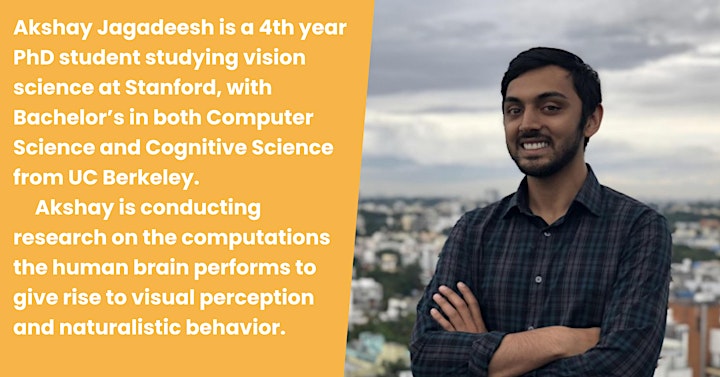 MORE ABOUT INSPIRIT AI
Inspirit AI offers the AI Scholars Live Online program, a pre-college enrichment program that exposes curious high school students globally to AI through live online classes, with a student-teacher ratio of 4:1. The program is developed and taught exclusively by alumni and graduate students from top colleges specializing in AI.
The AI Scholars program exposes students to fundamental AI concepts and guides them to build a socially impactful AI project. The program runs as a 10 session (25 hour) project-based bootcamp, taking place during late spring, from April through June. Interested students can fill out the application at www.inspiritai.com.
For inquiries about our AI Scholars program, please contact Lucas Hornsby at lhornsby@stanford.edu or Katherine Gjertsen at kgjert@stanford.edu.