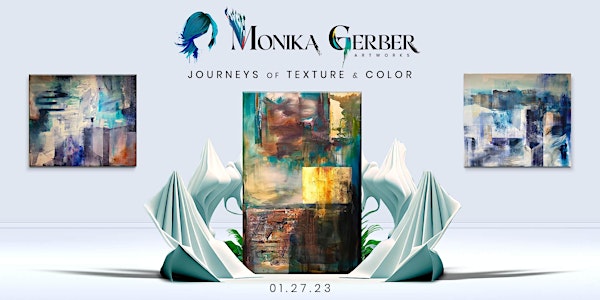 Journeys of Texture and Color: Virtual art exhibit by Monika Gerber
A specially curated gallery and fireside chat with German contemporary artist who works from her studios out of Los Angeles and Madrid.
About this event
The Artist:
Monika Gerber is a globetrotting German contemporary artist who works from her studios out of Los Angeles and Madrid. Not only has Monika traveled the world with an artistic lens, but she has also explored fantasy realms and time through her 20 years of work as a lead scenic artist for Tokyo and Hong Kong Disney.
Her Work:
Monika's artworks are a carefully orchestrated symphony of textures, colors, styles and techniques, layered in harmony to create sensual abstract works of art that evoke a sense of mystery and curiosity while immersing the viewer into Monika's unique visual translations of textures and colors from across the globe. Her artwork mimics her life: thoughtful, adventurous and charismatic.
"My goal is to always push the possibilities of paint as far as I can."- Monika Gerber
Virtual Exhibit
In her latest gallery exhibition, Journey of Textures & Color, Monika ventures into the virtual world with a carefully curated collection of her paintings – a passport full of textures and colors from her travels. The event will feature a virtual viewing of a specially curated gallery of her artwork. At the end of the exhibit will also be a prize giveaway (see below for details).
Fireside Chat hosted by Greg Andrade:
Accomplished architect and visual artist, Greg Andrade, will host an engaging fireside chat with Monika to uncover some of her personal stories and insight into her work. His understanding of materials and love for art along with his vast global travels, and experience working as a Concept Architect for Walt Disney Imagineering makes him the perfect moderator for this informative and fun discussion.
The event will be held on the NoWhere 3D platform. If you've never experienced virtual worlds, we highly recommend that you come. No account sign up or special equipment is needed and also no strange avatars. NoWhere uses "video pods" in a 3D space along with spatial audio.
WIN a high-quality poster sized print.
At the end of the exhibition, attendees will have the chance to win a high quality poster sized print of one Monika's artworks. It will be given away in a way that can only be experienced in a virtual 3D space. Good luck!
We look forward to seeing you!
FOLLOW THIS LINK THE DAY OF THE EVENT:
https://now.urnowhere.com/invite/mEiOtzwIECpbZpsbBRZoGzkih?spaceId=7w1jqZtkMp9u8A7pfFW1