Description
We bring to you our FIRST ever event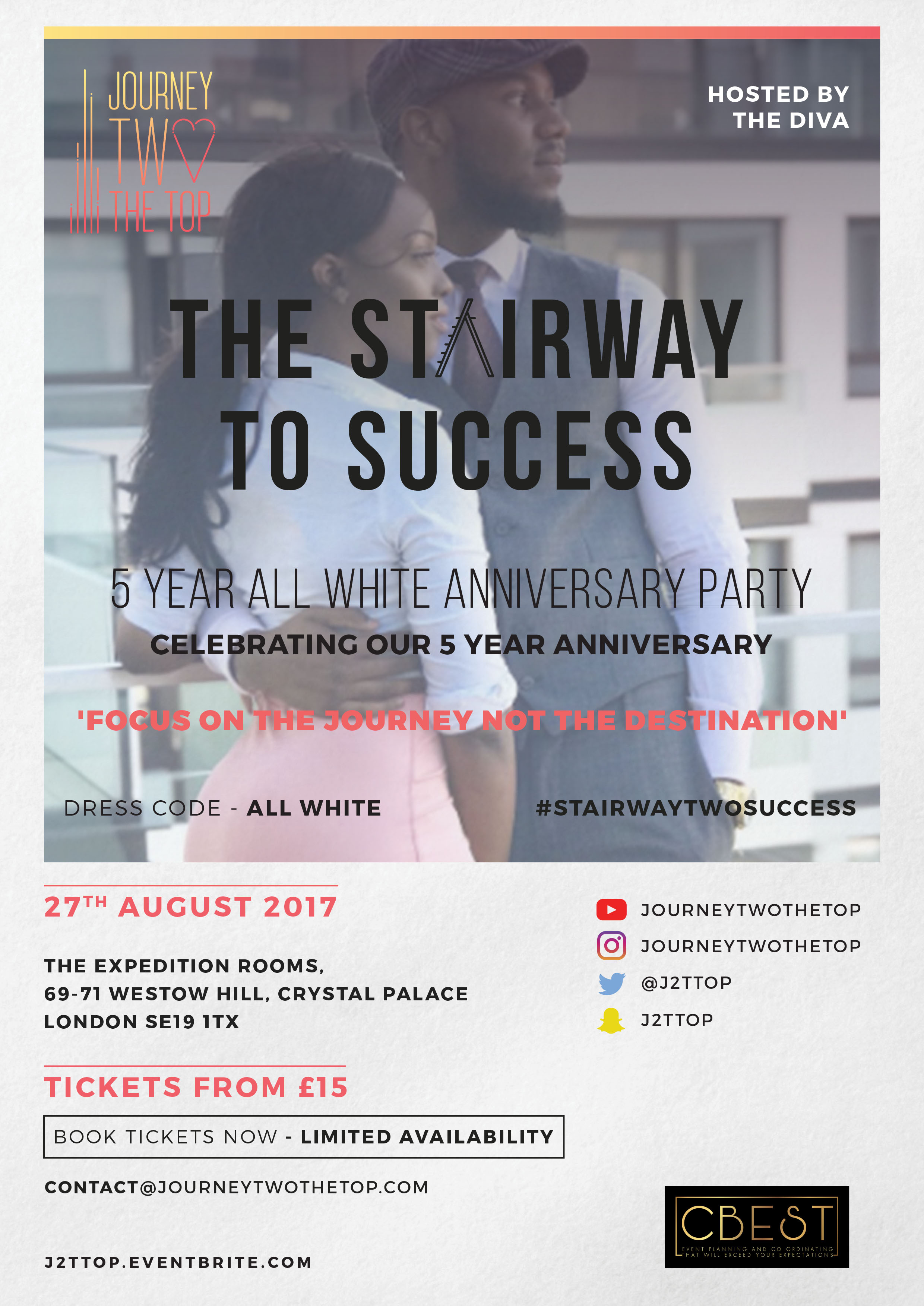 ---


Journey Two The Top: The Stairway To Success
ALL WHITE PARTY
Celebrating our 5 Year Anniversary
---
This event is created to inspire and motivate you to follow your dreams and be around successful people. We alo want you to join us celebrate our 5 year anniversary in style!
We will start with a two hour motivating session with a line up from our amazing guests speakers and preformers.
Followed by a turn up to remember as you help us celebrate our five year annivarsary.
---
Guest Speakers on the Night:
- Nissy Tee
Preformers On The Night:
Presenter on the night: The Diva
DJ on the Night: Mr 1 Elusive
---
We have amazing Sponsors & Giveaways on the night for our attendees - this is an EVENT NOT TO BE MISSED.
We are both young entrepreneurs on a journey to the "the top". I (Lara) am the cofounder of two successful online fashion marketing companies - FashionSOS & SmoochXOXO. While my partner Dapo is the founder of LocoKickz - A digital source and marketplace for footwear.
We
have been in a relationship for almost 5 years and our aim as young business owners with a voice
is to inspire and motivate the younger generation as well as anyone who has dreams,
vision or a greater purpose
to follow their passion and find the confidence to embrace their success
. We both believe that
"success is a journey not a destination" and through us
shedding
some light on our journey, struggles and experience we hope to give others the inspiration to follow their own dream.
We started YouTube back in Dec 2016. Since then we we have gained over 1,200 subscribers and over 7,500 followers on our social media profiles (Twitter, Facebook & Instagram). In addition accumulatively our
business pages totals to
over 360,000+ followers
on instagram which we advice you to check out.
Date and Time
Location
Refund Policy