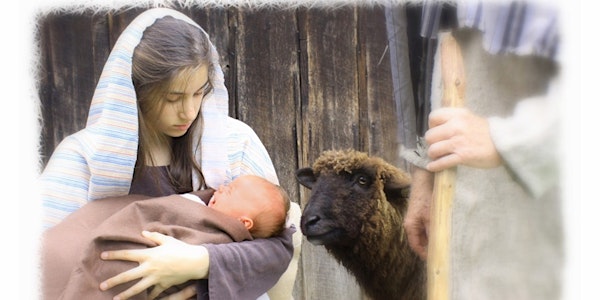 Journey To Bethlehem New Market
Journey to Bethlehem is a live interactive dramatization of Bethlehem at the time of Jesus' birth.
By New Market Seventh-day Adventist Church
Location
New Market Seventh-day Adventist Church 62 West Lee Highway New Market, VA 22844
About this event
Currently all tickets are reserved. Please keep checking this website to see if tickets become available when others who have already reserved need to cancel. Any event inquiries, please email j2bnewmarket@gmail.com.
On your 50 minute outdoor walk-through tour you'll experience the cruel Roman guards, meet merchants at the busy marketplace, observe the school of the rabbis, watch a potter create first century pottery, hear the angels sing, and travel with the shepherds to see the baby Jesus.
We offer this gift to our community for FREE 5 nights during this holiday season. Journeys leave every 10 minutes from 5:30 to 8:30 p.m. from Thursday, December 2nd through Monday, December 6th. Reserve up to six tickets, beginning at 8:00 AM on November 14 at www.J2BNewMarket.com (or call 540-296-4796 for more information).
Though limited walk-ins are available each night, we strongly encourage you to reserve tickets. Please arrive 25 minutes before your journey time. Enjoy beautiful Christmas music while you wait.
CANCELLATIONS: To respect others who would like to come but couldn't get a ticket, if you have reserved tickets and then are unable to attend, we ask that you follow the cancellation process. Simply click on the link in your email confirmation.
Important Information!
How do walk-ins for Journey to Bethlehem work?
Each night of J2B there are a limited number of slots budgeted for non-ticketed visitors to use. Spots that become available when ticketed visitors don't show up are also used for walk-ins.
If you come as a walk-in, check-in at the ticketing table to get on the list for an available slot. They may be able to tell you how long your anticipated wait will be. Then you can enjoy live Christmas music in the sanctuary while you wait.
If you want to increase your chances of getting walk-in tickets:
Come early in the evening!
Be willing to split your party into smaller groups. More spots may come available for 2-3 people than 5-6+ together. You can always meet up again at the end & enjoy your cups of cider together!
Based on our past experience, Friday & Saturday nights are our busiest nights, so Thursday, Sunday, or Monday (especially Monday!) will likely give you more chance of success & shorter wait times.
If the weather isn't very good, no-shows or cancellations are very likely, so just bundle up and come! (We have gone on under light snow and rain in the past!)
Packaged for you with love by the New Market Seventh-day Adventist Church. You can also connect with us and stay updated through our website or Facebook Page.