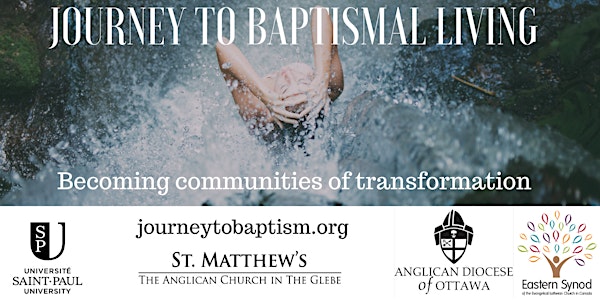 Journey to Baptismal Living: Becoming Communities of Transformation
Sales Have Ended
Ticket sales have ended
For parish teams of 3, the third admission fee is %50 off.
Event Information
Location
Saint Paul University
223 Main Street
Ottawa, ON K1S 1C4
Canada
Sales Have Ended
Ticket sales have ended
For parish teams of 3, the third admission fee is %50 off.
An immersion experience and training for congregational teams: welcoming seekers, making disciples.
About this event
REGISTRATION CLOSES OCTOBER 21, 2018.
Welcoming is important, foundational, Gospel.
But what's next?
How do we welcome the curious, the exiled, the returning, the seeker, and create a space to be encountered by Jesus, to build relationship, to help discern the transformative path of dying with Christ and sharing in his Resurrection?
Journey to Baptismal Living (North American Association of the Catechumate) will offer an intensive weekend of experience and training for parish teams to help foster communities of transformation.
The weekend, hosted by the Anglican Studies Program Saint Paul University, and Saint Matthew's Anglican Church and supported by the Anglican Diocese of Ottawa and the Eastern Synod of the Evangelical Lutheran Church in Canada will include
the sharing of and leadership of liturgical rites,
small group formation,
theological reflection,
formation for leaders,
faith conversation and listening skills
fellowship and opportunity for ongoing access to resources and community dialogue.
Parish teams of 3 or more are encouraged to participate and experience these paths and tools for becoming welcoming, forming, sending communities in its worship, reflection,prayer and ministry.
The cost per participant is $250 with 3rd team members receiving a 50% discount.
Meals included.
PLEASE NOTE THAT ATTENDEES ARE ENCOURAGED TO REMAIN IN THE CONFERENCE THROUGH TO SUNDAY.
The great commission reveals the future of the Body is in our hands. If we are not forming new disciples, who is?
For Accommodation at Saint Paul University Residence
contact residence directly at 613-236-3131
or via email ustpaul@stayrcc.com.
Agenda
Friday October 26
6:00 pm - 9:30 pm
hor d'oeuvres included
Saturday October 27
8:30 am - 9:30 pm
Breakfast, Lunch, Dinner, breaks and Evening "Vigil Party" included
Sunday October 28
8:30 am - 12:00 pm
Breakfast and break included
For further information contact
stmatthewanglicanchurch@bellnet.ca
613-234-4024
Date and time
Location
Saint Paul University
223 Main Street
Ottawa, ON K1S 1C4
Canada