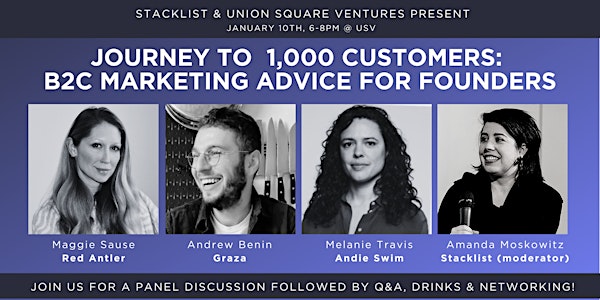 Journey to 1,000 Customers: B2C Marketing Advice for Founders
What does it take to go from 0 to 100, 1,000 or even 100,000 customers? Join us for a panel on marketing strategies & tactics for startups!
When and where
Location
Union Square Ventures 817 Broadway New York, NY 10003
About this event
TL:DR
On January 10th, 6-8PM, join us at Union Square Ventures for a panel discussion for early-stage entrepreneurs: "Journey to 1,000 Customers: B2C Marketing Advice for Founders." We'll speak wiith Andrew Benin, Co-Founder & CEO of Graza, Maggie Sause, Director of Go-to-Market at Red Antler and Melanie Travis, Founder & CEO at Andie .
We'll have cocktails & networking after the panel! 🍷🍺
What We'll Discuss.
Going to Market: What are the key components of an excellent go-to-market strategy? What are the key mistakes that founders make when they're getting off the ground?
Timeline: When should marketing start? Many brands will launch a site and release key information well before any products are available. What are best practices in building this early audience?
Budgeting! Where should you focus your time and money when it comes to marketing? What makes certain social channels effective for some brands but not others? Is press worth the effort? What about other promotional opportunities like influencers or advertising?
Content marketing and email marketing matter (right?). But how much? How do you decide what to invest in creating it? We often default to prioritizing both without understanding what our strategy is.
Early Analytics. When is it time to change course and when is it time to double down? In the early days, how to you measure success? What are the signs that a marketing strategy is is failing vs. succeeding - and that you should react?
Focus. How do you walk the fine line between scrappy and scattershot? Sure, there's a healthy amount of "trying everything" that all early-stage founders should embrace when it comes to early sales. Let's call it "discovery!" But there's a point at which it becomes sloppy and a waste of time. Where is that line?
Other things :) When is it time to bring on experts to help you? What are the essential tools in the startup marketing stack?
Questions?
Email us at marketing@stacklist.com! See you soon!!