Event Information
Refund Policy
Contact the organizer to request a refund.
Eventbrite's fee is nonrefundable.
Journey-Radio.com presents the LLT Virtual Concert Series "LIFE" featuring Christian recording artist Harmini on March 20, 2021, at 7:00 pm.
About this Event
Journey-Radio.com presents the LLT Virtual Concert Series "LIFE"! Saturday, March 20, 2021, at 7:00 pm. Virtual doors will open up at 6:30 pm with none other than recording artists Aireana, Psalmist Chrysann Moore, and featuring Christian recording artist, singer, rapper, and actor Harmini!
"LIFE" Proverbs 4:11-13
The LLT (Life, Love, Truth) Concert Series. "LIFE" Concert!
Please make sure you submit the proper email address when purchasing as that will be the main way to keep you updated on all information regarding the livestream. 1 ticket needed per household per livestream, not per person. Once you confirm purchase, you will receive an email from Compassion LIVE with instructions on how to access the livestream event.
For any questions, please email info@journey-radio.com.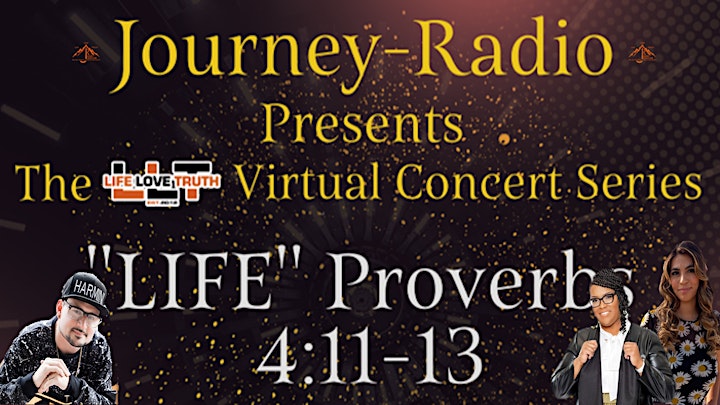 Multi-gifted, AireanaVidales is an anointed speaker, rapper, songwriter. She also plays guitar, she is a passionate singer, and she often leads worship along with rapping her positive vibes. Aireana is a musician/singer that is passionately serious in her relationship with God our Savior and Creator. In 2016 she released her first album called "Ride", featuring a brand of hip hop and pop music that continues to touch the lives of young people. Her music is filled with powerful messages of encouragement that inspire youth to fullfill their God-given purpose!
Aireana has performed in the USA and internationally as God has called her to do urban and international mission work which has opened up doors for her ministry and music across the southwestern USA, Mexico, and into India.
Gospel artist Psalmist and Worship Leader Chrysann Moore is an anointed singer, skilled musician, and thought-provoking songwriter, Chrysann Moore ministers from a deep well of passion for people. The spiritual exuberance she exhibits is infectious; opening your heart in worship or bringing you to your feet in praise.
Her debut solo album Cover Us realeased on Jan 01, 2021, and is available on multiple download platforms. Her Current single Cover Us is a passion-infused follow-up to her recent releases "Jessus I'm Depending on You, Thank you Jesus and O "Give Him Thanks. She continues to share anointed and heart-gripping music. Growing up in the Church of God in Christ, Chrysann developed her musical expertise playing and singing along with her family in church when she currently serves as the Music Director of Redeem Enrichment Ministries in Joliet, Il. She has emerged as a heralded vocalist ministering alongside such artists as Percy Gray, Donald Lawrence, VaShawn Mitchell, Kim Burrell, Judith McAllister and many others.
Dominic Bonsignore, aka "Harmini", is a multi-talented rap recording artist whose testimony music and message are able to impact, and edify the Christian Hip HopHarmini is a Christian recording artist, singer, dancer, rapper, actor, and Christian YouTuber. As a Christian recording artist, his music incorporates Christian music with a pop, hip hop sound along with dance and rap when he ministers. Harmini is a dynamic up and coming Christian rap artist full of energy and enthusiasm which spills over into his music and onto the stage in a very powerful way.
His music speaks to people all over the globe reminding them that there are things that will bring unwanted consequences into our lives, but there is still hope! The messages in Harmini's music bring about the hope of change in all who are willing to turn from a lifestyle of sin and cling to a life that follows Jesus Christ! His "Mixed Messages" album continues to impact lives around the globe. Songs from the album are now airing on radio stations worldwide and every music can be downloaded.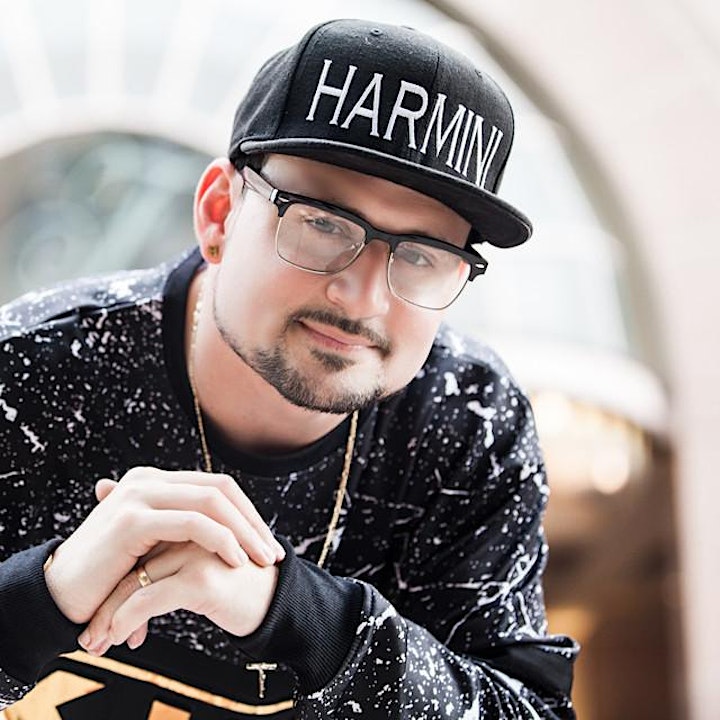 Date and Time
Location
Refund Policy
Contact the organizer to request a refund.
Eventbrite's fee is nonrefundable.