JOURNEY: Pilgrimage to the Ancient Pyramids of Mexico!

Thursday, July 16, 2015 at 3:00 PM

-

Tuesday, July 21, 2015 at 3:00 PM (MDT)
Event Details
Full Price $1295
Early Registration Extended! Register by Monday May 25 and save $100!     

Do you long for:
the veil of doubt and fear to drop away from your eyes 
your heart to fill with the brilliant sunlight of self-love
the return of your innocence, faith, and integrity
a vision of your life that fills you with overflowing peace, joy and gratitude?
For thousands of years people have gathered in the ancient Toltec Pyramid City of Teotihuacan to create new visions for their lives, and grow those visions into a lifetime. I have visited Teo countless times over the years with my own teachers, including Don Miguel Ruiz, author of "The Four Agreeements," and experienced miracle upon miracle in my own life ... and now I invite you to join me on a special pilgrimage to this magical place, as Spirit Journeys returns to Teotihuacan for the first time in ten years, to discover the visions that are waiting for you! 
For thousands of years the Toltecs have taught seekers how live with awareness, love, and creativity. Drawing on their understanding of astronomy, sacred geometry, and the human energy system, they created Teotihuacan, one of the most sophisticated temple complexes on earth -- including the second largest pyramid in the world, the great Pyramid of the Sun.
Every temple in Teo catalyzes our process of spiritual evolution in unique ways; many journeyers find that a single week in Teo is like a whole year of therapy and spiritual practice! As we follow our guides through the ancient initiatory paths of the temples, inspired by the Toltecs' incredible artistry, we will reawaken the deepest wisdom, passion, and creativity inside ourselves, to make our lives a masterpiece of art. 
Some of the temples and ceremonies we will enjoy include: 
Falling in love with yourself at the beautifully sculpted pyramid of Quetzalcoatl.
Dying to your judgments and fears in the Plaza of Earth.
Healing the emotional body in the Plaza of Water.
Healing the feminine and masculine souls in each of us, in the Plaza of Fire.
Surrendering all our painful stories in the Plaza of Air.
Tasting heaven on earth in the Palace of the Butterflies and Quetzals. 
Discovering the inner teacher at the Place of the Master.
Connecting with the Divine Mother at the Pyramid of the Moon.
Stepping into the Path of the Spiritual Warrior at the Palace of Tetitla.
Discovering ourselves as our own beloved at the stunning Palace of Tepantitla.
Climbing the second largest pyramid on earth, the Pyramid of the Sun, and giving ourselves fully to Life in the ceremony of Awakening the Inner Fire.
Each morning our day will begin with gentle restorative yoga, led by David Jones E-RYT, to help us open up our bodies, hearts and minds to the gifts of Teo. Each morning after breakfast, we spend several hours exploring the site of Teotihuacan and sharing in sacred ceremony, and return to the hotel in time for a late lunch. Every afternoon of our journey includes free time for building lasting friendships, journaling and deep personal reflection, celebration, shopping, sightseeing, and pampering. We gather again in the evenings for dinner, teaching and sharing, followed by a relaxing yoga nidra practice.
Our home in Mexico is the beautiful Dreaming House, located on ancient temple grounds, and now a private sanctuary for Toltec teachers and their groups during sacred pilgrimages to Teotihuacan.  Family meals of delicious country Mexican food are freshly prepared with skill and love.  Here, miracles seem normal, and are -- it's a magical place for a magical time!
On our last and final day we will take an unforgettable day trip into Mexico City to the Basilica of the Virgin of Guadalupe, known to indigenous peoples of these lands as Tonantzin, our Mother, who has been worshipped long before the time of European Conquest. Here, we will make an unforgettable communion with her at the well, the hill of roses, and sacred tilpa, which radiates the full presence and love of the Divine Mother.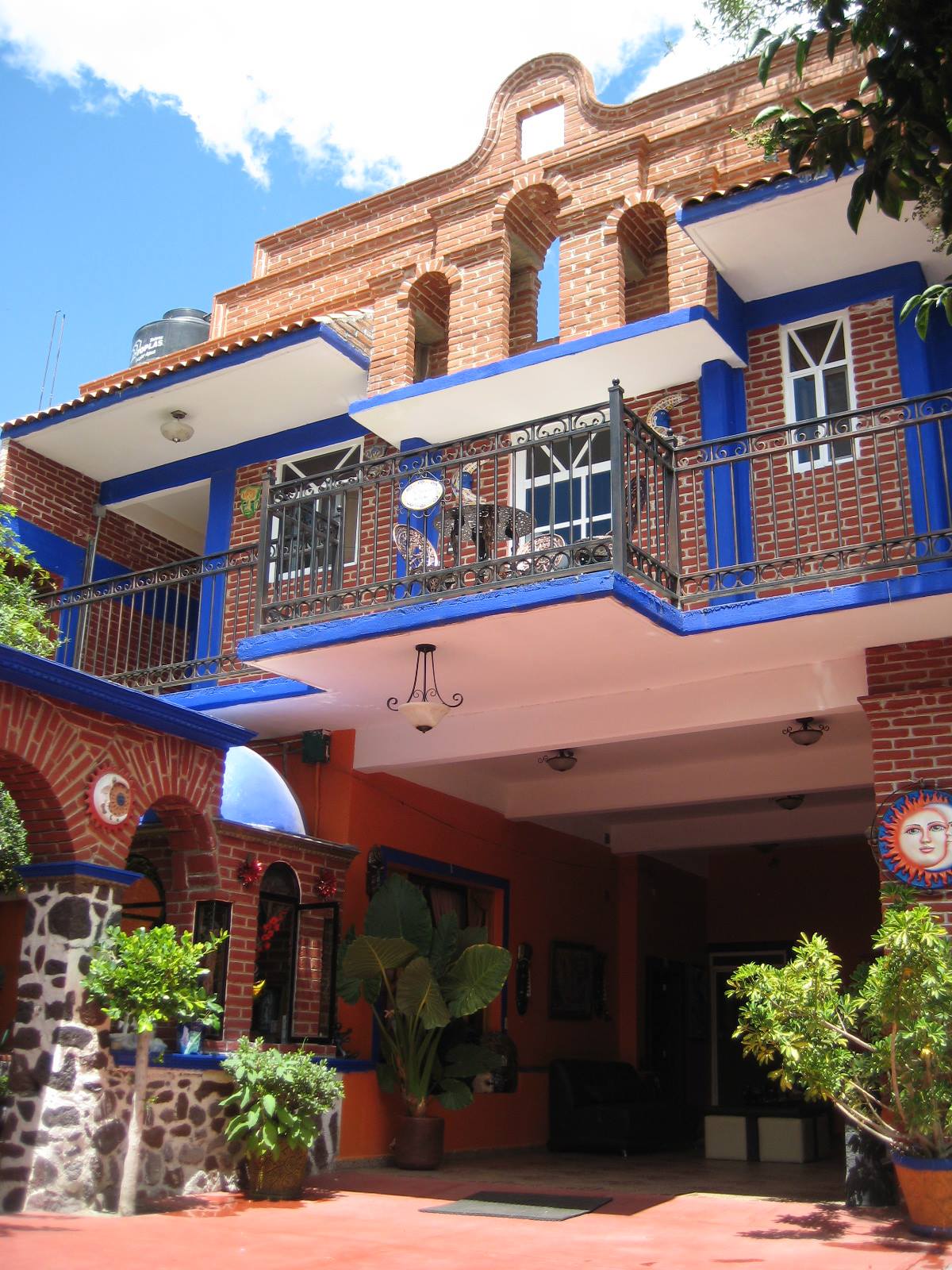 "I have a deeper sense of the sacred side of myself and after experiencing the synthesis of spirituality and physicality of Teotihuacan, I'm seeing deeper connections between my physical and inner worlds." 
- CS, Arden NC
Your Guides
Hunter Flournoy (pictured left) is the owner and director of Spirit Journeys. A heart-centered life coach, therapist, and spiritual healer, Hunter teaches skillful self-love, conscious breathing, and spiritual practice to help people break free from shame, trauma, and addiction, and create joyful lives. He is a certified Somatic Breath Therapist and a pioneer in the use of breathwork in trauma and addiction treatment, and his work integrates two decades as a licensed psychotherapist with twenty-five years of experience in the world's shamanic and mystical traditions, including the Buddhist, Sufi, Eastern Christian, Toltec, and Currandero traditions. Hunter offers individual sessions by phone and in person, retreats, ceremonies, and journeys around the world. To learn more about Hunter and his work, go to www.freespiritbreathing.com.
David Jones, E-RYT, pictured right, teaches restorative yoga as a powerful tool for emotional and physical healing, energy, and embracing life more fully. He has studied the anusura principles of alignment, therapeutic yoga, and Hanna somatic movement with Gloria Hester, and completed his formal certification at the Asheville Yoga Center in 2010. He has also studied, practiced, and taught with other teachers in the Toltec lineage of Don Miguel Ruiz for over a decade, learning how to live with authenticity and integrity.
Comments by previous participants of the Toltec Pyramid Pilgrimage:
"Hunter was magnificent. He was passionate, kind, compassionate, alert. By the end of the retreat, I was wide open in a way that felt dangerous/safe, on edge. It was what I was looking for, though I couldn't have named it before or since. And Hunter exudes a confidence and courage that I feel he fed all of us." 
- DD, New York NY
"It met my expectations and exceeded them by having the spiritual experiences of visions and by seeing the giant eye in the sky over the pyramid of the sun while we were at the top. I know that it was a circular rainbow, but I'd never seen one and that it would happen at that moment seems beyond chance." 
- EH, Los Angeles CA
"Since the journey, I have felt relaxed, refreshed, rejuvenated and peaceful. I would describe this journey as one of moving beyond fear. That journey took me out of the realm of fear, over, under and through some rough and rocky roads, and finally into the realm of the heart...where the heart said, 'Welcome Home'." 
- BG, Brunswick GA
"The power, the love, the caring and sharing was so beautiful and moving. Blessings abounded from the moment of arrival to leaving. Hunter's mastery, sensitivity and ability to connect with everyone and sense the tempo of the group, the teachings, and this holy site made it all so miraculous." 
- RH, Miami FL
"Every minute of every day, including my sleep was valuable, meaningful, and full.......It was deeply fulfilling." 
- WM, Santa Fe NM
"Since my return....I am blown away at how clearly and powerfully the inspirations have come thru into conscious awareness....I feel my being is aligning more clearly and intentionally with guidance of Spirit and the intention of my soul's purpose." 
- JS, Albuquerque NM
"I feel more confident in who I am and with the gifts I bring to my world and community." 
- DJ, Dickson TN
"It was such a joy to be there with everyone who was in our group, all the people we encountered, and to be surrounded with such beauty.....It exceeded anything I could have expected." 
- TJ, Quincy CA
"...the entire experience was extremely powerful for me....Hunter's skillful facilitation, knowledge and demeanor was quite impactful and impressive... This undoubtedly was a life changing experience and even though my everyday life's outward expression may not appear to be dramatically different it feels as though a possible DNA alteration may have occurred." 
- TB, Albuquerque NM 
Have questions about Gay Vacations?
Contact us at 828-450-8800 or info@spiritjourneys.com
When & Where

Teotihuacan, Mexico




Thursday, July 16, 2015 at 3:00 PM

-

Tuesday, July 21, 2015 at 3:00 PM (MDT)
Add to my calendar
Organizer
Spirit Journeys
Spirit Journeys has been helping people of every gender and sexual orientation come out, come alive, and come home for twenty-five years. Our webinars, retreats, and journeys teach joyful and skillful spiritual practices drawn from the great Wisdom traditons of the world, shared in gatherings devoted to courageous self-exploration, authentic expression, and profound belonging. We are committed to truly exceptional facilitation, built on collaboration, love, vulnerability, service, and spontaneity. Together, we are reclaiming our pleasure, joy, passion, purpose and spiritual connection, and sharing our unique gifts with the world. For more information, contact us at 828-450-8800 or spiritjourneys@live.com!
JOURNEY: Pilgrimage to the Ancient Pyramids of Mexico!