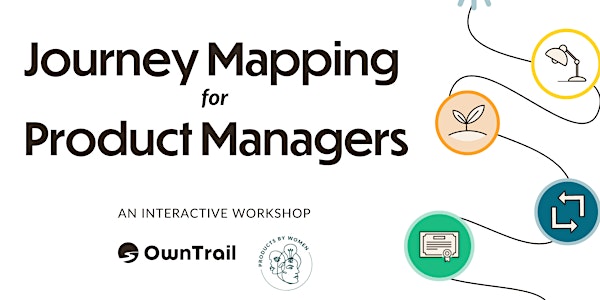 Journey Mapping For Product Managers
Join OwnTrail and Products By Women for an interactive workshop to reflect on your journey thus far and where you might go from here.
About this event
There's no one right path to a career in product management! Explore your PM journey — past, present and aspirational — as part of your holistic life path to reflect, connect and gain perspective to serve where you might go next.‍OwnTrail CEO and co-founder and longtime product executive Rebekah Bastian will share her journey and guide you through an interactive session to map your professional and personal milestones like you've never done before. You'll leave this interactive workshop with a digital visualization of your journey, a shift in mindset and new and deeper connections with other women in product. Hosted in partnership with Products By Women.
You'll leave the workshop with:
 ✨ A deeper understanding of what skills and internal resources they carry with them
 ✨ A feeling of support and solidarity from other members in the workshop
 ✨ A strong personal narrative
 ✨ A renewed vision for how you'll move forward toward your aspirations
 ✨ A digital Trail on owntrail.com that you can keep adding to and expanding on as you go
About OwnTrail
OwnTrail creates tools and connections to help you blaze your own trail toward a more fulfulling life.
By RSVPing, you agree to receive periodic emails from OwnTrail. You may opt out of receiving emails at any time, and OwnTrail will never sell, trade or misuse your contact information, including sharing with unauthorized third parties.