About this Event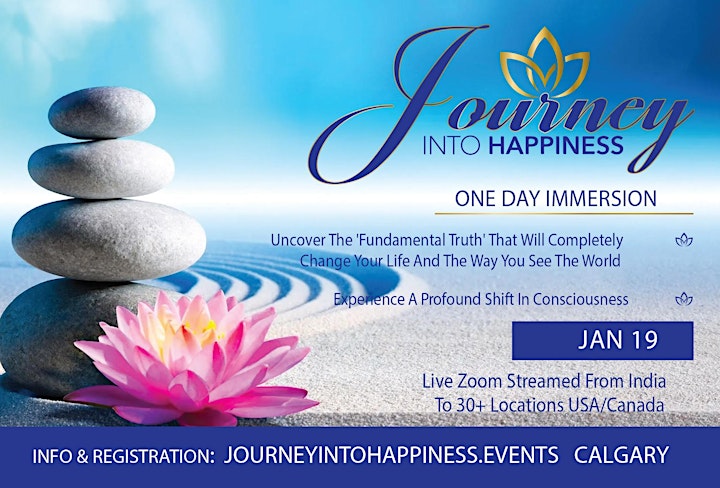 Join us for an amazing all day event with life changing teachings from India taking you into a Journey into Happiness.
We are thrilled to continue the Journey into Awakening process and hope you can join us for the next One Day Immersion Retreat, Journey into Happiness, on
Sunday, January19, 2020 in Calgary.
This course intends to build on what has been given and received in previous courses as well as to provide a beginning opportunity for anyone who wishes to be a part of this awakening journey. There is no prerequisite for attending.
The course is designed to deepen and expand awakening from the mind's conditions, allowing you to move into a new way of living with ease and freedom and to experience your ordinary life as extraordinary. Repeating the course is recommended to move one's consciousness state to a state of causeless joy and happiness.
This course is being taught at several locations across North America.
We hope you will continue to be a part of this Global Evolution in Consciousness.
Participants have shared reports of:
A CALM MIND
PROFOUND INNER PEACE
GENUINE HAPPINESS
IMPROVED HEALTH
LOVING RELATIONSHIPS
ABUNDANCE
SUCCESS THROUGH CLEAR FOCUSED ACTION
Live streamed from India, teachers will share ancient sacred practices, transformational teachings, and meditations.
In this course you will receive extraordinary power to transform your life; raising your levels of Consciousness.
Everybody is welcome (however, the course is not designed for children under 14 years).
Link to event landing page showing Journey into Happiness 1 day events in North American cities including CALGARY :
http://journeyintohappiness.events/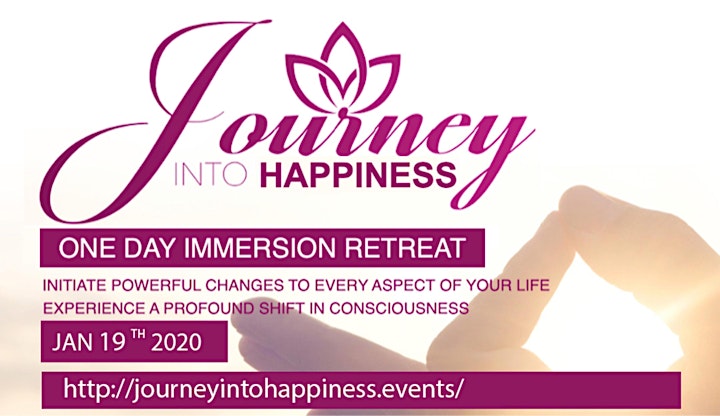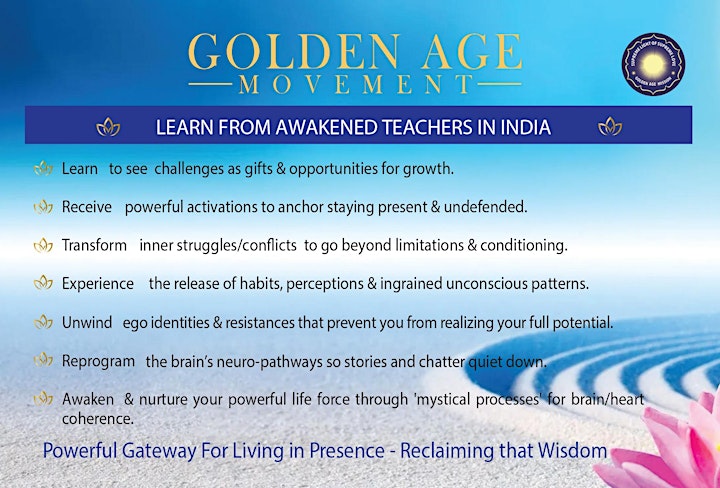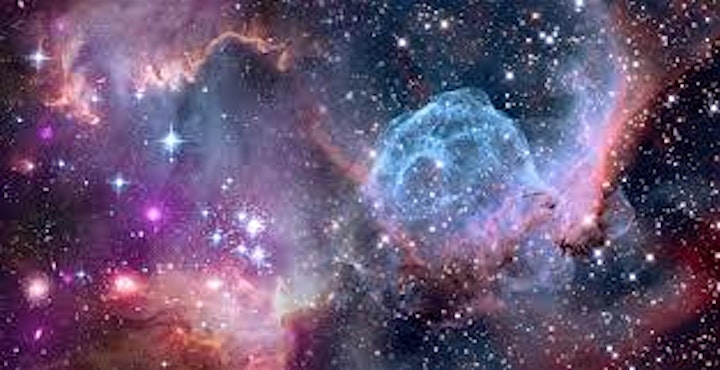 What to bring:
WHAT TO BRING:
Journal or notebook, an extra pen and anything else to make you comfortable. Cell phone, good to have, but must be turned off during event.
Filtered water available. Tea, coffee and some snacks provided in adjacent lounge to have during our breaks.
Yoga mat not needed but, if you want to rest during the course then feel free to bring a yoga mat , pillow, and blanket.
Layers for temperature fluctuations. We expect the heat should be comfortable, however.
For the most part we will be seated around a board room table watching the online course. (It is a pleasant environment.)
The Venue:
Fish Creek Executive Center #300 - 340 Midpark Way S.E. , Calgary, AB (see their website for photos of the space)
Perfect for meetings, the room has glass walls and an attached lounge. The feeling is open. It is quiet.
Located on the East side of Macleod Trail SW across the street from Shawnessy Shopping Centre.
Look for orange cones as you turn into the parking area.
The entrance is on the West side of the building. (If you look west before you enter the building you will see the Landmark Cinema which is on the west side of Macleod Trail.)
Take elevator to 3rd floor.
Parking is free. There are many reserved signs in the parking lot but those don't apply on weekends.
Starts at 8:30 am ends 6:30 or 7:00 pm You will want to say until the end.
Doors closed after 9:15 am.
There will be morning and afternoon breaks.
Our lunch break will be 90 minutes. Approximately 1:30 - 3:00
We will have time to go to the
Farmers Market: Avenida Food Hall and Fresh Market (opens Sunday 9:00 am closes 8:00 pm)
Located in: Avenida Place Shopping Centre Address: 12445 Lake Fraser Dr SE D426, Calgary
or restaurants nearby in the Shawnessy area.
to 340 Midpark Way SE #300
from the north
Avenida Village Shopping Centre going south on Macleod Trail
12445 Lake Fraser Dr SE, Calgary, AB T2J 7A4
Take Lake Fraser Gate SE to Macleod Trail SE2 min (400 m)
Continue on Macleod Trail SE to Midpark Gate SE6 min (4.2 km)
Take Midpark Way SE to your destination
1 min (350 m)
340 Midpark Way SE #300
For more information please contact goldenonenesscalgary@gmail.com