About this Event
A 1 Day Immersion Retreat in Encinitas
Friday, August 23rd, 2019
8am - 8pm
$200, please share with your friends
$108 Repeater Price
Move from *OverActive Mind* to *Quiet Still Mind*
A major transformation that changes Everything IN ONE DAY!
Experience ….
A quieter mind
Inner peace
Improved health & relationships
Deeper states of joy
Increased gratitude
Auspicious miracles
People attending these retreats report experiencing their ordinary
life as extraordinary.
The ancient and modern teachings given are imbued with ancient spiritual processes that will transform your Consciousness. Together we join people across the US and Canada as we move beyond the mind's daydream and survival strategies to actualizing the highest reaches of our potential.
This event is open to everyone over the age of 14. The program will be offered Live simultaneously in over 45 USA locations from India. Many who have previously attended this course have had huge breakthroughs in their lives.
If you can imagine stepping into an evolutionary shift in consciousness, having a calm and quiet mind, and receiving a happier and more peaceful life…this is for you.
CIHS
701 Garden View Ct.
Encinitas, CA 92024
Some things to know before you come to the event:
Open Doors at 7:30am, please arrive early for last minute paperwork and getting settled into your seat.
There will be photos and videos taken, if you would prefer not to be in these, make sure you turn away or do not participate, take care of yourself.
Bring closed bottled drinks, layered clothing, notebook/pen and cushion to sit on the chair. 10 Backjacks will be provided for floor seating. Yoga mat if you need to lay down.
Food: The area is close driving distance to many food choices. There will be tea (no coffee) water and some snacks for breaks offered.
Free parking in the UPPER lot and on the street.
The course fee is non-refundable.
Please Arrive at least 15 mins early to get settled into your seat and do any last minute paperwork for India
Thank you.
Your Organizers
Eric Isen, Ellen Grimes, Xochitl and Shayna Jai
Below is a picture of some people from the last event and a few video testimonials.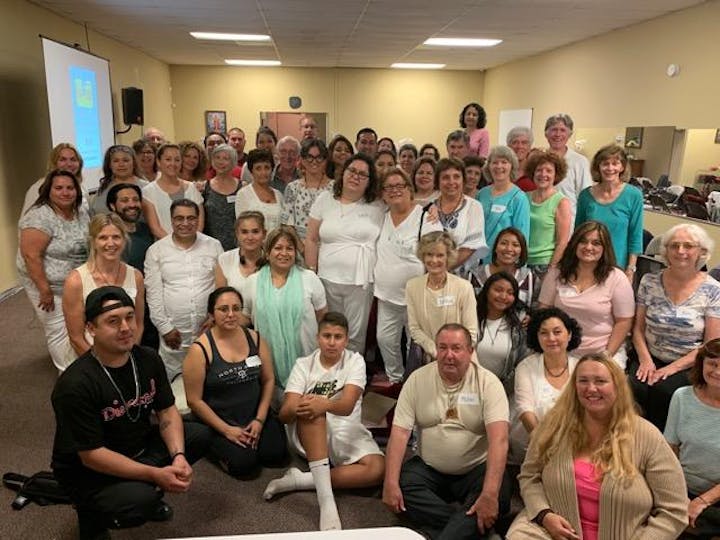 "I know without a doubt that this is awesome work that is being undertaken, so everyone take the time to bless yourself with this experience!"
--Abigail, a participant from this week's Journey into Awakening course in D.C.!