Journey Into Happiness - Happy Sunday
Description
OMG! The Energy is Amazing!
If you are new to the "Journeys," you are in for a treat...
NOTE: You will receive a $25 Discount when you use the promo code: AWAKEN. You MUST insert the promo code on the screen just above the ticket selection to the left. If you fail to insert the code before you purchase the ticket, it isn't possible to apply it later.
This retreat is not for everyone. It is only for people who truly want to be happy... People who are willing to take a long hard look at what is going on on the inside... People who can drop expectations and give themselves an opportunity to discover more, despite what they think they know. This course is for people who not only want happiness for themselves, but for everyone... People who want to have a positive impact on the consciousness of others.
If this describes you, this Journey Into Happiness is for you.
Happiness is an inner state that is not dependent on external circumstances. It is possible when we no longer live in the conflicted mind. This state can be awakened within us. It requires a little effort on our part, however, the payoff is an abundant flow of grace that makes true happiness possible.
Through ancient sacred practices, powerful teachings, and meditations led by a teacher in a high state of consciousness... and a powerful transmission of Light, India is bringing gifts for which we've all been waiting...
This course is taught live from India and audio streamed to 40+ locations in the US and Canada.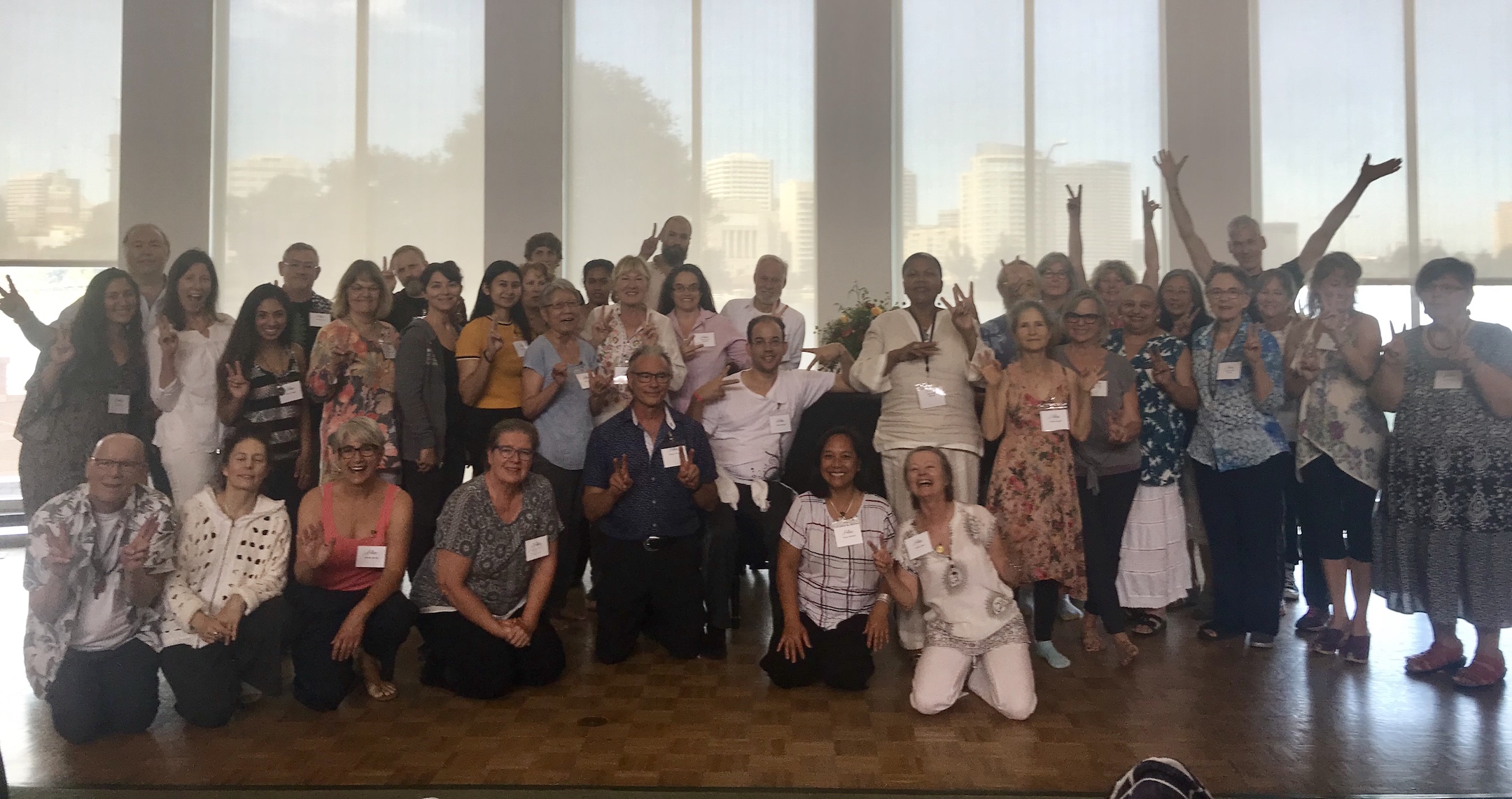 Testimonials From Recent Participants in Oakland
The Journey Into Happiness was recently offered to participants in the US and Canada. Here are a few of the experiences from the 187 people who have attended previous Journey retreats in the SF Bay Area:
"My health improved dramatically, my energy teachers showed up to help, things fell into place." Jane
"I have a calmer mind, less judgment and I am happier for no reason." - Gen
"It is well worth the time and effort to come and feel a new level of optimism and happiness in your life." - Robert
"This is truly a deep dive into manifesting your heart's desire and allowing yourself to witness where you are at." - Timothy
"I am so filled with happiness and love for all that you have given me. And to anyone thinking about taking the course, happiness is real and you can have it through this process." - Kathleen
"It feels like the subconscious beliefs that were sabotaging me are gone. It feels like a fresh start... I can see and feel my light." - Janell

"Allow yourself the gift of grace because it is here for the asking... And this is a safe place to experience yourself and connect with a group through dance and sharing a meal together." - Bob
"The day was a blessed one filled with authenticity, joy, sadness and peace. It is the best down-to-earth way to connect with the Divine, and look at and fall in love with oneself." - Mary Kay
For Your Comfort
Dress in comfortable clothing, layers, sweater and/or shawl; bring a journal and pen(s) for taking notes, water bottle, lunch and snacks.
Please note: Only children 14 years or older may attend.
Transportation Options
The LUX Suites are located in Dogpatch, near Pier 70 and the Bay. The best option is to drive, or take BART and Uber or Lyft to the venue. The closest BART Station is 16th & Mission which is 2.5 miles from the venue. On Sundays and holidays there is usually ample, free street parking in the neighborhood. More information provided when you register. You also may consider downloading the Parking Angels app: https://www.spotangels.com/app.
Get Ready NOW! Experience the Energy!
Join us for related events prior to this day of immersion, including Sacred Chambers where one contemplates, experience a powerful meditation, and have an opportunity to commune with the Divine Presence regarding the desires of one's heart. Supreme Light of Supreme Love Meditations, Happiness Meditations and Full Moon Meditations.
To find out more or if you have questions, e-mail info@moyoinstitute.org or sign up for the Golden Age Movement newsletter by writing to: bayareaoneness@gmail.com

or call
Gwen Mitchell - 510-910-2702
Prem Wichman - 415-571-3048
Peter Beach - 415-203-3105