Description
A Journey Into Happiness and Wealth

September 25, 7:30 am to 7:30 pm
Hosted by Rick Scheyer and Heidi Day
Hampton Inn & Suites Northgate Seattle
9550 1st Ave NE
Seattle WA 98115
One-day course, taught live by a Oneness Monk in India, focused on helping you create happiness & wealth.

There are places in the brain that correspond to 108 different qualities. This course focuses on your Happiness and Wealth. Each time we come to these Journey courses different parts of our brain are activated, creating corresponding changes in our daily lives

Fully Enlightened Beings, such as Ramana Maharshi, Buddha, and Jesus, have 108 aspects of their consciousness awakened. Happiness is one of these dimensions.
What if you were truly HAPPY for NO REASON? How would this transform your life?
Right now you are only happy when something happens to you. You are happy when you get what you want. You are happy when someone praises you. You are happy when you achieve something.

But does this happiness last? Very soon you are back into a suffering state. You want something new. You fail at something. You look in the mirror and don't like what you see. Someone says something that you don't agree with. Any number of things destroy your happiness. You consider this to be normal.

What if you lived in a PERMANENT STATE OF HAPPINESS now? Come to this course to experience this elevated state and how to make it permanent.
Through ancient sacred practices, powerful teachings, and meditations led by enlightened teachers, guided by the Great Compassionate Light, India is bringing gifts for which we've all been waiting, including:
Calm Mind
Profound Inner Peace
Spiritual Growth
Transformation in Consciousness
Improved Well-Being
Loving Relationships
Happiness
Enhanced Capacity for Success
As we make the shift and deepen our embodiment of awakening, we become catalysts for others to also shift and together we build the momentum for a new way of compassionate living, also known as the Golden Age..
This course is taught live from India to 40+ cities in the US and Canada. Rearrange your schedule. Take the day off. Trade hours with a co-worker.
Do what you must, but attend this incredible opportunity!
Space is limited. Reserve your spot now!



Student pricing available with valid student I.D.
Previous participants can receive a discount for referring a friend.
For details contact Rick Scheyer goldenageseattle@gmail.com
The event is being held at the new Hampton Inn & Suites Hotel Seattle/Northgate. Enjoy a comfortable atmosphere with a convenient location and access to nearby Northgate Mall.


Event Schedule: Wednesday, September 25th.
7:00 am - Registration

7:30 am - 7:30 pm - Estimated duration with lunch and breaks


Course Includes


- Morning and Afternoon Catered Snack Breaks
- Full Beverage Service (Water, Coffee and Assorted Teas)
- Catered Lunch by Saphron Grill (Vegetarian/ Vegan/ Gluten Free)
- Good Morning snack table provided for early arrivals.


Lunch


A fabulous and filling meal of Indian Food catered by Saphron Grill is included.
A 90-minute meal break is scheduled.
If you have specific diet restrictions you may want to bring your own food.


Parking
Limited on-site hotel parking available for $5. Simply stop and pay at the front desk to gain access. There is limited street parking on nearby NE 95th Street. Consider using Uber or Lyft due to the limited number of on-site parking spaces. The Metro Northgate Transit Hub is also nearby for bus options.


What to bring/wear


It is suggested that you wear/bring loose fitting comfortable clothing that includes jackets, socks, and shawls so you'll be more comfortable to adjust for temperature fluctuations.
Please b

ring a notebook and pen and a water bottle. GO GREEN! Bring your own travel mug for coffee and tea service. Also consider bringing a chair cushion or pillow to sit on for added comfort.


Minimum age 14.
Experiences of July Participants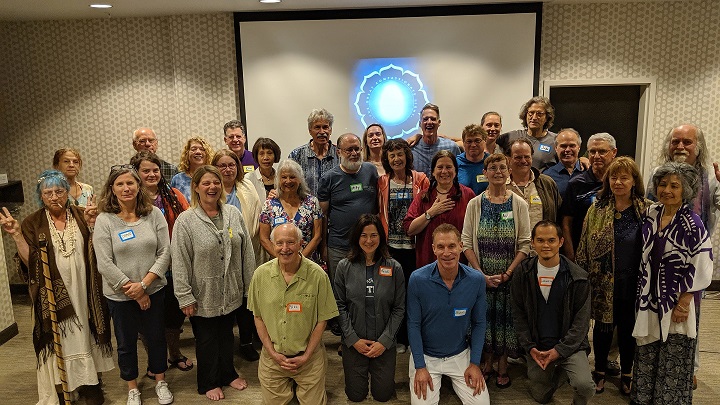 This day of immersion was recently offered to more than 1,200 participants in the US and Canada.
Here are a few of the experiences:
"Light is love and overflowing from within." Jaime
"Powerful deep inner work recognizing the patterns of mind. Healing inner work to shift the outer world" Mirabai
"I have definitely noticed shifts in myself. I'm truly seeing many things more clearly now. I've felt more joy in my heart in the past few weeks than I have in a long time." Heidi
"I have felt like my heart is continuously flowering open and being equally met and filled with love from the Divine. I am stirred awake by a Voice gently telling me how loved and cherished I am...that I am here for a reason and I am appreciated, supported and adored. I hear the words and I also FEEL the vibration of Divine Love they are encoded with! It just keeps flowing into me and it is like I am receiving a healing each time I lay quietly and receive these blessings. I have been feeling genuinely peaceful and content throughout my day and the world has become less noisy. To have my perception of the world really begin to shift in this way is beyond words." Jenny
Great teachings for bringing peace and joy into your life." Robert