Description
Journey from Contraction to Expansion
A One-Day Retreat with
Anam Thubten and Chakung Jigme Wangdrak Rinpoche
Sunday, April 29, 10:00 am - 5:00 pm at Dhyana Hall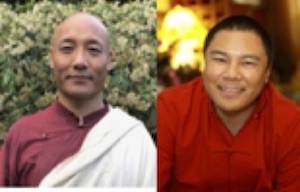 When our minds get lost in thoughts and our heart is caught up in turbulent emotions, our whole being becomes contracted, which is experienced in the form of internal pain. But when the mind wakes up and the heart opens, love and joy are present within us.
In this retreat Anam Thubten and Jigme Wangdrak Rinpoche will co-teach, sharing the experience and knowledge of the timeless Buddhist wisdom.
About this retreat:
Pre-registration is requested. This retreat goes from 10:00 am to 5:00 pm, and participants are asked to make a commitment to attend the entire day-long retreat. If you find you cannot attend the retreat, please cancel so that your space can be made available to those are that waiting.
This is a donation retreat; Feel free to make any donation that works for you. The donation supports the work of Dharmata Foundation. Dana for the teachers is gratefully accepted at the retreat.
Chakung Jigme Wangdrak Rinpoche, fourth descendant of the great Tibetan master Dudjom Lingpa, teaches and preserves the lineage of Dudjom Lingpa, at the encouragement of his teachers, Khenchen Jigmed Phuntsok, and Dakini Kunzang Wangmo. He is the founder and spiritual director of Abhaya Fellowship, based in El Cerrito, California
Anam Thubten grew up in Tibet and entered a Tibetan Buddhist monastery as a young boy. He currently resides in Northern California and is the founder and spiritual advisor of Dharmata Foundation, teaching widely in the US, Europe and Asia. His many publications include Embracing Each Moment, and No Self, No Problem.
Location
The retreat will be held at Dhyana Hall (235 Washington Ave, Pt. Richmond.) All seating will be upstairs in the main shrine room.
Please plan to park in the commerical area of Pt. Richmond during the weekend.
Schedule:
10:00 am - 12:30 pm; 2:30 pm - 5:00 pm
Costs
This retreat is by donation. Dana (a monetary gift) may be offered to the teacher at the retreat.
Volunteer
If you can help at all before, during, or after the event, please consider volunteering. Contact Susan (susan.dharmata AT gmail.com) for more details.
Other questions: Laura (retreats AT sonic.net )