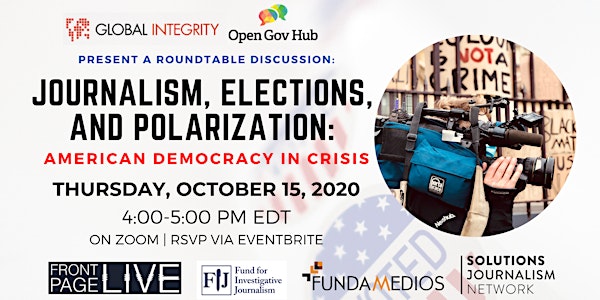 Journalism, Elections, and Polarization
A roundtable talk on the American democracy in crisis prior to the 2020 elections -- and the role of journalists in depolarization.
About this event
Did you miss this event?
See the full video below!
Every presidential election matters, but 2020 is a particularly pivotal test for American democracy. Free press is one of the main democratic pillars, but what does that really mean in the current times? And what stands against democracy defenders?
The role of journalists has been challenged by political pressures from many angles -- ranging from Trumpism and the pandemic to the aftermath of RBG's judicial legacy and voting rights.
This roundtable conversation will uncover what organizations are doing to support the freedom of the press and effective journalism through advocacy, media amplification, funding, and training.
You'll hear leading voices from Solutions Journalism, Front Page Live, Fundamedios, and Fund for Investigative Journalism weigh in on the issue and give some practical insights on the polarization factors in America -- and what we, as citizens, can do to bridge the gaps between us.
Speakers:
GOT QUESTIONS YOU WANT ANSWERED?
OUR ELECTION EVENT SERIES: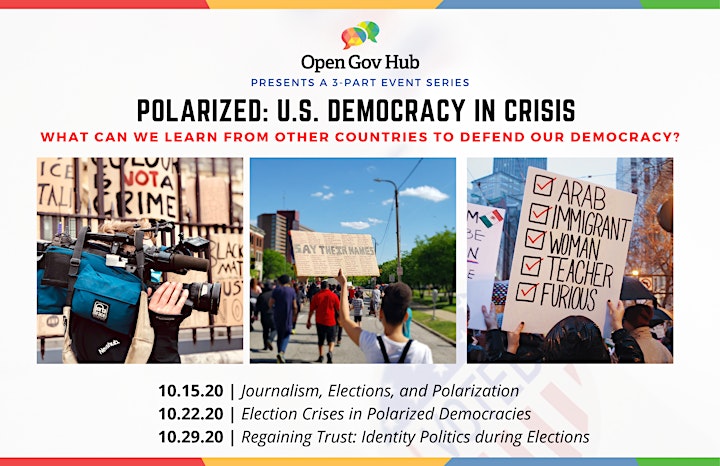 ***
This event series is a part of our 2020 programmatic themes on Depolarizing the Political, Civic, and Media Spaces. It also builds on our 2017-19 Defending Democracy program and the ongoing Outside In initiative by Global Integrity (a co-founder of the Open Gov Hub), which brings international perspectives on governance challenges in the United States.