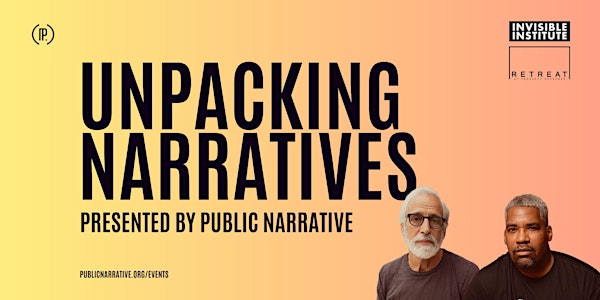 Journalism and the Struggle of Activation
A new free evening conversation series presented by Public Narrative.
When and where
Location
Retreat at Currency Exchange 305 East Garfield Boulevard Chicago, IL 60637
About this event
Unpacking Narratives is a free monthly evening conversation series presented by Public Narrative that brings together community members, community organizations and journalists to explore narrative themes in the community media ecosystem through mixed storytelling formats.
Join us at Retreat at Currency Exchange at 6:30 p.m., Monday, Dec. 12, 2022, for our inaugural conversation, "Journalism and the Struggle of Activation," featuring Invisible Institute's founder Jamie Kalven and writer Yohance Lacour.
Through their individual and shared journeys, Kalven and Lacour explore the state of journalism and activism and the struggle to combine them in ways that uphold the highest standards of journalistic rigor while respecting community dignity.
Attendees will have the opportunity to purchase drinks or food from Retreat. Please support our awesome venue partner!
Space is limited. RSVP while tickets last! If you weren't able to redeem a spot, we will keep a waitlist. If you can no longer attend, please refund your ticket so another person has the opportunity to attend!
COVID-19 Safety Measures
Public Narrative's number one priority is to provide a safe space for all participants. We ask that you wear a mask when not eating or drinking. Extra masks and hand sanitizer will be available. Please be respectful of others. Thank you!
Commute and Parking
Street parking is available along S. Prairie Avenue and East Garfield Boulevard — please be mindful of street signs. You can also get to Retreat by bus or train. Retreat is right across from the Green Line-Garfield stop.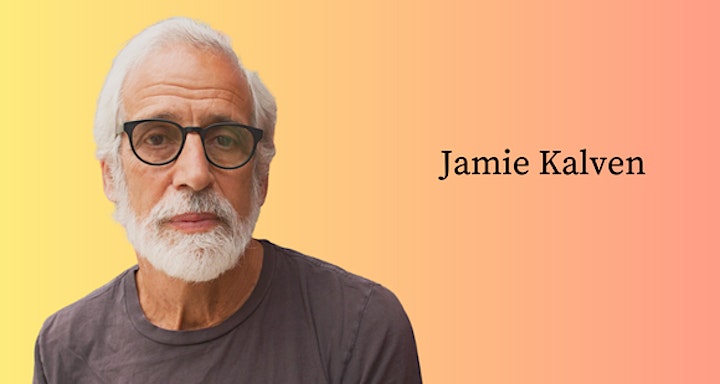 Jamie Kalven is a writer and the founding executive director of the Invisible Institute. He is the author of Working With Available Light: A Family's World After Violence and the editor of A Worthy Tradition: Freedom of Speech in America by his father, Harry Kalven, Jr.
In the mid-1990s, he served as a consultant to public housing resident councils—first at the Stateway Gardens development and later at the Henry Horner Homes. At Stateway Gardens, he established a "grassroots public works" program to create employment alternatives for gang members and ex-offenders. And he launched a human rights reporting project called The View From The Ground.
Kalven was the plaintiff in Kalven v. Chicago (2014), in which the Illinois appellate court ruled that documents bearing on allegations of police misconduct are public information. His reporting in Slate in 2015 first brought the police shooting of Laquan McDonald to public attention, and he co-produced 16 Shots, an Emmy-winning documentary on the McDonald case. In 2016, he published a series titled "Code of Silence" in The Intercept that exposed the criminal activities of a team of corrupt Chicago officers and has contributed to the exonerations of 183 individuals.
His national awards include the 2015 George Polk Award for Local reporting, the 2016 Ridenhour Courage Prize, the 2017 Hillman Prize for Web Journalism, and the 2021 I. F. Stone Medal for Journalistic Independence.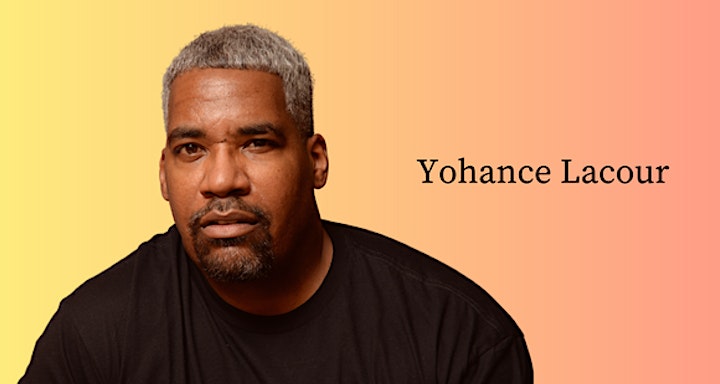 Yohance Lacour is a Chicago South Side native and writer committed to telling stories of Black Chicago from the ground. Before serving a decade-long sentence in federal prison, Lacour was an entrepreneur, playwright and journalist — even publishing an investigation with the Chicago Street Journal, formerly known as the South Street Journal, on the 1997 racial attack of Black teen Lenard Clark. He returned home in 2017 to resume his work of Black storytelling.
His life experiences provide a unique perspective on polarizing and divisive topics in today's society. At Invisible Institute, Lacour is working on a podcast revisiting the story of Lenard Clark, the 13-year-old Black teen beaten to a coma by several white teens while riding his bike in Chicago's Bridgeport neighborhood. The audio project will explore the effects still felt to this day.
Additionally, Lacour runs the luxury leather label YJL and has been featured in numerous publications for his work, including New City Magazine, Chicago Tribune, Inside Look, and Smithsonian Magazine.
About Public Narrative
Public Narrative is a Chicago-based nonprofit that facilitates training, programming and resource building focused on cultivating media literacy, uplifting community voices in media, and shifting narratives around public health, public safety, and public education.
We balance the public narrative through equity, inclusivity and authenticity frameworks in all aspects of media coverage: from storytelling to consumption and the production and promotion of all media forms.
We leverage the organization's expertise in communications training and leading courageous discussions across diverse stakeholder groups, including journalists, youth, educators, members of law enforcement, researchers and other community members.
We engage in storytelling, interviews, focus groups and events for implementing narrative change strategies toward long-term, sustainable systemic change.
Learn more at PublicNarrative.org.
About Retreat at Currency Exchange
Retreat is a concept by Theaster Gates and Rebuild Foundation supporting the Washington Park community and beyond, with a focus on amplifying and providing space for Black creatives, entrepreneurs, and artists.
Learn more at Rebuild-Foundation.org.
Follow Retreat: Instagram
About Invisible Institute
The Invisible Institute is a Chicago-based nonprofit journalism production company on the South Side of Chicago that works to enhance the capacity to hold public institutions accountable.
Among the tactics, Invisble Institute employs investigative reporting, multimedia storytelling, human rights documentation, the curation of public information and the orchestration of difficult public conversations.
The award-winning organization's work coheres around a central principle: We as citizens have co-responsibility with the government for maintaining respect for human rights and, when abuses occur, for demanding redress.
Learn more at Invisible.Institute