Journaling Jems™ for Passion & Purpose 13-week Tele-Course Oct 2011 - Jan 2012 - 8:30 PM PT

Weekly Event - Every Tuesday: 8:30 PM to 9:30 PM (PDT)
Event Details
Pursue a Life of Passion & Purpose with Journaling Jems™
 Interactive Group Coaching
13-week Tele-course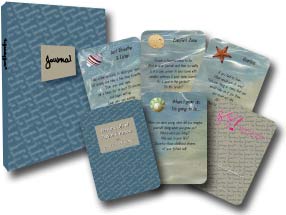 Beginning - Tuesday, October 18, 2011 at 8:30 PM - 9:30 PM PT
Meeting - Weekly for 13 weeks
(Orientation class on Oct 18th. No class on Tuesday, Dec 27th, 2011)
Until - Tuesday, January 24, 2012 
Register for this tele-course
before
09/27/2011
And join us for just $97 
"The way to get started is to quit talking and begin doing."
 ~Walt Disney
Register NOW
before the opportunity passes 
Finding your Passion and living your life "on Purpose" isn't about waiting for that huge bolt of lightening.  It's about learning more about yourself.
You will have the opportunity to explore your past, look at things from your current point of view, ponder the future and let your imagination flow.
Utilizing the Passion & Purpose Journaling Jems™, journaling exercises, group coaching and discussion, you will learn tools and techniques to fully explore what makes you tick.
During this 13-week tele-course you will receive expert guidance and coaching.
This is not just a typical tele-seminar where you are in listen only mode.  These calls are interactive.  Your participation will be encouraged.  Our plan is to leverage the shared wisdom of the group.
"Whatever you can do, or dream you can do, begin it.
Boldness has genius, power, and magic in it.
Begin it now."
~ Goethe
Here is just a sample of some of the topics and issues we will be covering in the coming weeks:-
      When I grow up, I'm going to be….
      Just Breathe & Listen
      Comfort Zone
      Fearless
      Once Upon A Time
                    Life Lessons
                    Super Powers
                    Happily Ever After
"Judy is an insightful, smart and warm coach. She uses journaling as a vehicle for her coaching, what a wonderful tool. Her advice is always spot on too. She encourages you to dig deeper and that helps you find answers."  ~ Monica
"Judy's classes are a delight to attend and a wealth of information!   Not only does she keep them moving along, she adds a touch of humor and fun to keep your attention. 
The passion and purpose telecom class gave me a channel to safely explore the things that were important in my life and the support to let go of those that no longer served my best purpose.   I was able to see where that passion really stemmed from and having to account for those weekly goals definitely helped keep me on track!
If you haven't had the 'journaling jenius' experience, I heartedly recommend doing so!"  ~ Patricia
Even if you are unable to make the live calls, each call will be recorded and you will receive a copy of the download to listen to at your convenience.
Pre-registration is required
Register now
Don't miss this opportunity – a $1297 value.
Register by 09/27/11 for just $97 – a Jem of a Deal
This interactive group coaching tele-course is hosted by a dynamic and playful presenter, Judy Peebles, International Speaker and Business Strategist and Creator of The Journaling Jenius™, Journaling Jems™ and The Knowledge Series.
Her workshops, Journals and Journaling Jems™ cards teach tools & techniques that empower you to find your passion, life direction and personal path to success.
Judy Peebles is also an accomplished Toastmaster and has competed in both the International Speech and Speech Evaluation Contests at the District level.
Judy has a passion for journal writing.  She says, "Expert journaling tools, when combined with strong business skills, will help you create the business or career you desire. For instance, it can be used for creative brainstorming, planning, stress relief, and conflict management."
Journaling isn't just for angst filled schoolgirls.  It allows you to think on paper.  Judy teaches you how to make journal writing productive and beneficial both on a personal and a business level.  Whether you've been journaling or writing in a diary all your life, or you've never put pen to paper to express yourself at all, Judy will help you get started, re-vitalize your journaling practice, or take a current practice to the next level.
Judy takes a holistic approach and consciously considers the impact of the business on the individual and vice versa.  She works with driven, tenacious individuals, committed to their own success who just need that extra edge and guidance to assist them to reach the next level
Have questions about Journaling Jems™ for Passion & Purpose 13-week Tele-Course Oct 2011 - Jan 2012 - 8:30 PM PT?
Contact Judy Peebles
Where

Your Computer and Journal




Weekly Event - Every Tuesday: 8:30 PM to 9:30 PM (PDT)
Add to my calendar
Organizer
International Speaker & Business Strategist
Creator of
The Journaling Jenius™, Journaling Jems™
 and The Knowledge Series