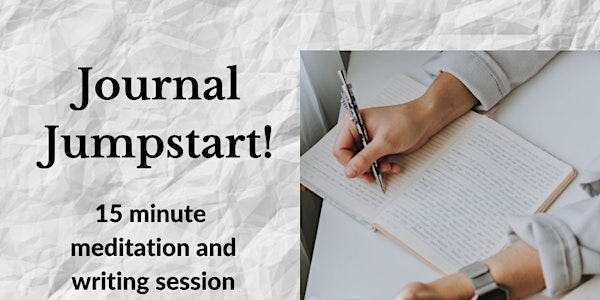 Journal Jumpstart: 15 Minutes of Meditation and Writing
Do you write in a journal--or wish you did?
About this event
Here's your chance to jumpstart your writing practice...
Whether you are writing for self-care, mental or emotional resilience, or creative expression, join us for a 15 minute meditation and writing practice.
In just a short time, you will calm your mind and body and your writing will flow; you will discover your inner wisdom, your authentic voice, and your creative expression.
Brought to you by Resilient Spirit: Every Obstacle an Opportunity
with Laura Elly Hudson: https://www.lauraellyhudson.com/
----------------------------------------------------------
**This session will be recorded and may be used for future projects and that the event organizer retains all rights and permissions to use, distribute and promote these recordings.
** When you register for this event, you will be added to the Resilient Spirit mailing list, where you will receive updates on upcoming offerings, along with free, helpful resources to inspire and encourage you. If you do not wish to receive these emails, we will include an "unsubscribe" link with each mailing.