Description
Joule U . WORK AT HOME?
Tuesday . August 27 . 10:00A-11:30A
Did you know that most of the workforce now works from home?
Whether entrepreneur or employee—learn how to...
Overcome Isolation + Frustration. Where + When to Work. Dealing with Family + Friends. Self Motivation.
Includes:
• Where to work—choosing a place more than five feet from the fridge.
• When to work—besides 24/7/365.
• How to work—staying focused during chaos.
• Overcoming frustrations
• Dealing with family and friends
• Self motivation—getting things done!
• And more...
Cost: Complimentary
Attendees receive a copy of the presentation.
Cost: Presentation $5.00
Can't make it to class? In another city or not a good time?
Now you can have a copy of the presentation without having to attend.
Speaker— Work at Home Expert . Jackie Menne has successfully worked from home for years as an advertising and marketing consultant for ad agencies, as well as retail and consumer brands. She has watched technology and the workforce change over the years but understands that the frustrations are still the same for those with a work at home lifestyle.
Recent Reviews: 5 Stars! . Very informative . Well Organized . Great content, atmosphere, conversation and engagement . Great tips and useful information . Easy to follow . Excellent—focused on what we need to know . Professional . Encouraging.
Hosted by [Joule MB2MB]
Hosted at Nicholson WIN Center 3rd Floor .
[George Latimer Central Library] Saint Paul . 90 W 4th St.
Convenient Location.
On Street Parking. [Map] Use easy pay [Mobile App].
Ramp Parking. [Map] Science Museum closest. River Center connected by skyway and tunnel.
Organizer of JOULE U . WORK@HOME . The Basics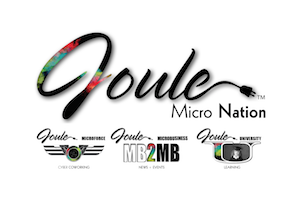 Joule University . Learning  |  MB2MB . News  |  MicroForce . Coworking 
Since 2010 Joule has advocated for micro businesses, startups and nonprofits with
convenient ways to
learn something new, meet someone new and know someone new. 
What's a Micro? 
A single digit
business, startup or nonprofit. 
Most of us are a Force of One!