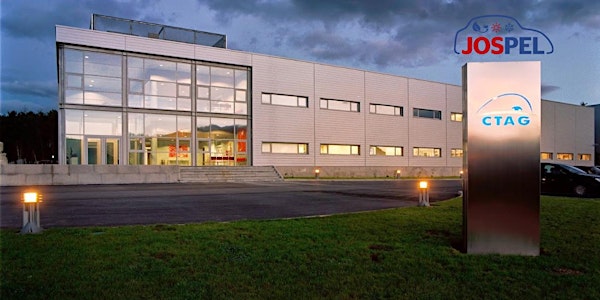 JOSPEL workshop - Innovative Research to Improve Energy Efficiency in EVs
When and where
Location
CTAG Automotive Technology Centre of Galicia Polígono Industrial A Granxa Calle A, parcelas 249-250 36400 Porriño Spain
Description
Increasing the range of electric vehicles remains one of the biggest challenges in the automotive industry. On October 25th, CTAG will host an exciting workshop where partners from three EU-funded projects - XERIC, OPTEMUS and JOSPEL - will present their latest innovations and technologies to improve energy efficiency in electric vehicles.
Some of the key learning points of the workshop are:
Novel energy efficient EV climate system

Novel and innovative heating and cooling systems based on the use of Joule effect and Peltier cells respectively

Integrated thermal management system

Innovative battery pack with low energy consumption and thermal management elements




"Demo lab" with real users for validating the user feeling of heating and cooling.
Programme
09.15-09.30
Welcome and registration
09.30-09.45
Introduction to the JOSPEL Project
- By Lamberto Salvan, ALKÈ
09.45-10.45
Heating and cooling using Joule and Peltier effects
- By Begoña Galindo Galiana, AIMPLAS and Tim Perry, European Thermodynamics
10.45-11.15
Coffee Break and networking
11.15-11.45
Real time energy efficiency optimization in connected electrical vehicles
- By Juan Rico, ATOS
11.45-12.15
Demo Lab: Optimization of energy efficiency and thermal comfort in the vehicle cabin
- By Carlos Bandrés Diéguez, CTAG
12.15-12.455
A Traction Battery as Thermal Storage - OPTEMUS Project
- By Gero Mimberg, RWTH Aachen University
12.45-13.15
PSA Groupe: Thermal and thermodynamic, a new challenge in electric vehicles
- By Emmanuel Boudard, Responsible for Cabin Thermal and Air Quality Management Innovation
13.15-13.30
Summing up on H2020 projects
- By David Guedj, EU Project Officer
13.30-15.30
Lunch and visit to demo lab (visit in groups)
Who should attend?
CEOs, Board Members, Department Heads, Project Managers, Engineers, and Scientists dealing with automotive interiors, automotive design, interior materials, R&D, thermal comfort, batteries, and electric vehicles.
When and where?
This one-day event will take place on October 25th, 2018 at CTAG's facilities in O Porriño, which is located in the Galicia region of Spain. Access to the workshop is FREE if you register online.
Who are we?
JOSPEL, XERIC and OPTEMUS are three EU-funded projects that have taken up the challenge of systematic energy management in electric vehicles based on the integration of energy efficient components and sub-systems:
JOSPEL – Low energy passenger comfort systems based on the joule and peltier effects

XERIC – Innovative climate control system to extend the range of electric vehicles and improve comfort

OPTEMUS – Optimised energy management and use through a holistic, vehicle-occupant-centred approach
The final progamme with speakers and presentations will be published as we approach the event.
Watch a video from one of our previous joint events in Bologna