About this Event
Josh Abbott Band
__________________________________
Let the good times roll.
When fans of Texas-bred Josh Abbott Band hear the four-track EP Catching Fire, they're likely to reconnect with a sound from the not-so-distant past. They're songs of positivity, built on solid country textures and unified by Abbott's congenial-but-experienced voice.
The seven-piece group cut its teeth as a hard-touring act with hooky melodies that deliver real- world stories. Led by the true-to-life cycles in Abbott's life, JAB explored new territory with its last two albums – documenting the dissolution of a marriage in Front Row and adding strings and a horn section to Until My Voice Goes Out – but Catching Fire captures a sense of personal renewal.
"My embers are startin' to glow again," Abbott sings in the opening line of the title track. Indeed, the entire Catching Fire project is bright, spry and optimistic. From the limber lines of Preston Wait's fiddle to the decisive crack of Edward Villanueva's snare and the animated scratch of Abbott's acoustic guitar, there's a relaxed energy to the project, a sense of hard-won spirit that can only be developed by confronting – and conquering – emotional hurdles.
"We have a whole new refocused attitude on what we're gonna do now moving forward," Abbott says. "Catching Fire is a reflection of what's happened over the last year and a half of my life."
"Surprise Surprise" – a jaunty, driving bit of autobiography – details the rise and fall and rise again, namechecking banjo player Austin Davis in the opening line as it follows JAB's 2006 inception and ascent to one of country's most dynamic live acts. Likewise, verse two loosely documents Abbott's own relationship travails, from love to broken heart to a marriage that resulted in his first child.
While Catching Fire captures the band's current heartbeat, the songs fit so neatly into the JAB live set that fans experienced them as if they were already part of the band's canon.
"Half the time, I don't even introduce them as new songs," Abbott notes. "We just roll in and play them and watch the fans just bounce around and jam and have fun. Sometimes you'll see fans look around like, 'Do you know this song?' But by the end of the song they're singing it."
Country fans have been singing JAB songs for more than a decade already. The band got its start when Abbott and Davis, frat brothers at Lubbock's Texas Tech University, braved the stage on open-mic nights at Blue Light Live. Davis managed to make the bluegrass-based banjo fit in a contemporary country setting, establishing a blueprint as additional members joined JAB. Villanueva brought a rock- band spirit on drums and Wait hardened the group's country stance with his flagship fiddle when they signed on 18 months later. Lead guitarist Caleb Keeter joined in 2010, amping up the group's power quotient, while keyboard player David Fralin took his place in 2015, bringing an additional layer of texture. The newest member – bass player Jimmy Hartman – added his name to the lineup in 2018, solidifying JAB's signature tough undercurrent.
The band's relentless on-stage attitude quickly made it a successful touring act, building out from a Texas band to a regional act to a national crew with a devoted following from coast to coast.
Concurrently, JAB developed its own label, Pretty Damn Tough Records, before that was an accepted practice in country circles. Two of their projects, Small Town Family Dream and Front Row Seat, scored top 10 debuts on the Billboard country albums chart, while five titles cracked the Billboard country singles lists, including a pair – "Oh, Tonight" with Kacey Musgraves; and "Wasn't That Drunk," with Carly Pearce – that represented the first chart appearance for current female country stars.
All that music established JAB as a band of renown: a good-timin' cast with a plethora of sing- along songs that raised concert-goers' spirits whether your date was a fellow college student or a series of longnecks from the bar.
"When you're a young band, you wouldn't know this, but those first couple albums you put out, that is who you are," Abbott notes. "That is your sound."
As any reasonable rebel does, the band tested its parameters once it was on solid footing. They signed for a short time with a major label, experimenting by mixing their raw tone with a more commercial edge. As they returned to indie status, Abbott ambitiously documented his first marriage in Front Row Seat. And the expansive Until My Voice Goes Out, recorded as Abbott tended to an ailing father, mixed elegant strings and a Memphis-tipped horn sound. His dad passed away just weeks before they finished the album, and it created a rite of passage that was particularly difficult to process in such a public occupation.
"There were nights in that first year after my dad died, I was bawling five minutes before we went on stage, and I'd have to wipe the tears away and throw on a smile and sing 'My Texas,'" Abbott recalls. "A good time is what they come for, and I didn't want to rob them of their experience because of a hardship that I'm going through in my life. I could mourn my father when I was in the back of the bus. The time for it wasn't when I was on stage."
Those concerts, in fact, planted some of the first seeds of renewal in Abbott's life.
"When you're able to have fun with a crowd of people and sing and dance around on stage, it's definitely therapeutic," he says.
As he put the pieces back together and felt a personal sense of renewal, the band as a whole felt a need to get back to its own roots. They took the four new songs – the Abbott/Wait compositions and the two outside pieces – and teamed with accomplished producer Marshall Altman (Marc Broussard, Frankie Ballard, Aaron Watson) for sessions at the Sonic Ranch on the outskirts of El Paso.
The multi-studio facility, nestled in a working pecan orchard, is appointed with bright tapestries and cozy casitas – residences that provide an uncanny flexibility. Billy Gibbons, Third Eye Blind, Midland and Portugal. The Man are among the acts who've found inspiration at the Ranch. JAB typically recorded into the wee hours of the morning, hitting their creative stride around the hours when their biological clocks reach their live-performance peak.
"Generally when you record in the studio, you're working daytime hours," Abbott says. "But out here in this place, it's your studio basically; you can do what you want. There were nights that we were recording till 2 or 3 a.m., and then the next day we just wouldn't start until noon. That's musician time. We're so wired to really get our brains going at 10 p.m."
The band's musical renewal is perhaps timely. Kacey Musgraves, Maren Morris, Aaron Watson, Midland and Cody Johnson are successfully blending the Texas mindset – a country framework with unique, multi-genre flavors – into commercial country music, and the JAB tradition fits neatly into that trend.
"If you didn't know any better, you would have thought Jon Pardi or Luke Combs could have been from Texas," Abbott says. "I just look at what's going on in music – not only with the Texas people, but with some of the others that are succeeding from other states – and I just hear similarities."
Catching Fire brings a sense of similarity back to JAB's own foundation. It's a return to the band's sonic past, a revival of its bar-bred optimism and fiery individualism. And it's a reflection of the group's off-stage cycles as old chapters are closed and a renewed, upbeat storyline comes to life.
"It's not about being sad, it's not about losing a father or going through a divorce," Abbott says, elaborating on its current emotional position. "We have a great career, we have a great fan base, we're still making music for a living. I have a beautiful wife and little daughter that bring me join every day. So there's a whole lot of personal renewal, and Catching Fire represents all of that. There's nothing slow, nothing sad."
Just a JAB-style good time.
______________________________
Randy Rogers Band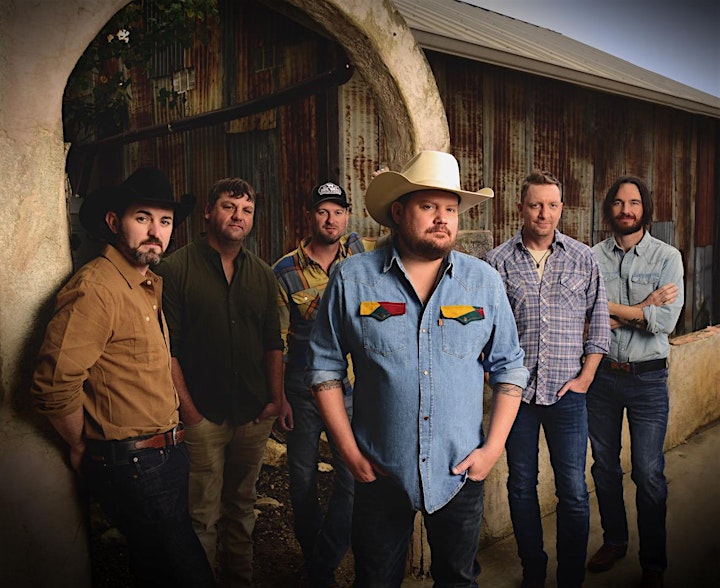 Few relationships in life are more complicated than those among band members. Music history is filled with stories of the rise and fall of creative personalities, but the Randy Rogers Band is a unique brotherhood fueled by a shared passion for making great music and a strong commitment to each other. That bond forms the foundation for the new music on their latest album Hellbent, a high-octane collection of songs buoyed by the same fearless spirit and sense of camaraderie that has made them one of country's most compelling bands.
In a business where bands come and go and membership is often a revolving door, the Randy Rogers Band has been together for more than 17 years. "Just like any other relationship, you have to pick your battles and have respect for each other," Rogers says. "None of us know how to do anything else. This is our livelihood. It's how we take care of our families. Years ago when we were really struggling and wondering how we were going to make it, there were some deep and emotional conversations that we all had with each other about if this is really what we all wanted and the decision was made a long time ago. The answer was yes then and the answer is still yes now. It's something we all believe in. This is our life's work."
The culmination of their musical journey thus far can be heard on Hellbent.
"Creatively we all bring something different to the table and you can hear it in the records," Rogers says. "You can hear people's personalities in the records."
It's that blend of unique personalities that have fueled the Randy Rogers Band's success for nearly two decades.
"Our bass player, Johnny Chops, has this way of writing. It's a little old school, a little Waylon-esque if you will. His lyrics aren't necessarily anything like mine. They are a little bit more vague and more interpretive," Rogers says, bragging on his bandmate. "What Brady Black adds to our makeup is his sensibility on stage, his appearance, his energy, his unique way that he plays the fiddle. He's a crowd pleaser."
"Les Lawless, our drummer, has played on hundreds of albums with many different artists. He's kind of the human metronome. He's a solid drummer. I can't recall a mistake he's ever made on stage. He's just a rock. Geoffrey Hill [guitar, vocals] is a very talented musician. He's a great singer, a great harmony singer. Most of our sound as a band is because of Geoffrey and his unique vocals and the way he blends his vocals with my vocals."
Of course, the lineup wouldn't be complete without longtime member Todd Stewart. "There isn't an instrument that Todd can't play and he sings well," Rogers enthuses. "Onstage he's playing guitar on one song, mandolin on the next one, fiddle on the next one and a piano on the next one and a B3 on the next one. He's a key part of our band because he fills up all those spots musically that no one else can do like him. It's fascinating to watch him switch between every song."
That dynamic musical chemistry has taken the Randy Rogers Band beyond the competitive music scene in their native Texas to build a national fan base with sold out shows across the country. The band has become skilled at capturing that live energy and passion on their albums and Hellbent is a perfect example. "We've been through this process long enough to know that we wanted this record to be perfect and complete so we kept writing and went back in and we recorded again," Rogers reveals.
"It is important, especially in today's day and age, not to put out content just for the sake of content. People see through that and it's a big mistake young artists make just to put a video or a new song out just to have something to talk about. There is a lost art to making an entire album, being a cohesive unit and have it be something that you can stand up and play. We have to record songs we can play live. Ninety nine percent of the income we share is because we're playing a show, so those songs can't be throwaway songs."
The first single, "Crazy People," is a relatable tune that paints a picture of strict parents that weren't always so straight-laced. "I did not write that song, however, I did live that song, and that's why I cut it," Rogers says with a chuckle.
"When I heard it, I could imagine that my parents weren't always fanatically religious. As a young kid, I definitely wasn't comfortable around neon signs or around restaurants where they were serving alcohol. I just thought that was something very, very bad and that's what was instilled in my head. It was very, very much a sin, so I was a little freaked out when I was a kid. It's nothing against my parents. Both me and my brother turned out just fine, but I just think there was this sense of over protection and security and a lot of that was based around the church. So the first thing I did when I turned 16 was tried everything."
Another highlight on the album is "You, Me and a Bottle," penned by Rogers. 'I love love songs, and that song is a carefree kind of love song about kind of getting lost with your significant other," Rogers says.
"The troubles of the world and stresses of the week fade when you are with that one special person. That all disappears. That's kind of the feel-good song on the album I think and the prettiest love song on the record."
On the other end of the emotional spectrum, "Anchors Away" is about a man who can't commit and keeps running from love. "'Anchors Away' is a very sad song," Rogers admits. "The chorus says, 'Anchors away, works like a charm, first sign of danger, I pull the alarm,' and the lyrics that really get to me are, 'I don't want to leave, I don't know how to stay.' That lyric to me really paints the picture of somebody who doesn't know how to love and doesn't know how to love someone back. Out of all the lyrics on the album, that lyric might be the most poignant lyric because a lot of times people sabotage themselves and relationships they are in because they don't know any better because they've seen their parents do it or they are just in a cycle repeating the same mistakes. I think that's a lot of people."
"Wine in a Coffee Cup" paints an interesting portrait of a high-powered career woman. "Women have roles in the workplace that are very different than they were maybe 50 years ago," Rogers says. "There are a lot of CEOs, CFOs, a lot of presidents and vice presidents. Huge companies are run by women. It's an interesting fact that nobody is perfect and my idea of that song was a CEO of a company walking in every day and everybody thinks she has everything together and her life is perfect, but in all actuality she is like everybody else. She's struggling with something. It could be her relationship, home life or family, but even the most successful people have flaws, so that was my take on it. It's a nod to women and the fact that they are, in this day in age, hopefully treated as equals in the workplace but here's this girl that's running the company and she's coming in buzzed every day. That song isn't about someone I know personally. It's about the culture and the environment we live in now. I guarantee that that song is happening somewhere."
"Hell Bent on a Heartache" is a song Rogers first heard and fell in love with on Guy Clark's album My Favorite Picture of You. "I love that album start to finish and that song was my favorite song. Chris Stapleton and his wife, Morgane, wrote that with Guy Clark and I had no clue," he says. "We were in the studio the week Tom Petty died and on that track especially there is this kind of Heartbreaker kind of feel to that song. It's produced in a way that Tom Petty and the Heartbreakers would have done it. The influence definitely shines through on this album, especially on that track."
In recording Hellbent, the Randy Rogers Band worked with producer Dave Cobb (Chris Stapleton, The Oak Ridge Boys, Sturgill Simpson, Jason Isbell) and recorded at the legendary RCA Studio A. "A large part of the country really enjoys the records that he's made over the last 10 years and obviously I was paying attention to that," Rogers says.
"I was noticing the albums I was listening to, and they were produced by him, so I called him up and asked if we could meet for lunch. I'd never worked with him before, so it was a very exciting going into RCA and meeting him and the team. We're very thankful for that opportunity and getting to record in Studio A. So many people whether it be Dolly Parton or George Strait have recorded in that room, so it was a bit of hallowed ground. It was a little overwhelming as well. There's pictures all over the walls there of people who recorded. It's amazing."
Recording Hellbent is just the latest chapter in the Randy Rogers Band's thriving career. In addition to being a gifted vocalist, insightful songwriter and talented musician, the band's founding member is also well known in music industry circles for his business savvy. He graduated from college with a degree in PR and is one of those rare musicians who has great executive skills too.
Rogers is co-owner of several Texas venues including Cheatham Street Warehouse in San Marcos, Texas where George Strait began building a fan base in his early career. Rogers is also a partner in Big Blind Management with Robin Schoepf and steers the careers of Red Shahan and Parker McCollum.
Rogers seems to have a unique talent for seeing around corners. It's what drove him to take his band outside of Texas and develop fans on both coasts, even when the initial investment was risky. "I'm left brain and right brain," the Cleburne, Texas native says. "I'm a very organized person and I can also see six months from now. I'm always thinking a step ahead and it wears my wife out because I'm talking about booking my life months from now. My brain is always spinning and thinking about what is coming next instead of really sitting in a moment. That's a good thing and sometimes it's a bad thing that I can never really turn my brain off."
Rogers is also a big fan of collaboration and has partnered with friend Wade Bowen on the infectious Hold My Beer projects and joined forces with Lone Star legend Robert Earl Keen as the Stryker Brothers. He recently joined Lyle Lovett, Willie Nelson and Jerry Jeff Walker to sing on Michael Martin Murphey's Austinology album.
Though Rogers is prone to eagerly explore other musical avenues, the core of his creative adventure continues to be the Randy Rogers Band. For Rogers, Hellbent was the perfect name for the album, and not just because it comes from one of his favorite songs.
"The album is named Hellbent and isn't necessarily for 'Hell Bent On a Heartache.' We're in it for the long haul. We're lifers," he says with a grin.
"This is obviously our way of life. This isn't some Johnny-come-lately group of guys. We're like an oak tree. We're not going anywhere. We're not hinged on whether our next single will be a No.1. We're not hinged on an album topping the charts. We have a great and loyal fan base and we do things right. When we play our shows, people expect to have a great night and to go home satisfied. As long as we keep doing that, no change in the industry, no record deal or anything like that can make or break this band."
________________________
Pat Green
One of the most influential modern stars in Texas' long country-music tradition, Pat Green has left a mark on the lives of countless fans and generations of artists, helping to solidify a cultural movement bringing artists from the Lonestar state to the national stage along the way.
The problem is, he's always been too modest to admit it.
Now with the release of Dancehall Dreamin': A Tribute to Pat Green, the legendary troubadour has no choice in the matter. He's being saluted by those who know him best – artists like Jack Ingram, Randy Rogers Band and more – with a surprise album meant to highlight some of the icon's best-loved songs.
"I certainly didn't see it coming," Green says of the honor. "For my friends to do this for me, I just immediately felt like 'Wow, what an incredible thing.' I feel an overwhelming sense of gratitude, and I know I would do this for each and every one of them."
Conceived as a heartfelt gift for Green's 46th birthday, Dancehall Dreamin' looks back over a career which has put the star at the vanguard of Texas country. Since 1995, Green has released 13 albums (12 recorded in studio and one live), and sold more than two million records, racking up a staggering 12 Number Ones on the Texas Radio chart (including his most-recent single, "Drinkin' Days"). Green has also released ten Billboard radio hits and has placed songs like "Wave on Wave" in the Top Five of Billboard's Country Airplay chart.
He's been nominated for three Grammy awards and is still regarded as one of the most electrifying entertainers on tour, covering millions of miles and filling venues like the historic Gruene Hall and the massive Houston Astrodome with equal ease. Even mainstream stars like Willie Nelson, Kenny Chesney, Keith Urban and Dave Matthews have taken Green out on the road, recognizing the mass appeal of his everyday anthems, dedicated to the simple joys and inevitable heartbreaks of the American experience.
In short, Green has been instrumental in putting Texas country on the map, paving the way for scores of other artists who share his passion for authenticity. And now it's time for them to say 'thank you.'
"I'm really terrible at taking compliments," Green admits, flattered by his first tribute project. "The funny thing is, all I did was lean as far forward over my skis and take as many chances as I could until something happened, and the end result is this almost 25-year-long career. But if my work made it easier for other people to do theirs, well then, it was my pleasure."
Three years in the making, Dancehall Dreamin' features 10 of Green's trailblazing songs performed by peers and protégés alike. Ingram and Rogers are joined by Texas standard-bearers William Clark Green, John Baumann, Josh Abbott Band, Aaron Watson, Walt Wilkins, Cory Morrow, Drew Holcomb and Kevin Fowler.
Each artist chose a track to make their own, and with the help of producers Justin Pollard, Dwight Baker and Thomas Dulin, showcased the universal power of Green's words – and the range of sounds he's helped inspire.
"It's overwhelming to listen to somebody else singing a song that you wrote," Green explains. "But I think everybody was very tasty in their choices, and to hear Jack Ingram sing 'Wave on Wave' and to hear Randy Rogers sing 'Three Days,' I ain't gonna lie – I got a little misty."
Indeed, Ingram's take on Green's biggest hit transforms an anthemic, arena-sized singalong into a deeply personal reflection, with mellow guitars and poignant piano accents backing Ingram's effortless vocal delivery.
"Jack Ingram is one of my favorite people who ever walked on two feet," Green says. "I was on Twitter the other day and somebody said 'Jack Ingram could sing the phone book and make it sound cool,' and that's the truth. He just oozes it."
Likewise, Rogers and his band put their own, easy-rolling stamp on Green's Grammy-nominated "Three Days," joined by the song's co-creator and acclaimed Texas artist, Radney Foster.
"I'm a big fan of Randy, and I love his style," Green explains. "You've got to understand how intense I am. From being onstage to recording, everything is up, up, up. That's why people who are the opposite of me – really calm and cool and collected – those are the people I admire. Randy's throttle is different from mine. I dig it."
More favorites like "Wrapped" (Clark Green), "Crazy" (Watson), "Adios Days" (Morrow) and "Southbound 35" (Fowler) are faithfully reimagined, while rising talent Baumann managed to surprise even Green with his connection to the vivid emotions coursing through "Nightmare." Written on the day Green's grandfather passed away, Baumann brings it to life in unmatched clarity.
"My grandfather was very important in my life," says Green, who uses the album's second half to offer behind-the-scenes insight for each song. "Baumann's rendition of 'Nightmare' absolutely blew my doors off. He had a more gentle touch on it than I did, and he somehow seemed even more sensitive to the subject matter."
Meanwhile, Green's long and winding journey is placed in context by Holcomb, who delivers the gentle, acoustic strains of the album's title track, "Dancehall Dreamer."
"I'm just an old dancehall dreamer," Holcomb sings. "Living my life in the past / Holding on to dreams and them slow moving trains / I don't know how long I can last."
"Dancehall Dreamer" is the second song Green ever wrote, and back then he clearly couldn't imagine where his dreams would lead. But now with a lifetime of music in the rearview and untold miles ahead, anything seems possible.
"No doubt it's far from over, and I think that's the thing I'm most proud of – that it's lasted this long," he says. "To get to almost 25 years of truly productive music making ... it's pretty cool, and I'll take it.
"I don't think I'm in the autumn of my life or career, but I do feel like I'm in the late summer," he goes on. "I'm still inspired, I still love to do it and I'm not quitting any time soon, but I'm enjoying this time. Everything is right where I want it to be."
Performers
Date and Time
Location
Refund Policy