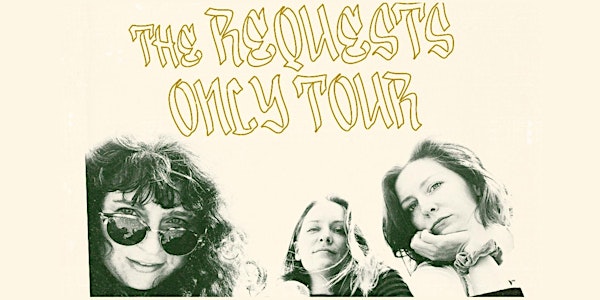 Joseph: The Requests Only Tour, with Natalie Schepman @BALLARD HOMESTEAD
Abbey Arts presents: Joseph: The Requests Only Tour, with Natalie Schepman (SOLO) live at Ballard Homestead
When and where
Location
Ballard Homestead 6541 Jones Avenue Northwest Seattle, WA 98117
Refund Policy
Refunds up to 7 days before event
About this event
---------------------------------------------------
See Updated Public Health Safety Info at the bottom of this page under Abbey Arts Presents
Thanks for helping keep our community safe!
---------------------------------------------------
Spontaneously choosing their name on a trip to visit their grandfather in the Oregon town of Joseph, the band got their start playing backyard parties, and gradually amassed a devoted fanbase. Following the release of I'm Alone, No You're Not—an album made with Mike Mogis (First Aid Kit, Jenny Lewis)—Joseph soon began taking the stage at major festivals like Bonnaroo and touring with such artists as James Bay and Amos Lee. As they brought Good Luck, Kid to life, the Closner sisters expanded on the elegant synergy of elements initially glimpsed on their debut: Meegan's sharp melodic skills, Allison's gift for uncovering the emotional heart of each track, and Natalie's extraordinary songwriting instincts. "Making this album, there were so many times when we'd be trying to come up with the next verse to a song, and Natalie would pull together something amazing completely out of nowhere," Allison recalls. "It's like she's some kind of magician."
In reflecting on the quiet metamorphosis chronicled within Good Luck, Kid, Joseph hope that the album might spark a similar evolution in listeners. "For me this record is about stepping out of being a victim, and I'd love for it to help people feel like they have the power to change their own lives too," says Meegan. In the spirit of that well-wishing, Good Luck, Kid closes out with a starkly arranged but unforgettably tender benediction called "Room for You." "My best friend recently had a baby, and as I was holding him I had this feeling like, 'I never want you to hurt, ever,'" says Natalie. "I love the idea of ending the record by sending people off with that message: 'I hope the world makes room for you and your dreams.' I know that an album can't ever fix anything, but I hope it can be a balm whatever's hurting, and helps people feel like they're truly believed in."
Natalie Schepman is best known as being a part of the sister trio Joseph. She independently released her debut solo album, Fresh Water in an Empty Vase, on July 2, 2021.
@ Ballard Homestead
6:30p doors, 7:30p show
All ages, some seating available
--------------------------------------------------------------------------
EVENT & VENUE INFO:
Please refrain from talking or texting during the show.
Please enter quietly if the show has already begun.
Please leave quietly, it's a very quiet neighborhood.
For ADA information at Ballard Homestead, please see www.ballardhomestead.org/rent or email arts(at)fremontabbey.org
Quiet Picnics Welcome. Light snacks & non-alcoholic beverages may be available for purchase at the venues, but no other food or bar service at these shows.
Audience size will be limited and reduced per current Public Health Guidelines. Concerts are held in large spaces rated for 180-260 people normally. Various creative activities will be included in the lobby. Some shows may be hosted outdoors when noted and weather permitting.
More info via www.instagram.com/seattlewellnessevents
--------------------------------------------------------------------------
ABOUT ABBEY ARTS, SEATTLE:
NONPROFIT 501C3, NON-RELIGIOUS, EST. 2005
Presenting welcoming music, arts & cultural experiences for people of all ages & incomes.
Home Venue: Fremont Abbey, 4272 Fremont Ave North, Seattle, WA 98103 / 206-414-8325 Ballard Homestead: 6541 Jones Ave NW, Seattle | + UHeights Auditorium, St Mark's Cathedral, & more