Joseph Sassoon: Saddam Hussein's Ba'th Party

Tuesday, January 24, 2012 from 6:00 PM to 7:30 PM (EST)
Event Details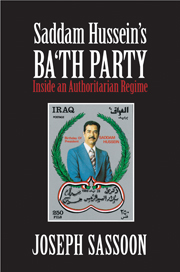 PLEASE NOTE THE DATE CHANGE TO JANUARY 24, 2012

CCAS is pleased to celebrate the release of Dr. Joseph Sasson's new book, Saddam Hussein's Ba'th Party: Inside an Authoritarian Regime.

About the book:
The Ba'th Party came to power in 1968 and remained for thirty-five years, until the 2003 U.S. invasion. Under the leadership of Saddam Hussein, who became president of Iraq in 1979, a powerful authoritarian regime was created based on a system of violence and an extraordinary surveillance network, as well as reward schemes and incentives for supporters of the party. The true horrors of this regime have been exposed for the first time through a massive archive of government documents captured by the United States after the fall of Saddam Hussein. It is these documents that form the basis of this extraordinarily revealing book and that have been translated and analyzed by Joseph Sassoon, an Iraqi-born scholar and seasoned commentator on the Middle East. They uncover the secrets of the innermost workings of Hussein's Revolutionary Command Council, how the party was structured, how it operated via its network of informers and how the system of rewards functioned.

About Dr. Sassoon:
Born in Iraq, Joseph Sassoon obtained his PhD at St. Antony's College, Oxford. He has numerous publications, among them 'Economic Policy in Iraq: 1932-1950' and his book on refugees, 'The Iraqi Refugees: The New Crisis in the Middle East.' He is currently an adjunct professor at Georgetown University, and beginning in January 2012 will be a visiting fellow for the spring term at All Soul's College, Oxford.
Public Affairs Coordinator
phone: 202-687-6215
e-mail: ccasevents@georgetown.edu
Sponsors:
Center for Contemporary Arab Studies
When & Where

CCAS Boardroom
37th & O Streets NW
ICC 241
Washington, DC 20057


Tuesday, January 24, 2012 from 6:00 PM to 7:30 PM (EST)
Add to my calendar
Organizer
SFS Center for Contemporary Arab Studies
Joseph Sassoon: Saddam Hussein's Ba'th Party