Joseph Hall's Elvis Rock 'n' Remember Tribute with The Wartime Radio Review...
Description
**Advanced sales ended at 5:00pm. Tickets will be available at the door beginning at 6:30pm**
Joseph Hall, born in 1984 has been paying tribute to the legacy of Elvis Presley since 2006. He starred on NBC's America's Got Talent in 2008, making 6 TV appearances, viewed by more than 90 million people and placing as one of the top 10 finalists! Sharon Osbourne was impressed enough to tell him, " I've got shoes older than you, but I'd like to try you on!"
Welcome Joseph Hall BACK to The Sapphire Room on March 17th, 2017. You're in for a treat as he's joined by The Wartime Radio Review at The Andrews Sisters and Mac Fishman as Frankie Valli & The Four Seasons. This show features the hits from the 40's to the 70's, backed by The Rocking Horse Medicine Show Band. These tickets will go FAST!
March 17th, 2017
General seating: $28 ($33 at the door)
Preferred seating: $35 ($40 at the door)
Doors at 6:30pm, show at 7:30pm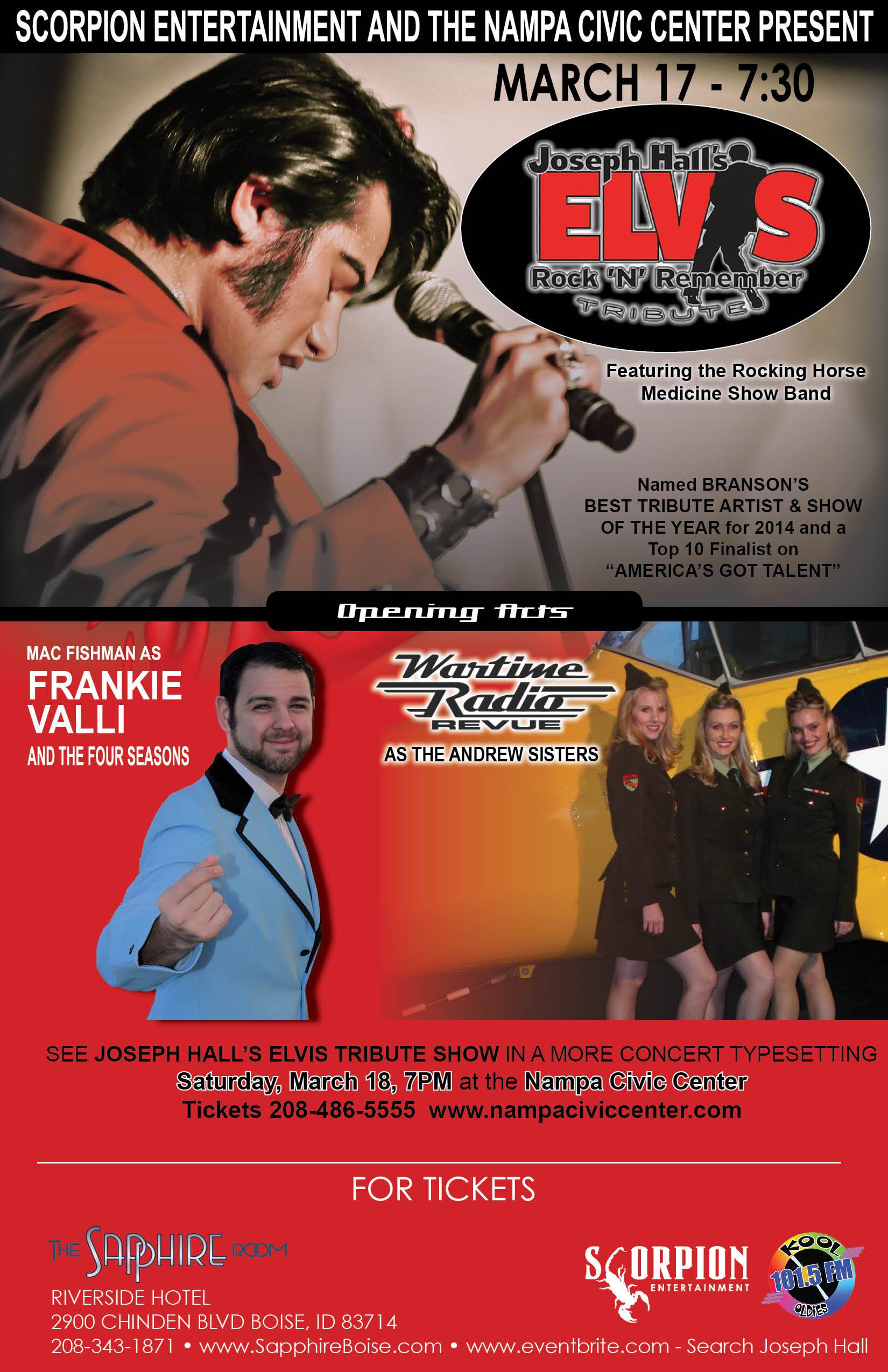 Live music in BAR365 beginning at 5pm!
The Sapphire Room has a full food, bar and signature cocktail menu that is served before and during the show. This is an all ages event with FREE, convenient parking.
Please join us in the Riverside Grill before the show! Show your server your ticket to get 'buy one, get one free' entrees!

Many tables in the Sapphire Room are at bar height. Those requiring lower or ADA accessible seating will be most comfortable in the "Preferred- ADA Accessible option" section. Those seats are first come, first served and available for purchase by any guest.
100% refunds are available until 48 hours before the event. Refunds cannot be processed after the event occurs for any reason.

Boise's best kept secret! The Sapphire Room at The Riverside Hotel, 2900 Chinden Blvd. Garden City, Idaho 83714.
---
Need assistance? WE CAN HELP! Please call 208-331-4930 to order over the phone. Phone orders are available from 9am - 6pm, Monday - Friday. If you need help after-hours or on weekends, please email music@riversideboise.com (fastest) or leave a voicemail at 208-331-4930 and we'll get back to you as soon as we can. Thank you for supporting local live music!