Description
April 20 - 23, 2017
(April 20 - 22 at 7:30 p.m., April 22 & 23 at 2:00 p.m.)
Kenan Auditorium, Browne-McPherson Building

William Peace Theatre closes its 2016 - 17 season with the family-friendly Broadway and West End blockbuster, Joseph and the Amazing Technicolor Dreamcoat. This musical production runs one week only, April 20 - 23 in Kenan Auditorium in the Browne-McPherson building on campus at 15 E. Peace St., Raleigh.
The powerhouse duo of Tim Rice and Andrew Lloyd Webber kicked off a new era of splashy musicals in the 1970's, and this was their first to be produced in public. Beginning in 1968 as a short cantata, it became a full-length concept album, then grew into a larger piece first premiered in 1970, and eventually opened in the West End in 1973. Joseph received multiple Tony and Drama Desk Awards in 1982 when it arrived on Broadway, and has since enjoyed many revivals.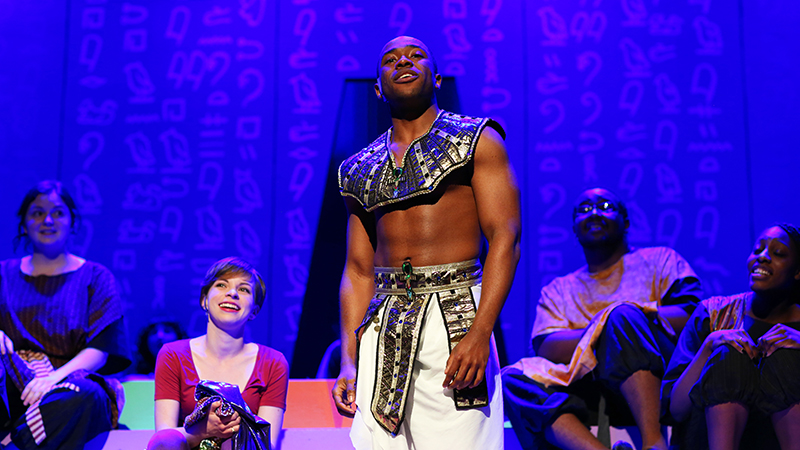 Based on the popular biblical story in the Book of Genesis, the show has enduring themes of trust, jealousy, betrayal, and forgiveness. Joseph is Jacob's favorite of 12 sons, and his father's gift of a spectacular multi-colored garment pushes his brothers' envy over the edge. After a shocking betrayal, Joseph finds himself a slave to the Egyptian pharaoh, a man who is troubled by his dreams. A gifted interpreter of dreams, Joseph is able to assist his captor and rise in the ranks of power to one day reconnect with his treacherous brothers and be tested.
Composer Andrew Lloyd Webber draws on many musical stylings for this pop score, rolling in elements of swinging jazz, Elvis-inspired rock 'n roll, and calypso among others to create a lush tapestry of powerful music.
Joseph is directed by Assistant Professor of Musical Theatre and Theatre, Amy White. She was last seen onstage regionally in Raleigh Little Theatre's production of One Man, Two Guvnors this February and last year in Stick Fly. She most recently directed The Laramie Project and directed/choreographed Green Day's American Idiot in 2016 for William Peace Theatre. This spring she presents research on the mutual impact of LGBTQIA legislation and the performing arts at The Sorbonne with WPU Criminal Justice Professor, Dr. Elizabeth Kusko. White has worked in professional theatre for over a decade, in New York off-Broadway and in touring productions. She holds a BFA in Musical Theatre with a minor in Dance from the State University of New York at Fredonia, along with a MFA in Performing Arts from the Savannah College of Art and Design.