An evening with Jorma Kaukonen (NOTE: Tickets are priced per pod. Not per person.)
About this Event
Presented by Old School Square, House of Parnes, and T-Presents
"A pioneer of San Francisco psychedelia, Jorma Kaukonen is a bona fide graybeard folk swami. He mostly lays back, a master in situ, unfurling melodies and savoring every note." —Rolling Stone Magazine
In a career that has already spanned a half-century, Jorma Kaukonen has been one of the most highly respected interpreters of American roots music, blues, and rock. A member of the Rock & Roll Hall of Fame and a Grammy recipient, Jorma was at the forefront of popular rock and roll, one of the founders of the San Francisco sound, and a progenitor of Psychedelic Rock. He is a founding member of two legendary bands, Jefferson Airplane and the still-touring Hot Tuna. Jorma Kaukonen is a music legend and one of the finest singer-songwriters in his field. He continues to tour the world bringing his unique styling to old blues tunes while presenting new songs of weight and dimension. His secret is in playing spontaneous and unfiltered music, with an individual expression of personality. In 2016, Jorma, Jack Casady, and the other members of Jefferson Airplane were awarded The GRAMMY Lifetime Achievement Award for their contributions to American music.
"A mesmerizing storyteller, Kaukonen delivers a memoir as intricate and dazzling as his music." —Publishers Weekly, starred review
The son of a State Department official, Jorma Kaukonen, Jr. was born and raised in the Washington D.C. area, with occasional extended trips outside the United States. He was a devotee of rock and roll in the Buddy Holly era but soon developed a love for the blues and bluegrass that were profuse in the clubs and concerts in the nation's capital. It inspired him to take up guitar and play that kind of music himself. Soon he met Jack Casady, the younger brother of a friend and a wonderful guitar player in his own right. Though they could not have known it, they were beginning a musical partnership that has continued for more than 50 years."[His] dexterity runs circles around most players … His material stands the test of time in a way that most others will not." – Billboard
Jorma's originals from his poignant instrumentals, "Embryonic Journey" (Jefferson Airplane - Surrealistic Pillow) and "The Water Song" (Hot Tuna - Burgers), to his insightful lyrics, "Genesis" (Jorma Kaukonen - Quah), have stood the test of time. Having an undeniable feeling of significance, they have been included in films and covered by many artists who have been inspired by his depth and continuity of spirit.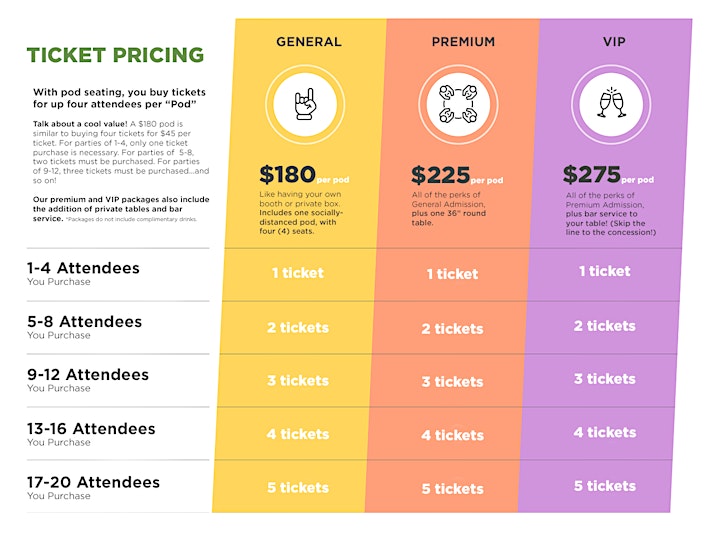 ***NOW OFFERING POD SEATING***
Think of this like having your own private box, with bundled seating for up to four (4) guests. All within a clean, socially distanced, environment!
When you purchase a "pod," you're buying tickets for four seats. A $100 pod is similar to buying four tickets for $25 per ticket. For parties of 1-4, only one ticket purchase is necessary. For parties of 5-8, two tickets must be purchased. For parties of 9-12, three tickets must be purchased. And so on... Talk about a cool value!
Our premium and VIP packages also include the addition of private tables and bar service.
***TICKETS***
General Admission – $180 per pod (Think of this like having your own booth or private box. One ticket is redeemable for admission up to four guests and includes one socially-distanced pod, with four seats.)
Premium – $225 per pod (Get closer to the stage, in a Premium section! Not only does your purchase include the amenities of "General Admission" — you'll also receive your own table to share with your friends in a section with great views of the stage. Rows 4-7 from the stage.)
VIP – $275 per pod (Spread out and experience comfort in the VIP section! Not only does your purchase include the amenities of "General Admission" — you will get cozy with your own table, bar service, and the best views of the stage. You'll be within the first three rows of the stage!)
***REFUND POLICY***
Any event that is postponed, even for a time to be determined shall not be refunded.