Description

2017 Joplin Area Chamber of Commerce BUSINESS EXPO
"THE PARTY OF OUR CENTURY – CHAMBER'S 100th BIRTHDAY"
Tuesday, January 24, 2017: Noon-7:30 p.m. Open to businesses only for business-to-business networking, and showcasing new ideas and products. The day ends with a celebration Birthday Bash After Hours & Birthday Dessert Bar coupled with a silent and live auction 4:30-7:30 p.m.
Admission: This is open to the Business Community ONLY. Your business card will act as your admission ticket.
Birthday Bash After Hours is open to ADULTS ONLY.
Wednesday, January 25, 2017: 10 a.m.-4 p.m. Open to the public. Showcase your products to thousands of attendees. Cost: $5/adults; kids 5 and under are free.
Join us for a new show, new location, new hours and new attractions as we celebrate the EXPO's 25th year. Business EXPO is the region's largest business tradeshow and networking event that provides you with new business connections, generates numerous business leads and introduces you to local businesses and products.
Booths are available in four sizes, with 162 total booths available. Booth spaces are first come, first served. Choose your booth from the interactive map below. Right click on the map below and open in new tab for a larger view ad map details while on the landing page.
All booths must be paid in full at the time of registration.
You must be a member of the Joplin Area Chamber of Commerce in good standing to exhibit in Business EXPO 2017.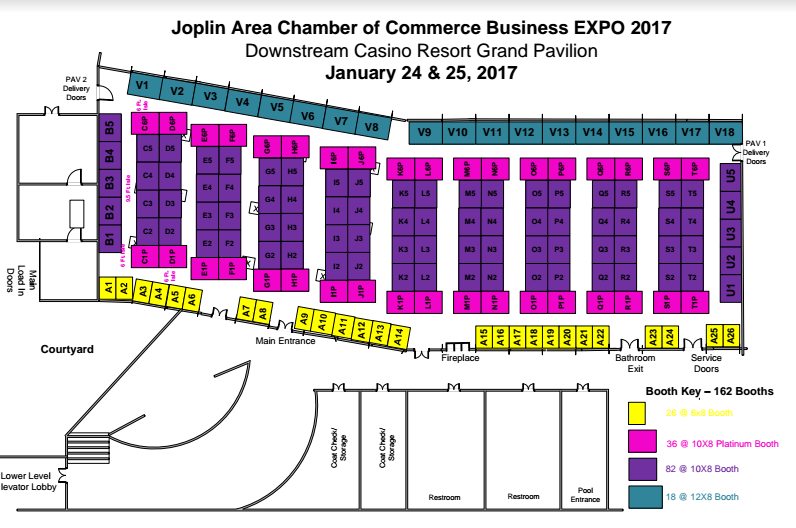 FAQs
Where can I contact the organizer with any questions?
Ginger LaMar, IOM
Director of Member Services & Development
(417) 624-4150; expo@joplincc.com
Who should exhibit at Business EXPO?
Anyone interested in networking to get new business connections, generating numerous business leads and introducing your business and/or products to the community should attend.
Can exhibitors sell items at EXPO?
Yes, some exhibitors take advantage of this opportunity to sell their products. Attendees will be able to shop for the best quality and price for their needs by making one stop and saving time and travel.
Is the exhibition hall smoky, and do attendees have to enter through the casino?
The exhibition hall is not near the casino and has a separate entrance from the casino. It is not smoky in there. The Pavilion is located on the lower level and is a beautiful state of the art facility.
What is the refund policy?
NO REFUNDS will be given after December 19, 2016.
What happens in case of extremely bad weather?
There is always the possibility of a winter storm during January. In the case of bad weather, the JACC always takes the safety of our exhibitors and customers first. If it is necessary to postpone or cancel EXPO, it will be communicated through our media outlets, Facebook page, JACC Alerts, and www.joplincc.com along with rescheduling information. You may always call JACC at 417.624.4150 for more information.
Will there be food available during the show? There will be food available to purchase during the two days of EXPO. A menu of items will be available, along with the ease of ordering with delivery options. A luncheon will be hosted on Wednesday for exhibitors.